Textile Expert Joins Wave of Lawsuits Against Jiang Zemin
July 01, 2015 | By a Minghui correspondent in Shandong Province, China
(Minghui.org) Thousands of lawsuits against Jiang Zemin, former head of the Chinese Communist regime, have been filed by Falun Gong practitioners in China, as well as relatives of practitioners and practitioners that escaped to foreign countries.
For example, 13,109 practitioners filed criminal complaints against Jiang Zemin between June 19 to 25, 2015 for launching the suppression of Falun Gong in 1999.
Mr. Jiang Zhennan Joins the Wave of Lawsuits
Mr. Jiang Zhennan from Weihai, Shandong, filed his complaint against Jiang Zemin at the Supreme People's Procuratorate, demanding that the former Chinese dictator be held responsible for crimes against humanity, genocide, and other atrocities.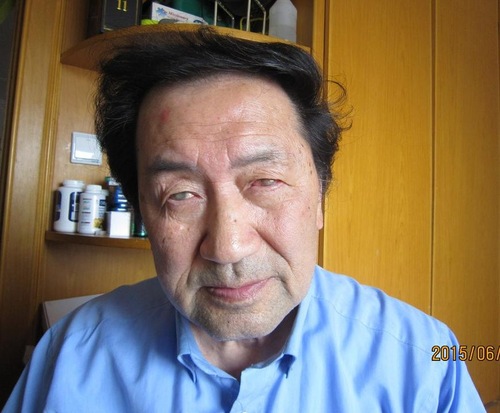 Mr. Jiang Zhennan, who is partially blind
His complaint charges Jiang Zemin with false arrests, illegal detention, and torture.
A Textile Industry Pioneer's Joy and Sadness
The 76-year-old Mr. Jiang was instrumental in developing the textile industry in Weihai City. He turned around a dying carpet factory in the 1960s and kept expanding it in the next two decades, during which time he won numerous honors and awards for his innovations and high quality products.
Mr. Jiang's grueling work schedule, however, took a toll on his health. He was diagnosed with esophageal cancer and other health problems in 1997 and almost lost his ability to work. As he was at the height of despair, Falun Gong came to his rescue – all his symptoms disappeared shortly after he took up the practice in 1998.
His joy didn't last long. Mr. Jiang was sad to see the persecution of Falun Gong begin one year later, but he was determined to tell people how the Chinese Communist regime is wrong in attacking the practice that had transformed his life. He went to Beijing in 2000 to protest the persecution, only to be arrested and detained for six days.
The police arrested him again for telling people about the persecution in November 2001. He went on a hunger strike one month into his detention and was released five days later.
Four years later, the local authorities began their nonstop monitoring of Mr. Jiang and his family. They had agents shadow him everywhere, and also installed a video camera and other surveillance devices in the staircase and the hallway of his apartment building. The constant surveillance put tremendous pressure on Mr. Jiang and his family.
Mr. Jiang returned home one day in September 2007 to discover that the police had ransacked his home and confiscated many of his family's belongings.
To avoid further persecution of him and his family, Mr. Jiang spent the next eight months living away from home. The unstable living environment and anxiety that came with a destitute life eventually robbed Mr. Jiang of most of his eyesight. He also had trouble taking care of himself.
Mr. Jiang returned home in May 2008. The well-respected local industry giant is now suing Jiang Zemin for the suffering he endured.
Additional information about the persecution of Mr. Jiang:The Chief Engineer of the Textile Enterprise Group in Weihai City Has Disappeared After Intense Monitoring by 610 Office AgentsFormer Deputy General Manager of Weihai Textile Group Missing for a Month
Background
In 1999, Jiang Zemin, as head of the Chinese Communist Party, overrode other Politburo standing committee members and launched the violent suppression of Falun Gong.
The persecution has led to the deaths of many Falun Gong practitioners in the past 16 years. More have been tortured for their belief and even killed for their organs. Jiang Zemin is directly responsible for the inception and continuation of the brutal persecution.
Under his personal direction, the Chinese Communist Party established an extralegal security organ, the "610 Office," on June 10, 1999. The organization overrides police forces and the judicial system in carrying out Jiang's directive regarding Falun Gong: to ruin their reputations, cut off their financial resources, and destroy them physically.
Chinese law allows for citizens to be plaintiffs in criminal cases, and many practitioners are now exercising that right to file criminal complaints against the former dictator.