Shandong Woman Arrested for Her Faith After Prior Imprisonment
August 14, 2018 | By a Minghui correspondent in Shandong Province, China
(Minghui.org) Ms. Zhan Yucai was arrested while putting up Falun Gong banners in Jinan City, Shandong Province on May 12, 2018. She has been detained at Jinan City Detention Center since May 13, 2018.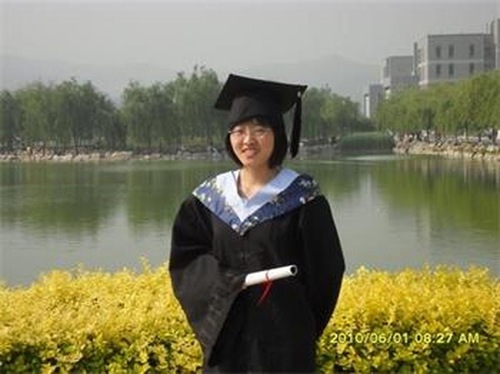 Ms. Zhan Yucai, 31-year-old Master's degree graduate of Shandong General University, 2013.
Ms. Zhan had been secretly monitored by police after being detected on a surveillance video: Nineteen Falun Gong banners were hung up at the entrance of the Shandong Province Prison on New Year's Day, 2018.
Imprisoned 4 Years for Promoting Shen Yun Performing Arts
Ms. Zhan had previously been illegally detained for posting banners bearing the words "Truthfulness-Compassion-Forbearance," and for handing out Shen Yun Performing Arts DVDs in August 2012. She was detained for 15 days at a brainwashing center.
She was also arrested in a busy shopping area in Jinan City, Shandong Province on March 16, 2014, by a plainclothes policewoman and taken to Jinan City Detention Center.
Ms. Zhan was sentenced by Lixia District Court to 4 years in prison. She was taken to Shandong Province Women's Prison where the guards attempted to force her to renounce her belief. At one point, she was not allowed to sleep for 3 days.
Husband Sentenced to 7 Years, Still Persecuted in Prison
Mr. Du Zezhou, her husband, has been repeatedly persecuted for practicing Falun Gong. He was taken to Jinan Labor Camp for 3 years in 2001.
He was arrested by police from Quanchenglu Police Station on November 12, 2010, and held at Jinan City Detention Center.
Mr. Du was taken to Shandong Provincial No. 2 Male Labor Camp (Zhangqiu City) in 2011.
He was arrested again on August 14, 2014 by police from Changqin District. Under the direction of Jinan City 610 Office and sentenced to 7 years in prison in January 2015.
Mr. Du is still being illegally detained at the Shandong Province Prison.
Related Article:Graduate Student Ms. Zhan Yucai Incarcerated for Promoting Traditional Chinese Culture