Graduate Student Ms. Zhan Yucai Incarcerated for Promoting Traditional Chinese Culture
(Minghui.org) Ms. Zhan Yucai, a graduate student at Shandong General University, was illegally detained for posting fliers containing the words, "Truthfulness-Compassion-Forbearance," and for promoting traditional Chinese culture.
Ms. Zhan gave 2014 Shen Yun Performing Arts DVDs to a person, free of charge, in a busy shopping area in Jinan City, Shandong Province on the afternoon of March 16, 2014. She was arrested and taken to Jinan City Detention Center.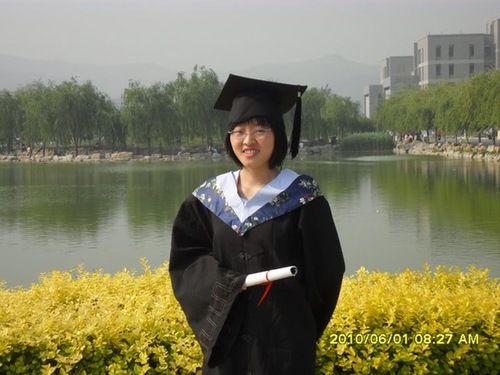 Ms. Zhan Yucai
Under Chinese Communist Party (CCP) rule, Chinese people no longer believe that good is rewarded and evil punished, nor do they believe in the divinely-inspired 5000-year-old traditional Chinese culture. Exposed to deceit, viciousness, and confrontations since childhood, they compete with one another for personal gain. Everyone is directly or indirectly contributing to the bad things happening in that society, including government corruption, the proliferation of counterfeit products like tainted baby formula, medicines, and rice, and the re-sale of cooking oil dumped by restaurants, etc. While everyday people are offered many questionable goods, corrupt officials enjoy high-quality products produced especially for them. The moral standard has deteriorated to the point that no one dares to help seniors or the weak, or stop crimes being committed in broad daylight.
Despite the CCP's 15-year persecution of Falun Gong, Ms. Zhan remains firm in her faith, and continues to follow the principals of Truthfulness-Compassion-Forbearance. To help raise her country's moral standards, she promotes traditional Chinese culture by handing out Shen Yun Performing Arts DVDs and advising people to be good. She believes that if people are willing to help others, more Chinese people can truly enjoy harmonious and happy lives. People with high moral standards are the backbone of society.
The exact location where Ms. Zhan was arrested
Parties Involved in Persecuting Ms. Zhan: Dianliuxin Village Local Police Station: +86-531-88935769 Liu Xinyun (刘新云), Jinan City Police Department head: +86-531-85080001 (o) Song Zili (宋自力), Jinan Domestic Security Division head: +86-15505314588 (c) Lu Hongguang (吕红光), political head: +86-15505312266 (c) Wang Qiqing (王其清), 610 Office head: +86-15505312077, +86-531-85081301 Yang Ke (杨克), Jinan City Detention Center head: +86-15505319199 (c) Zhao Ruoren (赵若仁), political head: +86-13335129539 (c) Xu Dong (徐栋), Lixia Domestic Security Division head: +86-531-85084090, +86-15505311616 (c) Jia Yanzhao (贾延昭), Lixia Police Department political head: +86-531-85084001, +86-15505311767 (c) Lu Jianxing (鲁建兴), Dianliuxin Village Police Station head: +86-531-888952758, +86-1550531883 (c) Wang Yewen (王业文), political head: +86-531-88935769, +86-15505318873 (c)