Activities in Japan Introduce Falun Gong and Expose Persecution
August 14, 2018 | By Minghui correspondents in Japan
(Minghui.org) Falun Gong practitioners in Japan held activities in Yokkaichi, Mie Prefecture on August 5 and in Hiroshima on August 6, 2018, introducing Falun Gong and calling for public support to stop the Chinese Communist Party's (CCP) persecution of Falun Gong practitioners.
Yokkaichi
Practitioners in Yokkaichi demonstrated the Falun Gong exercises at the 55th Great Yokkaichi Festival. Many people watched the exercises and learned the movements.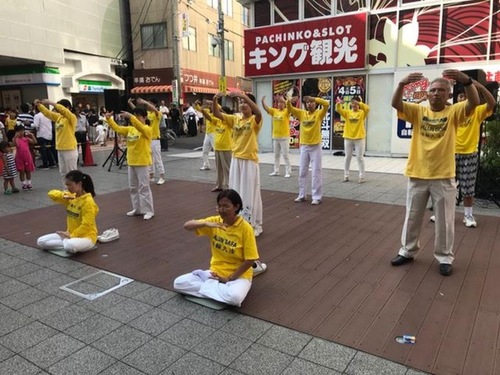 Practitioners demonstrate the five sets of Falun Gong exercises at the Great Yokkaichi Festival.
The host of the event introduced, "Falun Gong is also called Falun Dafa. It teaches the supreme principles of the universe, Truthfulness, Compassion, and Forbearance. It has brought great health benefits to people of all ages in 100 countries around the world, promoting peace and uplifting the spirit."
Hiroshima
August 6, 2018 was the 73rd anniversary of the August 6, 1945, atomic bombing during the World War II. Every year, people from all over the world gather in Hiroshima Peace Memorial Park to mark this day.
Falun Gong practitioners set up a booth with an exhibition in the park to expose the CCP's persecution, especially its crime of harvesting organs from living practitioners. Many people signed a petition calling for justice and an end to the persecution.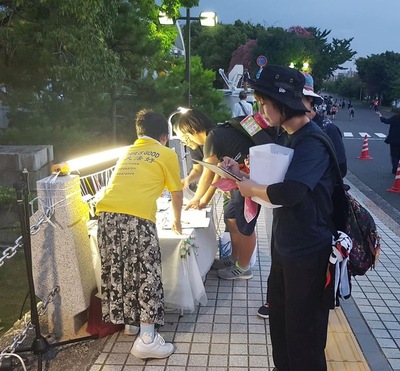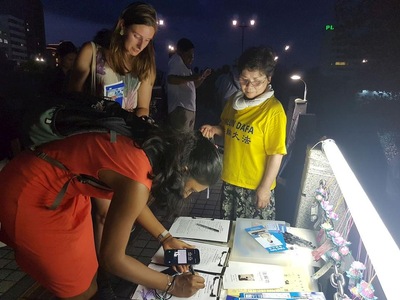 People from all over the world sign a petition calling for an end to the persecution of Falun Gong.
Many people were attracted by the "SOS" banner and came to find out more. So many people wanted to sign the petition that they had to line up.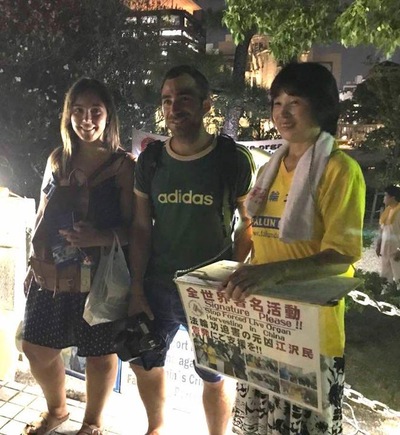 A young couple from Spain express their support for Falun Gong.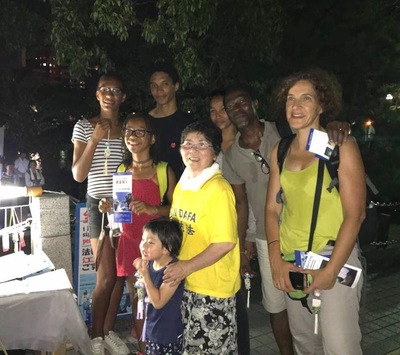 A family of six from Paris are happy to support Falun Gong practitioners' work to end the persecution.
A student of Waseda University happened to be studying this topic. He asked a Falun Gong practitioner many questions. He said he was collecting information for his study.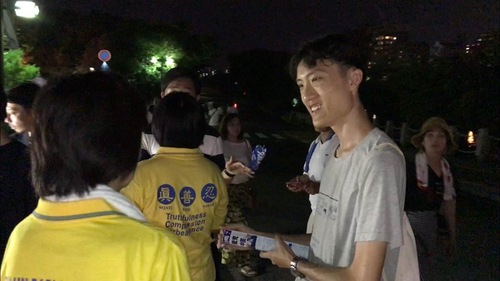 A young man from Taiwan was happy to learn the real story behind the persecution of Falun Gong in China.
A young man from Taiwan goes to college in mainland China. He had heard the CCP's lies about Falun Gong. A practitioner answered his questions one by one, including about the Self-Immolation on Tiananmen Square. The student seemed very happy once he got his questions aswered. He said he would read more about the practice and the persecution.