Mother's Effort to File Complaint Against Canadian Daughter's Perpetrators Rejected for a Third Time
December 23, 2017 | By a Minghui correspondent in China
(Minghui.org) A mother's effort to file a complaint against those who arrested, tortured, and indicted her daughter without legal basis was rejected by Chinese authorities for a third time. In the meantime, Canada, of which the daughter has been a citizen since 2007, continues to fight for her release.
Daughter Arrested and Charged Without Legal Basis
Ms. Sun Qian, 51, is the founder of Beijing Leadman Biochemistry Co., Ltd. and placed on China's Hurun Report of wealthy individuals in both 2012 and 2016. Her successful career came at the expense of her declining health. She suffered from heart palpitations, liver problems, and depression. She tried many treatments, but nothing helped.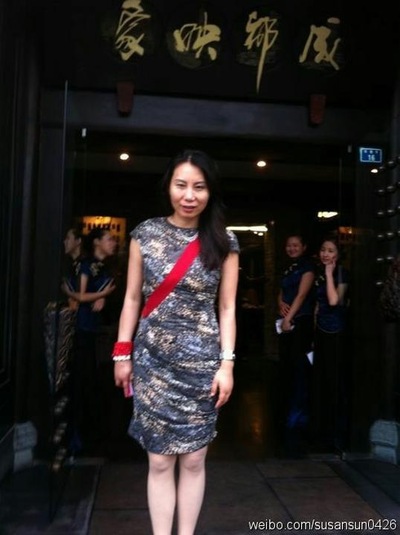 Ms. Sun
Things turned around in 2014 when she started practicing Falun Gong, a mind-body practice that has been persecuted by the Chinese communist regime since 1999.
Ms. Sun's pursuit of health landed her in police custody. She was arrested at home on February 19, 2017 for refusing to renounce Falun Gong. A consul from the Canadian embassy visited her at Beijing First Detention Center on May 18 and learned that she had been tortured since her arrest. The Globe and Mail, one of Canada's major newspapers, reported on her torture in a June 20th article titled "Canadian arrested for her religion pepper sprayed, shackled in Chinese detention."
Ms. Sun was soon charged with violating Article 300 of the Criminal Law, which stipulates that anyone using a cult organization to undermine enforcement of the law must be punished to the fullest extent possible. Her lawyer argued that the People's Congress (China's legislative body) has never enacted a law deeming Falun Gong a "cult," and that the prosecutor in the case had filed a baseless charge against his client.
Mother's Complaints Rejected Three Times in Five Months
Ms. Sun's mother tried three times, unsuccessfully, to file complaints against Beijing First Detention Center for torturing her daughter, and Hao Zhigang (director of Beijing Public Security Bureau) and Zhang Xin (prosecutor of Chaoyang District Procuratorate) for indicting her daughter without any legal basis.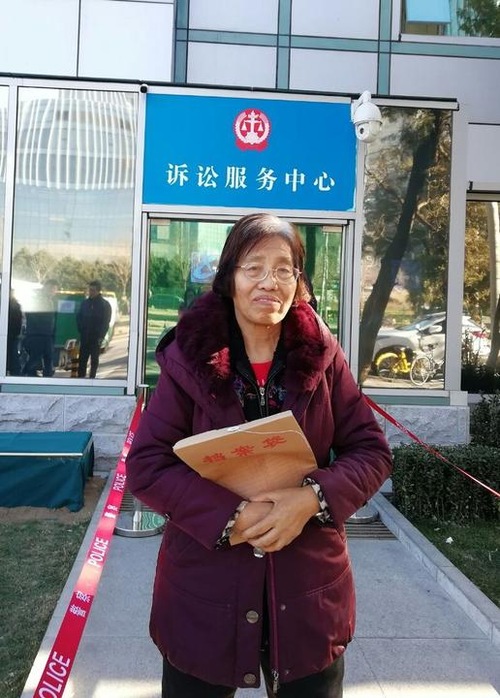 Ms. Sun's mother
The mother, who is almost 80, had to travel hundreds of miles from her hometown in Weihai City, Shandong Province to Beijing to file the complaints. She tried for the first time on May 31 and the second time on September 11.
Most recently, she went to Beijing on December 4, accompanied by her other daughter. They went straight to the First Branch Office of Beijing Supreme People's Procuratorate, where the receptionist found an in-house lawyer to talk to them.
The lawyer said they [the procuratorate] do not take complaints against police and prosecutors, and asked them to talk to Beijing Public Security Bureau's Appeals Office.
The two women visited the appeals office in the afternoon. The staff there said they'd take the part of the complaint that dealt with Beijing First Detention Center, but not the part against police and prosecutors.
They next went to the Beijing municipal government's appeals office but were referred back to Beijing Public Security Bureau's Appeals Office.
They tried the Second Branch Office of Beijing Supreme People's Procuratorate the next day, upon learning that Ms. Sun's case may be handled there. They, however, were told that the second branch office is only responsible for complaints filed after a verdict has been issued. Ms. Sun is still awaiting trial.
Ms. Sun's mother and sister returned home with no one having registered their complaints.
Lawyers Forced to Withdraw from Representation
Ms. Sun has seen one lawyer after another quit since her arrest more than ten months ago. Mr. Gao Chengcai, Mr. Huang Hanzhong, and Ms. Xiong Dongmei had to withdraw from representing her after being threatened by their local judicial bureaus.
Ms. Sun currently has a lawyer who is willing to defend her in court. Her mother is looking for another lawyer who can help file complaints against Ms. Sun's perpetrators.
Canada Continues Effort to Seek Ms. Sun's Release
Ms. Sun's case drew wide attention in Canada, where freedom of belief is deeply cherished.
Falun Gong practitioners in Canada have been holding rallies and collecting signatures in the past ten months to call for an immediate release of Ms. Sun.
Miss World Canada 2015, Anastasia Lin, has also been actively involved in the rescue effort. She called on Prime Minister Justin Trudeau to "do everything in his power" to secure Ms. Sun's release. She also raised Ms. Sun's case and the wider persecution of Falun Gong at the United Nations Human Rights Council in Geneva on June 19.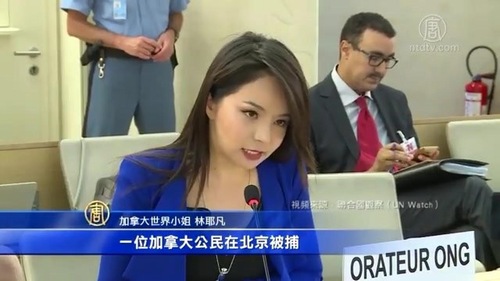 Ms. Anastasia Lin
Many Canadian politicians also expressed their concerns.
Green Party leader Elizabeth May said, "The treatment of practitioners of Falun Dafa, or Falun Gong, is an egregious violation of human rights and rights of religious freedom, rights to speak freely, and most of the MPs in the Parliament—I know whenever I raise the issue, we have a lot of support on all sides of the House."
Mr. Irwin Cotler, former Minister of Justice and MP, is acting as legal counsel for Ms. Sun. He stated, "Qian Sun has been arbitrarily arrested, illegally detained, tortured in detention, denied her fundamental freedoms to religion, expression, and association.
"We call on the Chinese authorities to honor their own rule of law, to cease and desist from persecution and prosecution, and to release Qian Sun unconditionally, and permit her to return to her family in Canada."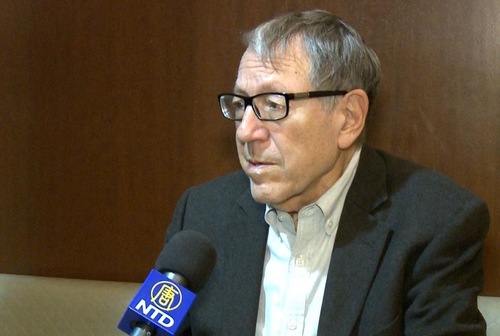 Mr. Irwin Cotler
Conservative MP Scott Reid wrote a letter to Prime Minister Trudeau asking him to raise the issue with Chinese leader Xi Jinping during the APEC summit in Vietnam, following a "tradition" where Reid made a similar request when then-Prime Minister Jean Chrétien attended APEC 15 years ago.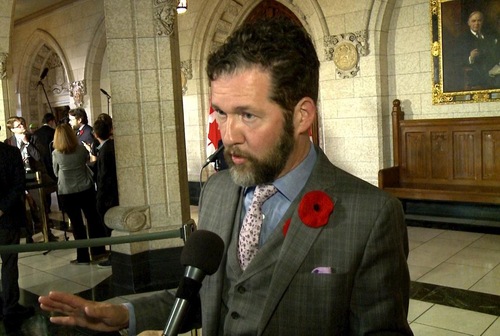 Mr. Scott Reid
Foreign Minister Chrystia Freeland said she would pay close attention to Ms. Sun's case, "In my view, a single Canadian detained abroad unfairly is one too many, and this is a duty that all governments have," she continued, "I take extremely seriously my duty."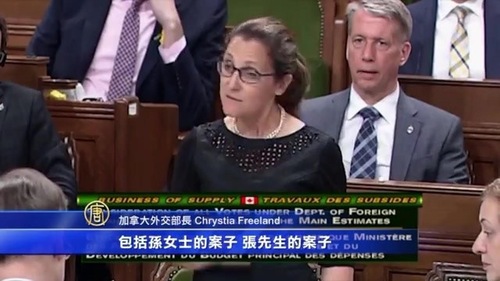 Ms. Chrystia Freeland
Omar Alghabra, a parliamentary secretary to the Minister of Foreign Affairs, said the case of Ms. Sun is very important and that the Canadian government has consistently raised human rights issues with China. He promised the government will continue their efforts until Ms. Sun is released.
According to news reports, Prime Minister Justin Trudeau said he raised the issue of Ms. Sun's case to Chinese president Xi Jinping and premier Li Keqiang during his December 3-7 visit to China.
Related Reports:
Canadian Citizen Remains Detained, Mother's Complaint Rejected Again
Canadian Business Woman Mistreated in Beijing Detention Center, Lawyer Denied Visits
The Globe and Mail: Canadian Detained and Tortured in China for Her Belief
Canada: Members of Parliament Urge Prime Minister to Request Release of Falun Gong Practitioner Detained in China
Canada's "Newspaper of Record" Reports on Plight of Citizen Detained in Beijing for Her Faith in Falun Gong
Two Canadian MPs Write to Prime Minister and Foreign Minister Calling for Rescue of Ms. Sun Qian
Canadian MPs Seek to Press China for Release of Canadian Falun Gong Practitioner
Canadian Lawmakers Call on Prime Minister to Help Rescue Falun Gong Practitioner in China
Two Canadian MPs Write to Prime Minister and Foreign Minister Calling for Rescue of Ms. Sun Qian
Canadian Top Officials Concerned about Citizen Detained and Tortured in Beijing for Her Belief
Canada: Falun Gong Rally Seeks Help from Prime Minister to Rescue Family Members
Efforts Continue to Rescue Canadians and Their Family Members Detained in China for Their Beliefs
Canada: Protests at Chinese Consulates to Demand Release of Canadian Citizen Imprisoned in China