Efforts Continue to Rescue Canadians and Their Family Members Detained in China for Their Beliefs
November 03, 2017 | By a practitioner in Canada
(Minghui.org) Canadian Prime Minister Justin Trudeau will travel to Asia later this month for the 2017 Asia-Pacific Economic Co-operation (APEC) Summit, and will meet there with China's leader Xi Jinping. Canadian practitioners and several government officials are asking Prime Minister Trudeau to take the opportunity to ask Xi Jinping to release Ms. Sun Qian, a Falun Gong practitioner who is in detention in China for her beliefs.
Ms. Sun, the founder of a Beijing biotechnology company, is a Canadian citizen who started practicing Falun Gong in 2014. Beijing police arrested her on February 19, 2017, and she has been detained since then. She has committed no crime. She was arrested simply because she practices Falun Gong. She is a prisoner of conscience persecuted for her religious beliefs.
Sources in China report that Ms. Sun is being held at the First Detention Center in Beijing, and has endured torture and other mistreatments at the hands of authorities there. Officials in Canada have been paying close attention to her situation.
Member of Parliament Ted Falk said he thinks Prime Minister Trudeau should ask for Ms. Sun's release while at ASEAN.
"As Canadians, we believe strongly in freedom of religion, freedom of expression, and I think our Prime Minister, when he goes abroad to meetings like this, needs to confront the Chinese officials about situations where our citizens are being incarcerated," Falk said in an interview.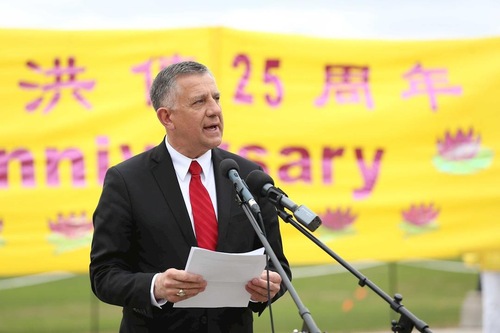 MP Ted Falk speaking at a rally celebrating Falun Dafa Day in Canada, May 2017.
At least 12 family members of Canadian practitioners are detained in China for practicing Falun Gong. "[The persecution of Falun Gong is] something we as Canadians absolutely deplore, and we think that the Chinese government needs to release Falun Gong prisoners immediately and let them return to their homes," added Falk.
Omar Alghabra, a parliamentary secretary to the Minister of Foreign Affairs, specializes in consular affairs. He said the case of Ms. Sun is very important and that the Canadian government has consistently raised human rights issues with China.
According to The Globe and Mail, Canada's oldest national newspaper, Alghabra told the House of Commons that the government has been defending Ms. Sun. "A Canadian is a Canadian is a Canadian," he said.
Alghabra added that when he was appointed to this position, Prime Minister Trudeau told him that protecting overseas Canadians is one of Alghabra's responsibilities. Mr. Trudeau used to travel around the world when he was young and he deeply understands the importance for the government to stand behind its citizens.
Alghabra promised the government is following up closely on the case of Ms. Sun and two other cases. They will continue their efforts until the practitioners are released.