Husband Arrested Again, Wife Recounts Family's Ordeal for Practicing Falun Gong
June 11, 2016 | By a Minghui correspondent in the U.S.
(Minghui.org) Mr. Han Wei, an entrepreneur from Harbin, Heilongjiang Province, was arrested on May 5 for the fourth time for refusing to renounce his belief in Falun Gong, a spiritual discipline being persecuted by the Chinese communist regime. His family, who did not hear from him for 3 days, eventually found out that he was in Harbin Detention Center.
Mr. Han was locked up in criminal detention after serving 15 days of administrative detention. The authorities have refused to let his family see him. Mr. Han's lawyer tried to see him on three separate attempts but with no success.
Ms. Lu Shiyu, Mr. Han's wife, who is currently living in the United States, wrote an open letter to the Minghui website, detailing the torture her husband suffered in the past and what her other practitioner family members have had to endure.
Three Prior Arrests
Mr. Han was detained in December 1999 for appealing in Beijing for the right to practice Falun Gong. He went into hiding after being reported to the police in 2001. They arrested him two months later and interrogated him for two days, brutally torturing him in the process.
"The police tied Han Wei to a chair and beat him. They repeatedly put a plastic bag over his head to suffocate him until he almost passed out," wrote Ms. Lu in her letter, "They hung him by his arms to a door frame and swung his body to make it more painful when he refused to curse the founder of Falun Gong."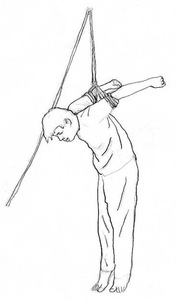 Torture illustration: Hanging up
Mr. Han was arrested again in 2006 and sent to Changlinzi Forced Labor Camp for a year and a half. "During that time, Han Wei was often forced to work till midnight. He was tied to an iron chair for refusing to renounce Falun Gong. The police taped his mouth shut so he couldn't speak," she wrote.
Family Torn Apart
After July 20, 1999, Jiang Zemin, the former head of Chinese Communist Party, announced a new policy to be implemented in the persecution of Falun Gong practitioners in China: "Ruin their reputations, bankrupt them financially, and annihilate them physically."
Mr. Han used to work at the Heilongjiang Province Highway Bureau, but he was forced to quit his job, concerned that his coworkers might get implicated for his belief.
"When my husband lost his job, we lost our only source of income. Our daughter had just been born, and the only way we survived was with help from my parents," wrote his wife.
When Mr. Han was arrested in December 1999, his wife had to scramble to pay a 2,000-yuan fine and to write a guarantee statement on his behalf before he was released.
Mr. Han started his own business after quitting his job. After years of hard work, the business finally turned a profit in 2006. That was when he was arrested for the third time. "Within two months of his arrest, I had to let all the employees go and close the business," said Ms. Lu.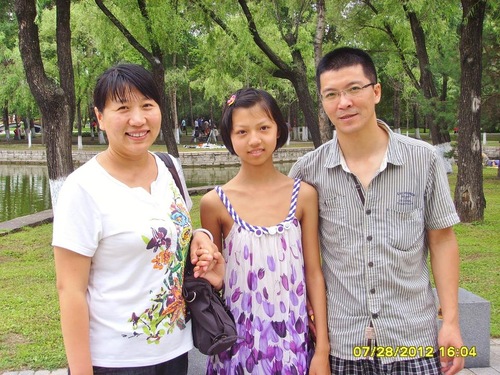 Mr. Han, Ms. Lu, and their daughter
Overwhelmed by the relentless persecution, Ms. Lu and their daughter fled to the U.S. and successfully sought asylum there. Mr. Han tried to join them but was stopped at the airport last November. His passport was canceled and he wasn't allowed to leave the country.
Family Members' Experiences
Prior to the persecution which began in 1999, an estimated 100 million Chinese were practicing Falun Gong. It was common for many members of the same family to practice Falun Gong. That was the case in Ms. Lu's family. Her three siblings and their spouses are all practitioners, too. This once happy family has been subjected to the most brutal persecution in Chinese history.
Ms. Lu Shiping, Lu Shiyu's older sister, used to work as an export manager at Harbin Pharmaceutical General Factory. She was arrested four times for refusing to give up practicing Falun Gong. She was detained at the notorious Wanjia Forced Labor Camp for 20 months and severely tortured. Her case was listed in UN Human Rights Persecution Record in 2002. She escaped from China in 2007.
"My younger sister, Lu Shixin, was arrested along with her husband Mr. Li Guoyou in July 2000 for writing letters to people about the persecution. The police hit her with batons and hung her up with only the tips of her toes touching the ground. When she was examined before being admitted to the detention center, her buttocks were all black," wrote Ms. Lu.
Ms. Lu Shixin's husband, Mr. Li Guoyou, was arrested three times and sent to forced labor camps in 2001 and again in 2004. Both times he was severely tortured and went on hunger strikes to protest. Even now he still bears the scars from being shocked with electric batons on his face in the labor camps.
Ms. Lu's younger brother Mr. Lu Shiqiang was arrested on August 28, 2015, after he filed a criminal complaint against Jiang Zemin.
Ms. Lu concluded in her letter, "I have lived in constant fear for the past 17 years. I fear for my family members being arrested in China, I fear that my child will become an orphan if I get arrested, and I fear that my elderly parents will have no one to look after them."
Related Reports:
A Mother's SorrowSwitzerland: Former Wanjia Forced Labor Camp Detainee Ms. Lu Shiping Tells Her Story at the UN in GenevaCall for Urgent Rescue: Lecturer Li Guoyou from Harbin Institute of Technology Is Unconscious After 13-Day Hunger StrikeHarbin City Practitioner Mr. Lu Shiqiang Arrested for Suing Jiang Zemin
Related Article in Chinese:http://www.minghui.org/mh/articles/2016/6/6/329696.html