112 New Cases of Falun Gong Practitioners Sentenced for Their Faith Emerge in First Two Months of 2016
March 19, 2016 | By a Minghui correspondent
(Minghui.org) According to information collected by Minghui.org, 112 new cases of Falun Gong practitioners being sentenced to prison in China for their faith have been confirmed in the first two months of 2016. Among the 112 cases, 54 were sentenced in 2016 and 58 were sentenced in 2015. Due to the censorship of information in China, those cases weren't reported in a timely fashion.
These new sentences range from six months to eight and a half years. Aside from three practitioners whose sentences are unknown, the others were sentenced to an average of 3.6 years in prison.
Liaoning, Hebei and Jiangsu are the three provinces with the most practitioners sentenced.
At the time of writing, 31 practitioners have filed appeals, and 19 were able to secure their freedom, including the 7 practitioners who were given probation.
The oldest practitioner sentenced was 78-year-old Ms. Ge Xiuyun, who was tried in her own home and given one and a half years for filing a criminal complaint against the former head of the communist regime for initiating the brutal suppression of Falun Gong.
Since the persecution began in 1999, practitioners across China have faced arbitrary arrest, detention, imprisonment, and even torture for refusing to renounce their faith.
Below are the number of sentences newly confirmed for each province and centrally-controlled city for January and February of 2016:
Liaoning (28)Hebei (19)Jiangsu (12)Heilongjiang (11)Beijing (7)Guangdong (7)Henan (5)Jilin (5)Shandong (3)Chongqing (3)Shanxi (2)Sichuan (2)Anhui (2)Guangxi (1)Jiangxi (1)Hunan (1)Hubei (1)Gansu (1)Shanghai (1)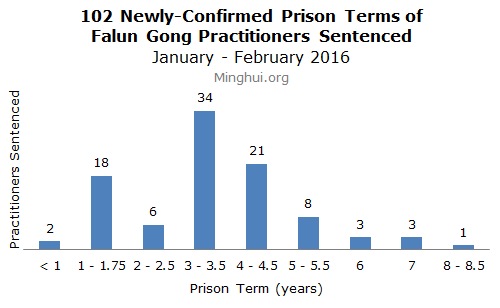 Ten of the 112 practitioners are not included in the chart; 7 received probation and 3 received unknown term lengths.
Increase in Prison Sentences After Closure of Forced Labor Camps
Since the Chinese regime's abolition of the "Re-education Through Labor" system under international pressure in 2013, imprisonment has become one of the major ways for the state to continue to persecute Falun Gong practitioners.
In 2014, 635 practitioners were illegally sentenced, with an average length of four years. In 2015, 878 practitioners were sentenced, with an average term of three years and eleven months.
As seen in these cases, the prosecution of Falun Gong practitioners is riddled with violations of legal procedure at various steps, from arrest to indictment and from trial to sentencing.
Some of the practitioners were interrogated and tortured. Some were denied the right to hire a lawyer. Some were directly sent to prison without a trial. Some were denied the right to appeal after sentencing.
Among those who were sentenced, some practitioners were repeatedly sent to prisons and suffered long-term torture there, some suffered mental breakdowns, and some saw their families torn apart and their children left unattended.
Widespread Legal Violations
Before Trial: Interrogation with Torture to Extract "Evidence"
Following their arrests, most Falun Gong practitioners were interrogated and tortured by the police as a way to extract evidence.
Ms. Zhao Aimei, a practitioner from Nantong, Jiangsu, was arrested in May 2015. She was detained at a hotel – a makeshift detention center – and interrogated for 24 days. Another practitioner, Ms. Zhou Meisong, was interrogated there for 14 days. Ms. Zhou was restrained to a "tiger bench" for more than ten days with both of her hands tied behind her.
Ms. Zhao was tried on July 29, 2015 by Rudong County Court and later sentenced to four years.
Ms. Zhou was tried on September 7, 2015 by Tongzhou District Court. She is currently detained at Tongzhou Detention Center, as the court hasn't announced her sentencing result.
Suppression of Lawyers
As more human rights lawyers are stepping forward to defend Falun Gong practitioners, the Chinese authorities moved to suppress these lawyers.
In the case of Mr. Wu Hongwei, his lawyer Zhang Zanning, a law professor from Southeast University, was threatened by police after he defended Mr. Wu during the trial in November 2015. The judge presiding over the case also attempted to force Mr. Wu's family to drop the lawyer.
Mr. Wu was later sentenced to five years in prison by Yucheng District Court in Heyuan City.
Secret Trials
In some cases, courts held closed trials to avoid outside scrutiny of the illegality of the trials.
Case 1: Ms. Wang Xuchun Tried Five Days Following Her Arrest
Ms. Wang Xuchun, in her 60s, was tried on January 5, 2016 by Yushu Court, only five days following her arrest.
According to witness, the court was tightly guarded on the trial day, and the road around the court was closed to through traffic.
Ms. Wang's family did not find out that she had been secretly sentenced to four years until January 17, nearly two weeks after the trial.
Case 2: Ms. Ge Xiuyun Tried At Home
Nine officials from the Domestic Security Division, Procuratorate, and court in Nanchang District broke into Ms. Ge Xiuyun's home in Wuxi, Jiangsu on January 8, 2016. They hurriedly "tried" her at her home before the judge announced that Ms. Ge was sentenced to one and a half years in prison.
On January 12, police returned and took Ms. Ge to the No. 2 Detention Center in Wuxi. She has since been transferred to Nantong Women's Prison to serve her term.
Ms. Ge was among the many practitioners whom the authorities attempted to silence after filing a criminal complaint against Jiang Zemin, the former head of the communist regime who ordered the brutal suppression of Falun Gong.
Ms. Ge filed her complaint in June 2015 for her daughter Ms. Dai Lijuan's wrongful death on March 28, 2011. As a result of torture and injections of unknown drugs, Ms. Dai had been paralyzed and incontinent since 2003. Ms. Ge has also been detained multiple times in the past 17 years.
Two other practitioners, Ms. Deng Shiyu and Ms. Chen Bingyu, both in their 70s and from Wuxi, have also been secretly sentenced for filing complaints against Jiang for their respective husbands' wrongful deaths as a result of the persecution. Their sentence lengths are currently unknown.
Blocking Practitioners from Appealing After Trial
After the trials, courts often attempt to block practitioners from appealing their sentences, often through deception.
Ms. Gao Yuhuan and Ms. Jiang Yuling, from Heilongjiang, were sentenced to three years in prison on February 1, 2016, for refusing to renounce their faith in Falun Gong.
The two women tried to exercise their right to appeal upon receipt of the verdict. The court told them that their appeal would be considered complete when they made a verbal request. They thus made a verbal appeal request, as told.
According to the Supreme People's Court opinion on the Code of Civil Procedure, Article 178, an appeal shall be deemed effective only if it is filed in writing within the statutory time limit. When defendants verbally request an appeal, courts are obligated to inform them that a written request is still required.
On February 15, the court notified the families of both practitioners that Ms. Gao and Ms. Jiang could not file an appeal, as they did not submit a written request within the statutory time limit. It was at this point that the families realized that they had been deceived.
Multiple Sentences in Persecution
It is notable that many of these practitioners have been repeatedly targeted for their faith in the past 17 years.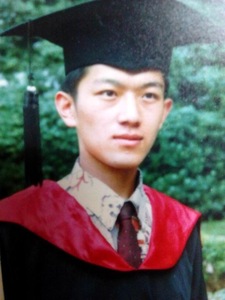 Mr. Zhang Hongru
Mr. Zhang Hongru, 43, a computer engineer, was sentenced to 11 years in 2002 for practicing Falun Gong. Less than four years after he was released, he was arrested again and sentenced to four years in January 2016 by Changping District Court in Beijing.
Families' Suffering
The imprisonment of these Falun Gong practitioners for their faith put their family members under tremendous suffering.
Ms. Shi Yinxue, a practitioner from Harbin, Heilongjiang Province, was arrested for distributing materials about the persecution of Falun Gong on June 9, 2015 and later sentenced to three years in prison.
Prior to Ms. Shi's own ordeal, her husband Mr. Ji Baoshan was tortured to death while serving his five-year prison sentence for practicing Falun Gong. Her sister had suffered a mental breakdown during her imprisonment for protesting the persecution of Falun Gong at Tiananmen Square in 2001.
Ms. Shi's arrest left her elderly mother to take care of her two children and mentally-disabled sister. Facing huge physical and financial difficulties, the elderly mother couldn't pay rent and was forced to move out. She was forced to beg on the streets with her two grandchildren, only to be driven away by city officials.
Related reports:Minghui Human Rights Reports 2015: Illegal Sentencing and Imprisonment