2014 Persecution Statistics: 983 Falun Gong Practitioners Tried, 635 Sentenced
January 15, 2015 | By a Minghui correspondent in China
(Minghui.org) The 15th year of the persecution of Falun Gong by the Chinese Communist Party (CCP) saw 6,415 practitioners newly arrested in year 2014, representing a 29.8% jump over the previous year.
This past year also witnessed the deaths of 91 Falun Gong practitioners as a result of the persecution, and the detention of 969 practitioners at extra-legal brainwashing centers, according to data collected by the Minghui website as of January 2, 2015.
Compared to data from 2013, the number of practitioners illegally tried and sent to brainwashing centers in 2014 increased by 23.5% and 31.5%, respectively. This uptrend coincides with the CCP shutdown of forced labor camps under international pressure in late 2013.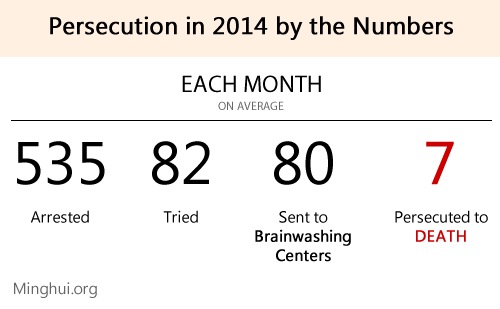 Figure 1. Arrests, trials, and brainwashing center detentions of Falun Gong practitioners in China increased in 2014
983 Tried, 635 Sentenced
Among the 983 practitioners tried in 2014, 635 have received a prison term from the court as of this writing, with at least 65 (10.2%) sentenced to seven years or longer. The vast majority of the others are awaiting a verdict.
Three practitioners were sentenced to 12 years in prison, including Mr. Wen Jiguo (文继国) from Guizhou Province, Mr. Jin Junbo (靳军波) from Liaoning Province, and 73-year-old Mr. Wang Jizhou (王纪州) from Henan Province.
The average sentence for each practitioner is about 4 years.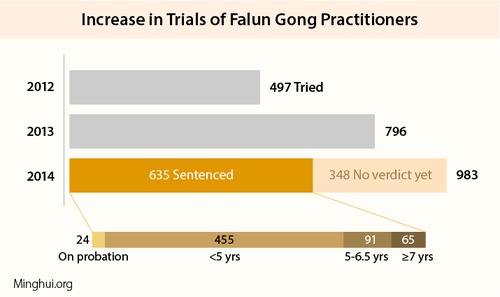 Twenty of the thirty provinces and autonomous regions in China saw an increase of practitioners sentenced in 2014. Liaoning Province had the highest number of practitioners sentenced in both 2013 and 2014. The 196 practitioners sentenced in 2014 in Liaoning Province accounts for 19.9% of all practitioners sentenced that year, and is about 2.7 times the second highest number of 73 in Shandong Province.
Hebei, Sichuan and Heilongjiang Provinces ranked third to fifth on the list of provinces for sentencing the most practitioners.
A few regions, such as the provinces of Guizhou and Hunan, had a significant percentage of practitioners sentenced to 7 years or more (25% and 19.4%, respectively).
Figure 3. Practitioners tried in each province in 2014
Practitioners Persecuted to Death While Serving Prison Terms
While serving sentences in prisons or awaiting trial at detention centers, four practitioners died as a result of brutal torture.
In one case, while performing intestinal surgery on Ms. Xu Chunxia (徐春霞), who was tortured at Liaoning Women's Prison during her four-year term for distributing Falun Gong pamphlets, the doctor found that her intestines had rotted and stuck together, and that there was a hard lump inside. Doctors could do nothing more for her and simply closed her back up.
Ms. Xu soon passed away on December 2, 2014. Her family was threatened by the authorities not to disclose the news of her death to the Minghui website.
The other three practitioners persecuted to death include Mr. Liu Zhanhai (刘占海), a Heilongjiang practitioner sentenced to four years for doing the Falun Gong exercises in public, Mr. Liu Liyan (刘立炎), a Hunan practitioner sentenced to 3.5 years for distributing Falun Gong related literature, and Ms. Huang Wenqin (黄文琴), a doctor from Jiangsu Province sentenced to four years by Liyang City Court on April 4, 2014.
Psychiatric Drugs and Mental Breakdowns
Ms. Li Yanxia (李彦霞) suffered a mental breakdown only a few days after she was taken to Tianjin Women's Prison to serve a five-year term for practicing Falun Gong.
Ms. Sun Guozhong (孙国中) had just recovered from a mental collapse due to the persecution she suffered in the past for practicing Falun Gong when she was arrested again in June 2014 and sentenced to 20 months in prison in September. The authorities tortured her in Qinhuangdao No. 1 Detention Center; she was left chained in a strenuous position on December 15, 2014. She experienced another mental breakdown as a result.
Mr. Zhang Wenlong (张文龙), 57, was sentenced to a three-year term and sent directly to prison 15 days after his arrest on February 18, 2014. When his family visited him on October 13, 2014, he was incoherent and didn't recognize them. The prison rejected his son's request to have him released on medical parole.
His family suspected the prison had administered Mr. Zhang psychotropic drugs, a common tactic used by guards under pressure to meet quotas in extracting statements from practitioners renouncing their belief in Falun Gong, even under altered mental states.
Mainstay of Society Persecuted for Their Beliefs
Many of the practitioners illegally sentenced were entrepreneurs, university professors, military officers, artists, writers, judges, and police officers.
Mr. Gao Yumin (高雨民), a Falun Gong practitioner and a police officer fell into critical condition at Liaoning No.1 Prison after being sentenced to three and a half years for his belief on March 14, 2014.
Also in Liaoning, Mr. Wang Renguo (王仁国), a university instructor, was sentenced to 3.5 years in prison for submitting articles about the persecution of Falun Gong to Chinese-language media outside of China. He was charged with "inciting subversion of state power."
Inside a makeshift courtroom in Naxi Detention Center, Luzhou Intermediate People's Court held the second trial of Mr. Li Yanjun (李延钧) and Ms. Yang Taiying (杨太英) on November 17, 2014.
To prevent the practitioners' family members and the public from attending the trial, the authorities set up three checkpoints on the street leading to the detention center, with close to one hundred government cadres standing guard. The judge adjourned the trial without announcing a decision to uphold or dismiss the 4 and 4.5-year sentences given to the practitioners in May 2014 by the lower court.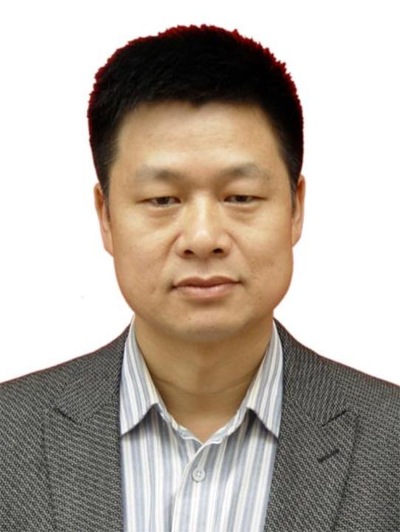 Dr. Li Yanjun, an Associate Professor at Southwest Petroleum University, was arrested on June 26, 2013 for practicing Falun Gong.
Related reports:Ninety-One Falun Gong Practitioners Died in 2014 as Result of Persecution576 Falun Gong Practitioners Tried, 236 Sentenced in First Half of 2014Arrests Increase by 42% in First Nine Months of 2014 Compared to 2013
(For the full list of practitioners illegally sentenced in 2014, please refer to the original Chinese report.)
Related report in Chinese language: 2014年法轮功学员被非法判刑统计