Family Torn Apart, Falun Gong Practitioner Wang Shusen Sues Former Chinese Leader
February 27, 2016 | By a Minghui correspondent in Jilin Province, China
(Minghui.org) Falun Gong practitioner Wang Shusen, 63, filed a criminal complaint against former Chinese leader Jiang Zemin in September 2015, stating that Jiang's persecution campaign against Falun Gong was responsible for the death of his son and the suffering of his entire family.
Mr. Wang was arrested in 2001 and sent to one year of forced labor for refusing to renounce his faith. He was arrested again in 2005, but managed to escape and lived away from home to avoid capture.
His only son, Mr. Wang Jianguo, was tortured to death in 2006 at the age of 30. His daughter-in-law has been forced to live away from home for the past 8 years to avoid further persecution.
His 81-year-old mother, wandered about the streets day and night, crying and holding a picture of her grandson.
His younger sister had been illegally detained many times, tortured, and poisoned with psychiatric drugs.
Below is Mr. Wang's personal account of persecution his family has endured.
Only Son Tortured to Death
My only son Wang Jianguo was detained in a forced labor camp for two years in 2000. He and his wife were arrested again on March 2, 2006 for their belief in Falun Gong. Both of them were taken to Jilin City Detention Center. My daughter-in-law was then transferred to Heizuizi Labor Camp in Changchun.
My son died in the detention center 40 days later after his arrest, at the age of 30. His body was not returned to our family. We set up a mourning tent in his memory, but it was torn down by police.
Tortured in Detention, Beaten in Forced Labor Camp
I was reported to police by villagers on August 28, 2001 when I posted Falun Gong fliers and information about the persecution on telephone poles. Four officers took me to the police station. They also raided my home. I was brutally kicked and beaten, spent the night shivering in the cold, and was taken to Jilin No. 3 Detention Center the following day.
I was held in the detention center for 28 days. The guards doused me with water in the freezing cold until I could not stop shivering. They forced me to sleep on a crowded cement floor that was ice cold. I was also emaciated at that point.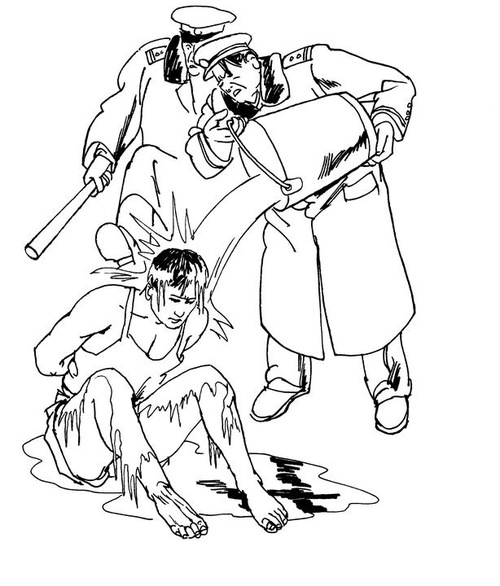 Torture re-enactment: Dousing victims with water in freezing conditions
In September, I was transferred to Huanxiling Labor Camp for two years, where I was brutally beaten, closely watched, deprived of sleep, and forced to sit on a board and to squat for long periods of time.
Hard Labor in Another Labor Camp
In December, more than a hundred prisoners, including myself, were taken to Yinmahe Forced Labor Camp in Jiutai [City] to do heavy farming work. We started to farm the land before 4:00 am and finished at around 7:00 pm every day. We were not allowed to talk to one another while working. Anyone who slowed down would be hit with a stick.
Because I refused to sign a repentance statement or promise to stop practicing Falun Gong, I was denied family visitation. The guards said, "I'll let you see your family if you're 'transformed.'" They always gave me the dirtiest jobs and fed us gruel that dogs wouldn't eat and soup containing mud and bugs.
Continued Harassment, Threat of Arrest
I was released on September 2, 2002, but the authorities did not stop harassing me. I had to report my daily activities to the 610 Office. Police frequently searched my home.
One day in 2005, agents from the 610 Office and officers from the police station came to my home to arrest me. I tried to talk them out of participating in the persecution of Falun Gong, but they did not listen. I managed to escape and stay away from home to avoid arrest.
Below are previous reports regarding the persecution of Mr. Wang Jianguo:
In Memory of Fellow Practitioner Mr. Wang Jianguo (Photo)Jilin Detention Center Guard Insists: "His Death Had Nothing To Do with Us"Ms. Zhao Qiumei Tortured in Labor Camp--Husband Wang Jianguo Persecuted to DeathPolice Tear Down Mourning Tent After Practitioner Wang Jianguo's DeathJustice Should be Done and the Guilty PunishedPractitioner Wang Jianguo's Family Appeals for Wang's Death Case and Voices Grievance (Photos)Additional Information on the Persecution Death of Falun Gong Practitioner Wang JianguoWang Jianguo Killed; His Wife in Detention and Parents Threatened (Photos)Practitioner Couple Arrested by Jilin City PoliceMr. Wang Jianguo, 30, Persecuted to Death at the No. 1 Detention Center of Jilin City (Photos)Jilin City Police Brutality Exposed: Grandmother in Her 80s Protests Death of Her Grandson