Shen Yun Exhibits "Pinnacle of Human Civilization"
February 27, 2016 | By Minghui correspondent Zhang Yun
(Minghui.org) Four Shen Yun Performing Arts touring companies have been performing in Australia and North America throughout February. Many theatergoers who attended the show to celebrate the Chinese New Year expressed their appreciation for the quality of what Shen Yun has to offer.
Shen Yun's Touring Company at the Boston Opera House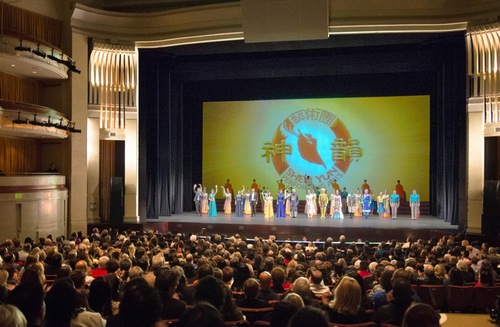 Shen Yun's New York Company performed at the California Center for the Arts in Escondido January 26-28. All four shows were sold out.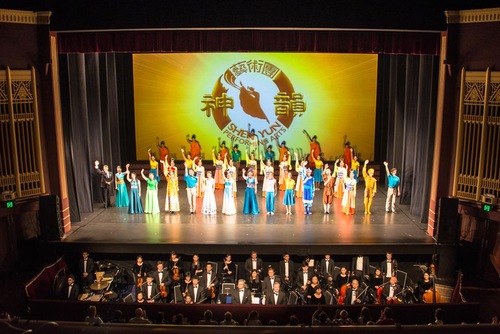 Curtain call for Shen Yun's World Company at the Regal Theater in Perth, Australia
"Pinnacle of Human Civilization"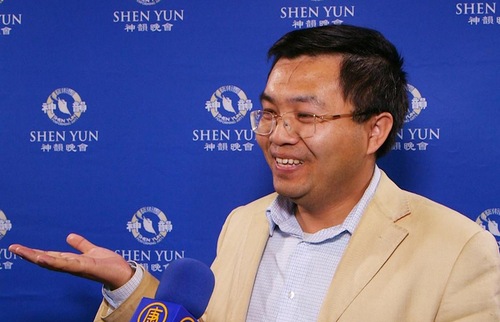 Mr. Lijun Hu, a PhD in Western philosophy
"I cried at the start of the performance, because I saw the pinnacle of what human art can reach," said Mr. Hu, a PhD in Western philosophy, after seeing the performance in Escondido on January 28.
"The quintessence of Chinese culture is manifested in such exquisite beauty and such divine virtues," he said. "Every scene is a display of perfection.
"Shen Yun makes me realize how wonderful and noble our culture is and has inspired me to start studying traditional Chinese culture and our ancient beliefs. Shen Yun brought an ancient civilization to life.
"If today's society were anything like what's portrayed on stage, our world would be much more peaceful," he commented. "If the virtues displayed on stage were employed in the interactions among individuals, nations, and races, there would not be so many conflicts.
"Confucius says, 'If a man hears the Tao in the morning, he may die in the evening without regret.' Even if I die now, I have no regrets because I have seen the pinnacle of human civilization in Shen Yun."
"Enriched My Understanding of Myself"
High school student Tiffany Stephens at the evening performance of Shen Yun at the Aotea Centre, ASB Theatre, on February 13
"I feel really cleansed," said high school student Tiffany Stephens. "It feels spiritually uplifting."
She described Shen Yun as, "Inspiring, powerful and beautiful" and that the cultural experience was "very special."
"I feel that I have a greater connection to my roots. I got to experience some of the wonderful art forms my culture has to offer and really enriched my understanding of myself as well," she said. "I feel that I was able to experience a side of my culture that I wouldn't have been able to if Shen Yun didn't exist."
Unique and Unforgettable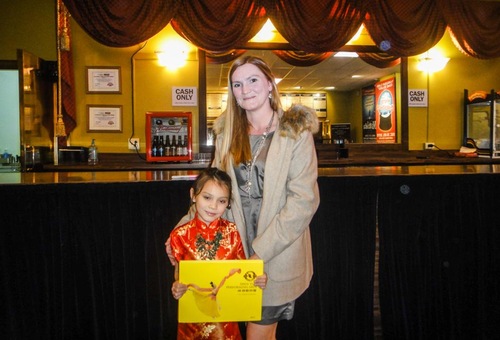 Ms. Iversen and her daughter at the Rochester Auditorium Theatre on February 7
Ms. Iversen purchased Shen Yun tickets for herself and her 6-year-old daughter, who is half-Chinese, as a present for the Chinese New Year. She said they had been wanting to see it for several years. She hoped her daughter could learn more about her Chinese heritage from the show.
Ms. Iversen thought the performance was very entertaining and engaging, that she had never experienced anything like it.
She said her daughter was awed by the costumes and colors. She said it was an unforgettable experience for her daughter and she really appreciated Shen Yun's great work.
Shen Yun will continue it World Tour with performances in Cincinnati, Ohio, on February 27; Mexico City February 26–28; Geneva, Switzerland, February 25–28; and Brisbane, Australia, February 26–28. For more information on tickets and dates, please visit http://shenyun.com.