Daughter of Canadian Citizens Groped During Force-feeding, Given 4 Years for Seeking Release of Wrongly Imprisoned Falun Gong Practitioner
June 03, 2015 | By a Minghui correspondent from Hebei Province, China
(Minghui.org) Ms. Chen Yinghua from Shijiazhuang, Hebei Province was recently sentenced to 4 years in prison, about 13 months after her arrest for seeking visitation of a cousin imprisoned for his spiritual belief in Falun Gong.
The 40-year-old daughter of a Canadian couple revealed to her lawyers during a meeting in May that she was repeatedly groped by a doctor named Li Yong during a brutal force-feeding session. She also sustained internal and external injuries as a result of other physical abuses.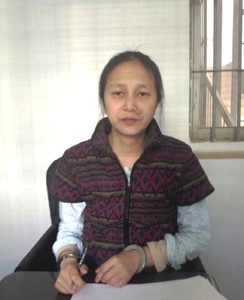 Ms. Chen's face still has a visible scar months after a force-feeding session at Shijiazhuang No.2 Detention Center.
She asked her lawyers to file complaints against her perpetrators and to appeal her unjust sentencing. At the time of writing, however, the local Intermediate Court has twice turned down the lawyers' request to review her case.
Ms. Chen's parents, both living in Canada, have been working tirelessly to seek their daughter's release. Ms. Chen was on a rescue list that Canadian Prime Minister Stephen Harper gave to the Chinese government during his trip to China last December.
Ms. Chen complained to her lawyers that she is suffering from edema and constant back pain, yet denied medical attention. She called for continued support from the Canadian government and others to help secure her freedom.
Arrest and Torture
Ms. Chen was arrested on March 12 last year along with her niece Ms. Bian Xiaohui while seeking visitation of her cousin Mr. Bian Lichao, who is serving a 12-year-term for practicing Falun Gong.
Both women were sentenced this April, with Ms. Chen given 4 years and Ms. Bian 3.5 years. Representatives from the Canadian Embassy visited the courthouse during both hearings, held in last August and December, respectively, but were denied observation of the trial of the two women.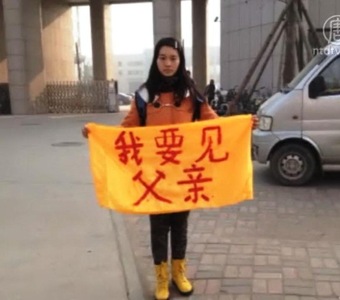 Ms. Bian Xiaohui was sentenced to 3.5 years for seeking justice for her wrongly imprisoned father Mr. Bian Lichao.
According to Ms. Chen's lawyer, who visited her on May 21, guards at Shijiazhuang No. 2 Detention Center beat and force-fed her when she went on hunger strikes to protest the illegal detention. Doctor Li Yong even took advantage of her during a force-feeding session.
Her stomach bled twice after several rounds of hunger strikes and force-feedings.
A guard once shackled her and hit her head with a mug when she refused to wear the inmate uniform.
Ms. Chen remains at the detention center with her worrisome health condition unattended to. It is not clear when she will be transferred to a prison.
Related articles:Canadian Citizens Urgently Seek Release of Daughter Facing Illegal Prison Sentence in ChinaCanadian Prime Minister Requests Release of Falun Gong Practitioner During China TripDaughter of Canadian Citizens Tried Again, Canadian Vice-Consul Denied Observation