Canadian Couple Calls for Release of Detained Daughter in China
April 08, 2014 | By a Minghui correspondent in Calgary, Canada
(Minghui.org) In an effort to rescue their daughter currently detained in China for her belief in Falun Gong, Ms. Huang Jinling and her husband held a press conference in Calgary's Chinatown on April 5, 2014, calling for international support.
According to Ms. Huang, her daughter Ms. Chen Yinghua has been on hunger strike for over 22 days at the No. 2 Shijiazhuang Detention Center and is in critical condition. Her lawyer was able to meet with her on April 2 and passed word of her current situation to the family.
Ms. Chen was arrested on March 12, 2014. Guards force-fed her and hung her up while torturing her severely. They also attempted to prevent her lawyer from mounting a defense for her.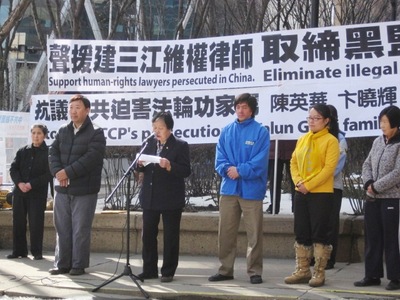 Ms. Huang Jinling spoke at the press conference on April 5, 2014 in Calgary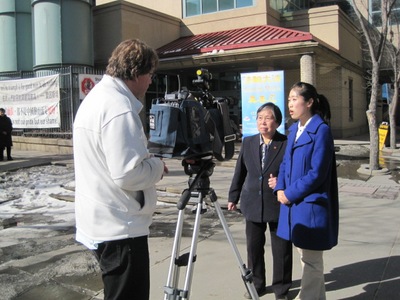 Ms. Huang Jinling (center) being interviewed by a reporter
During the press conference, Jeff Yang, contact person for the Calgary Falun Dafa Association, condemned the communist party's violation of human rights and the freedom of belief. "Hindering an attorney from following lawful procedures," said Yang, "is yet another harmful, reckless act in this 15-year-long persecution."
Yu Hua, a Canadian practitioner who had previously been detained in a brainwashing center in China, also spoke at the press conference. She hoped that the police and law-enforcement officers in China could rethink their decisions. She said, "Even some of the top leaders who drove the persecution have recently been arrested or investigated, such as Zhou Yongkang (former police chief) and Li Dongsheng (former 610 Office head). Other officers should make a smart decision and not allow themselves to perish along with the communist party."
This was not the first time that Ms. Chen has been detained. She was arrested in August 2003 and brutally tortured during detention. After she went on hunger strike for 39 days, she was subjected to force-feeding. This caused severe stomach hemorrhaging, putting her in a life-threatening situation. She was released in October after her brother, who was in Canada, called on the international community to help secure her release.
Ms. Chen was arrested again in July 2013 and detained for 11 days at the Nanjing Detention Center. She started another hunger strike to protest against the mistreatment, and was later released.
Some news media outlets attended the press conference. When interviewed by the Global Television Network, Jenny Yang, spokesperson for the Calgary Falun Dafa Association, expressed her hope that "Canadian government and the international society could pay close attention to this matter, so that immediate actions are taken to stop its citizens' daughter from being mistreated for her belief."
Global Television Network reported on this event on the same day, indicating that practitioners were abused in China for their belief in Truthfulness-Compassion-Forbearance. In addition to physical and mental torture, organ harvesting was also carried out on living practitioners.