Summary Report: Healthy Falun Gong Practitioners Tortured to Death in Mental Hospitals
April 08, 2014 | By a Minghui correspondent in China
(Minghui.org) In its 2013 Human Rights Country Report released in February 2014, the U.S. State Department documents widespread reports of psychiatric abuse of political dissidents and Falun Gong practitioners: "From 1998 to May 2010, more than 40,000 persons were committed to ankang hospitals [high-security psychiatric hospitals]."
The Chinese Communist Party (CCP) has been using incarceration in mental hospitals as one way to crush the will of Falun Gong practitioners. Healthy Falun Gong practitioners were given unnecessary injections of unknown drugs in mental hospitals, and many have died.
As of December 2013, among the 3,653 confirmed death cases, 74 were tortured in a mental hospital at some point. 36 deaths were direct results of torture in mental hospitals. This report analyzes those 36 deaths and documents details of a select few.
Ms. Guo Min, a young woman who was sent to a mental hospital for carrying a Falun Gong book with her, died after being detained for 11 years in the hospital. Ms. Ma Yanfang, a young farmer who traveled on foot for 17 days to Beijing to appeal for Falun Gong, was killed in a mental hospital.
The worst persecution using mental hospitals occurred in Shandong Province, and Weifang City in particular.
A New "Tool" Adopted in the Persecution of Falun Gong
The first Minghui report on mental hospitals was published in Chinese on January 2, 2000: "On December 16, 1999, the Beijing Fangshan Chengguan Police Station sent over 50 Falun Gong practitioners to Zhoukoudian Mental Hospital without going through any legal or medical procedures. The cited reason was to prevent these practitioners from going to Beijing to appeal for Falun Gong during the celebrations of Macao's return to China. Each practitioner had to pay 800 to 1000 yuan for 'expenses.'"
This report revealed a key fact of the persecution: The CCP was using mental hospitals to systematically persecute healthy Falun Gong practitioners.
The New York Times published a summary report on January 21, 2000, independently confirming the confinement: "'They are not patients, they are there to be re-educated,' Yang Yang, a spokesman for the police station near the hospital, told Agence France-Presse today."
It also pointed out: "Although hundreds if not thousands of Falun Gong members are still in detention or in labor camps, it had not been previously known that some were being kept in psychiatric hospitals."
On January 21, 2000, a month after the large-scale confinement, the Minghui website published six appeal letters from the Falun Gong practitioners detained there. The next day, Minghui published a joint letter from 52 Falun Gong practitioners imprisoned in Zhoukoudian Mental Hospital.
The letters recounted the practitioners' experiences, including threats, reduced portions at mealtimes, not being allowed to bathe, and the enormous humiliation and stress they endured from their workplaces and families due to the mere fact that they were sent to a mental hospital. While suffering mistreatment, they still peacefully petitioned the local Fangshan government agencies to restore the reputation of Falun Gong.
Minghui published a personal account by Mr. Huang Jinchun, a civil court judge at the Beihai Intermediate People's Court in Beihai City, Guangxi Zhuang Autonomous Region, on February 7, 2000.
In the article, Mr. Huang wrote about being tortured for two months in Longxiangshan Mental Hospital: "Because of the injected drugs, I felt exhausted, sleepy yet restless, and unsettled all day long. They [staff members] laughed at me: 'Did you say you practice Falun Gong? Which one is more powerful, Falun Gong or the drugs?' I did my best to control myself. I finally overcame the effect of the drugs after over 10 days. When they found out that I continued to do the Falun Gong exercises, they used heavier doses. It went on like this for two months in the mental hospital."
In September 1999, Mr. Huang went to Beijing to appeal for an end to the persecution of Falun Gong. On November 15, 1999, the provincial public security department arrested him and sent him to Longqianshan Mental Hospital in Liuzhou City, Guangxi Zhuang Autonomous Region. Because he continued to practice Falun Gong in the mental hospital, the hospital staff injected him with sedatives every day to make him sleepy. The injections had strong side effects and could damage one's mental abilities.
Mr. Huang wasn't the only judge incarcerated in a mental hospital. Ms. Yu Jing, a Falun Gong practitioner and judge at the High Court of Fujian Province, was held in mental hospitals twice, in December 1999 and March 2000. When she resisted, the doctor ordered four mentally ill male patients to tie her down on a bed and forcibly injected her with nerve-damaging drugs.
An internal CCP reference document "Methods to 'Transform' Falun Gong Practitioners" read, "Drugs can be used if necessary in order to achieve the goal of scientific 'transformation' through medical approaches and the policy of clinical experiments."
On June 18, 2000, the Hong Kong Information Centre for Human Rights and Democracy confirmed the death of computer engineer Mr. Su Gang, 32, at the Changle Psychiatric Hospital in Weifang City, Shandong Province, on June 10, 2000. This was the first reported death due to psychiatric abuse of a Falun Gong practitioner. This was also reported by independent media outlets like the BBC.
Prior to Mr. Su's death, another Falun Gong practitioner, Mr. Yang Weidong, was killed in Kangfu Hospital in Weifang City, Shandong Province, in December 1999. Because of information restrictions, his death was not reported until August 24, 2000.
In April 2004, the World Organization to Investigate Persecution of Falun Gong (WOIPFG) surveyed over 100 psychiatric hospitals in 15 provinces in China. 83% of them admitted that they had "admitted and treated" Falun Gong practitioners, and more than 50% stated that those practitioners had no mental problems and were being held expressly for the purpose of forcing them to give up their belief.
According to the survey report, the medical professionals knew that "accepting and treating" Falun Gong practitioners was a political task. Some psychiatrists even regarded the peaceful actions of Falun Gong practitioners, such as hunger strikes, as a criteria to admit them. The effects of psychiatric treatment were measured based on whether the practitioners denounced the practice. A guarantee statement promising not to practice Falun Gong was part of a checklist for release.
In a case cited by the WOIPFG report, a doctor at the Liaoyang City Psychiatric Hospital said, "Their [Falun Gong practitioners'] minds are so firm and stubborn, and they will not change. We first give them medical and mental treatments, and many other methods… We have more than 10 methods. We use psychiatric drugs."
As of March 24, 2014, Minghui has published a total of 7,710 reports on psychiatric abuses of practitioners.
Ongoing Persecution in Mental Hospitals
As of December 2013, among the 3,653 confirmed deaths, 74 were once tortured at a mental hospital. 36 deaths were direct results of torture in mental hospitals.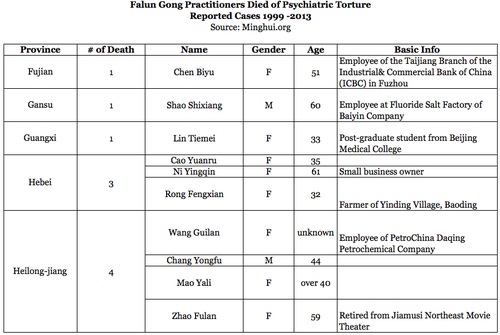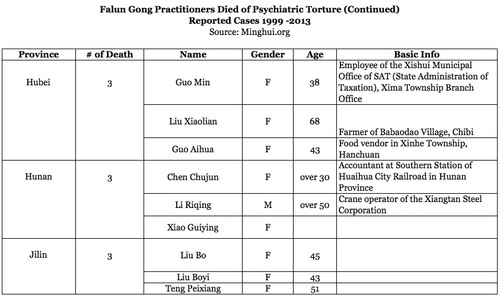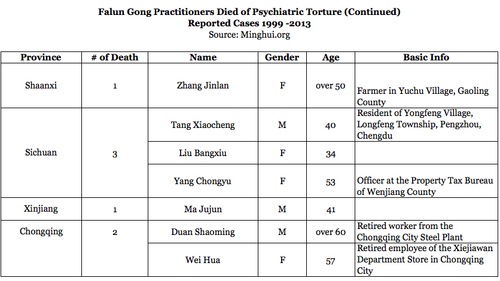 Mental hospitals in Shandong Province were responsible for the most deaths (8) , followed by Heilongjiang Province (4). Mental hospitals in Hubei, Hunan, Jilin, Sichuan, and Hebei Provinces were each responsible for 3 deaths. Seventy-five percent of them (27) were women.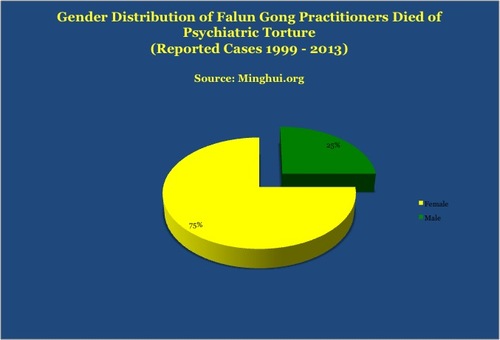 The 36 who died in mental hospitals ranged in age from 32 (Su Gang and Rong Fengxian) to 68 (Liu Xiaolian), with the biggest share between age 51 and 60.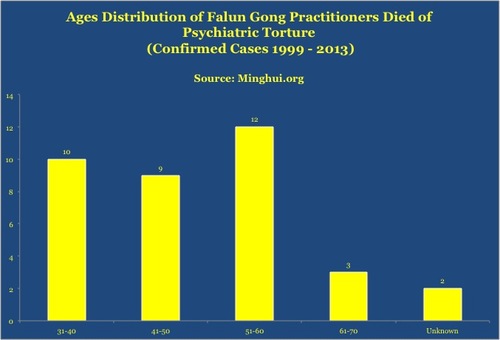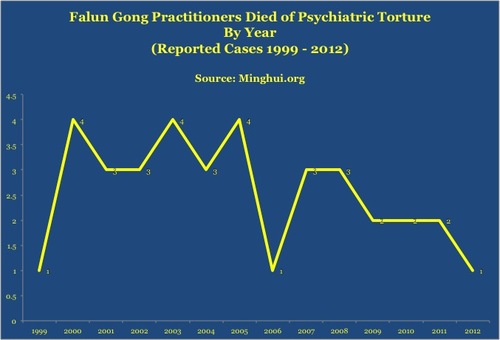 The following 34 mental hospitals were responsible for the deaths of 36 Falun Gong practitioners.
Wei Fang, Shandong Province: Worst in Psychiatric Torture
Weifang City, Shandong Province, has been one of the worst areas regarding psychiatric abuse of Falun Gong practitioners.
Mr. Yang Weidong
Mr. Yang Weidong, former director of a military health bureau in Changsha, retired from the military in 1990 and became a medical inspector at the Weifang Medicine Inspection Center, Weicheng District, Weifang City. Mr. Yang was studious, responsible, and honest. He treated people with respect and took pleasure in helping others; he was well regarded by his peers.
Before he began practicing Falun Gong, he had a serious heart condition, severe tracheitis, gallbladder problems, and other life threatening ailments. He had to sit up to sleep, because he had difficulty breathing if he laid down. After practicing Falun Gong, all his diseases were cured without medical treatment. He was very grateful and often told others about the benefit of Falun Gong.
The CCP began to persecute Falun Gong practitioners in July 1999. Propaganda targeting Falun Gong inundated the news. On November 19, 1999, Mr. Yang went to Beijing to speak up on behalf of Falun Gong.
On the morning of November 23, 1999, officers from the Nanguan Police Substation in Weicheng District escorted him back and detained him in a damp and dark room in a narrow hallway of the Nanguan Police Substation. No blanket was given to him although the weather was bitterly cold. He hardly ate anything and kept coughing for two days.
On the evening of November 24, 1999, he was sent to the Weicheng Detention Center by his work unit and was sentenced to administrative detention. While in the detention center, Mr. Yang's health deteriorated. The guard asked him a few questions about his health, but did not do anything to help him.
On December 8, 1999, his employer sent him to the psychiatric department of Kangfu Hospital to try to force him to give up his practice of Falun Gong through torture and drugs. His health further deteriorated. Mr. Yang developed liver edema and his lower limbs became swollen. On December 25, 1999, Mr. Yang died, just a few days after his release.
Mr. Su Gang
An even more disturbing death happened in Weifang City soon afterward. 32-year-old Falun Gong practitioner Mr. Su Gang was sent by the authorities to Changle Mental Hospital without notifying his family. He was overdosed with forced injections that damage the central nervous system every day for nine days before he died on June 10, 2000.
Mr. Su was a software engineer with Qilu Petrochemical Company. He went to Beijing several times to appeal for Falun Gong between February and May 2000. On May 23, 2000, the security officers at work took him to the Changle Mental Hospital. He was detained in the mental hospital for nine days, and was overdosed with forced injections every day. Upon learning that Mr. Su was in a mental hospital, his uncle Su Lianxi launched a hunger strike, and Mr. Su was released on May 31, 2000. When Mr. Su got home, he appeared slow, stiff, and extremely weak. He died on the morning of June 10, 2000.
Mr. Su Gang's father, Su De'an, and his uncle, Su Lianxi, wrote an open letter to the authorities regarding Su Gang's death. When they tried to deliver the letter to Su Gang's company leaders, dozens of people sent from the company arrested and interrogated them at a police station. They published their open letter on the Minghui website later. Just for releasing information of Su Gang's death to the media, Mr. Su Lianxi was sent to a labor camp for three years.
Ms. Ma Yanfang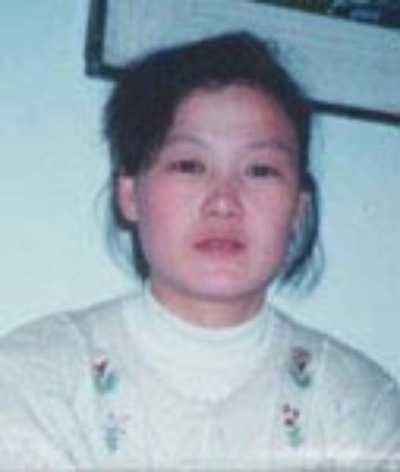 Ms. Ma Yanfang
33-year-old Ms. Ma Yanfang was employed at the Zhucheng Ceramics Factory in Zhucheng, Weifang City, Shandong Province. She started practicing Falun Gong in 1998. When she tried to appeal for Falun Gong in Beijing in October 1999, she was stopped halfway and taken to a detention center in Zhucheng. She was detained for 30 days and fined 3,000 yuan. She was then sent back to her factory to work under supervision with reduced wages.
Ms. Ma went to Beijing again in May 2000. She traveled on foot for 17 days to reach Beijing. When she was out of money, she cut off and sold her long hair. She was arrested in Beijing and sent back to her workplace for detention. She went on a hunger strike to protest. Authorities at her factory sent her to a mental hospital in Zhucheng.
Doctors in the mental hospital injected her with chemicals and forced her to take unidentified drugs. Ms. Ma died after two months in the mental hospital, in September 2000.
Ms. Ma's factory claimed that they had signed an agreement with her parents, in which the parents promised not to inquire further about her death. Ms. Ma's mother responded in tears, "She is my daughter. How could I not find out how she died?"
Death Cases in Hubei Province
A Never Withering Lotus – Ms. Liu Xiaolian
" Surviving Extreme Torture - A Lotus Flower that Never Withers ", a report on Minghui on December 29, 2003, told the story of Liu Xiaolian, a remarkable elderly woman who endured brutal torture and remained steadfast in her belief.
Ms. Liu was a kindhearted lady from Babaodao Village, Chibi Township, Chibi City, Hubei Province. She used to have many illnesses and had been blind in her right eye since 1958. She began to practice Falun Gong in 1995. Two weeks later, she regained vision in her right eye! She always told others about how practicing Falun Gong made her healthier and happier.
In December 2000, Ms. Liu went to Beijing to appeal for Falun Gong. She was arrested at Tiananmen Square and beaten. Three days later, she was sent to Haicheng City, Liaoning Province, where she was exposed to extremely cold weather and not given enough food. On January 17, 2001, she was taken to the Chibi City Second Detention Center and later transferred to the First Detention Center. She was brutally beaten but refused to be "transformed."
On June 28, 2002, detention center officials took Ms. Liu to the Women and Children's Clinic first, attempting to get her injected with unknown drugs, but the doctors there refused to cooperate. They then took her to the Chibi City First Hospital, handcuffed her hands and feet to the four corners of a bed, blindfolded her, and injected her with drugs.
That same night, Ms. Liu bled from her mouth, nose, ears, and eyes. Her ears were in extreme pain. She also vomited and had diarrhea, urinated blood, and had blood clots in her bowel movements. Five days later, her bowel movements were still dark, bloody, and smelled foul. She had pain when she urinated or had a bowel movement. She was unable to eat or drink. Realizing that she was on the verge of death, the detention center officials released her after extorting 3,000 yuan from her family.
Ms. Liu's family thought that she would not live much longer, but she miraculously survived. Although still weak, as soon as she was able to walk, she went out to tell people about the persecution she had suffered.
The local police came to her home the next day and took her away from bed. On October 17, 2002, she was sent to the Chibi City First Detention Center. On December 6, 2002, a total of 18 people, including deputy director Deng Dingsheng, a dozen guards, and four inmates, tortured Ms. Liu. The inmates grabbed her arms and legs and pulled hard in four directions. Deng grabbed her head and pulled hard as well. Ms. Liu's joints dislocated. Other guards later joined in. One after another they beat her with heavy shackles. Her head was bleeding and bones in her arms, legs, hands, chest, and lumbar region were broken. The officials at the detention center thought she would die and notified her family take her home.
With amazing tenaciousness and an iron will, Ms. Liu not only survived, but also told people about her experience. The report on Minghui on March 22, 2004, " Surviving Extreme Torture - A Lotus Flower that Never Withers (II), " recounted her experience of surviving torture and exposing the persecution.
Earlier, the Minghui website published "Solemn Warning to Persecutors in Chibi: Your Crimes against Liu Xiaolian Are Recorded" in Chinese on December 21, 2003. CCP officials retaliated by abducting Ms. Liu Xiaolian again on December 28, 2003.
On February 4, 2004, Theo Van Boven, the United Nations' special rapporteur on torture, issued an emergency appeal to rescue Ms. Liu. Although the torture lessened, it never stopped. Ms. Liu was sentenced to two years of forced labor. After five months, she was on the verge of death and had to be carried home on May 29, 2004.
On April 26, 2006, the police arrested Ms. Liu again and detained her in Chibi Pufang Mental Hospital. When they told her to write a guarantee statement not to practice Falun Gong anymore, Ms. Liu replied, "The righteous will never cooperate with the evil."
In her submission to the Minghui website, Ms. Liu recounted what had happened to her in the mental hospital: "Under the direction of director Zhang and his accomplices, I was subjected to high-voltage electric shocks and shocked with electric needles for four hours. He also ordered young male psychiatric patients to curse, beat, and sexually harass me. I was force-fed with harmful drugs. He also gave me 11 pounds of poisonous intravenous infusions over a 24-hour period. Afterward, the skin all over my body turned dark, and I lost consciousness for 48 hours. When I came to, I had lost the ability to speak. The doctor only stopped the medical abuse when he saw that I had become mute."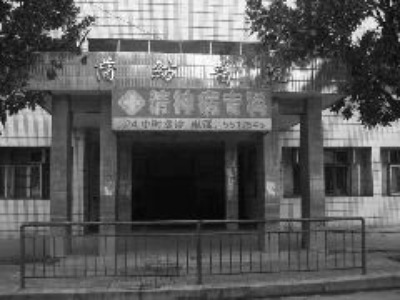 Chibi Pufang Mental Hospital
On September 1, 2006, Ms. Liu was once again sent to Chibi Pufang Mental Hospital. Zhou Xinhua, the deputy secretary of Communist Party Committee in Chibi Township, told Mr. Liu's husband, "The 'never withering lotus' will wither this time, for sure. If we kill her, how much compensation will you be seeking from us for her funeral expenses?"
In the mental hospital, Ms. Liu was force-fed, injected with unknown drugs, shocked with electric needles, and suffocated under quilts for several hours. She was near death. Those responsible included Dr. Han Hai, Dr. Shen Zubo, and director Zhang Hongjing.
During the following two years of detention, Ms. Liu continued to be physically and mentally tortured. By September 2008, her whole body was swollen, and she had difficulty eating and was unable to urinate. The doctor said she would only live for about 20 days. Her family was told to carry her home.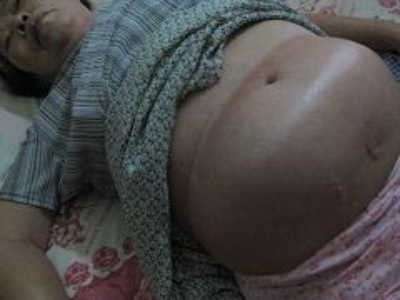 Ms. Liu Xiaolian near death, her body swollen
After being tortured for more than five years and four months, Ms. Liu passed away on October 26, 2008. That same night, six plainclothes police officers monitored her home to catch any Falun Gong practitioners who might visit her.
Right after her death, officials from the Chibi City 610 Office called the Chibi Town officials to congratulate them. Fearing that Ms. Liu's family would seek justice, they paid her family 7,000 yuan for medical and funeral expenses.
Ms. Guo Min
Another Falun Gong practitioner in Hubei Province, Guo Min, was imprisoned in mental hospitals since she was in her 20's and died after 11 years.
Ms. Guo, who worked at the Xima Town Branch of Xishui County Tax Bureau, started practicing Falun Gong in 1996. After the persecution began, she did not want to give up her faith despite pressure from her family, employer, and the community. In March 2000, she was on her way to a relative's home in Hangzhou City when Hangzhou Train Station police found a Falun Dafa book while searching her bag and arrested her. The Xishui County Tax Bureau sent the union chairman, Tang Yuanhong, to Hangzhou, to pick Ms. Guo up and take her to Kangtai Mental Hospital in Huanggang City, Hubei Province.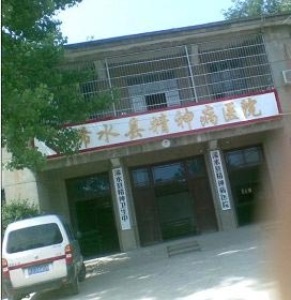 Xishui Red Cross Mental Hospital
Two years later, Tang Yuanghong and her sister, Tang Yuanming, a tax bureau director, transferred Ms. Guo to the Xishui Red Cross Mental Hospital and held her there for more than eight years. Due to being forced to take nerve damaging drugs for a long period of time, Ms. Guo stopped menstruating, and her stomach was terribly bloated. She endured physical and mental torture. She had a hemorrhage in July 2010 and was diagnosed with late-stage uterine cancer.
She died in the mental hospital on August 29, 2011. She was in so much pain from the cancer that she rolled off her bed and didn't have the strength to get up. She was incontinent, but no one took care of her.
Psychiatric Abuse Still Going on
Falun Gong practitioners are still being persecuted in mental hospitals today.
Mr. Zhao Xianghai, a crane operator at Xiangtan Iron and Steel Company in Hunan Province, is widely regarded as a good person by his colleagues and neighbors and was never known to have any mental health problems. However, because of his belief in Falun Gong, the local 610 Office sent him to the Xiangtan City Mental Hospital in August 2007. He has been detained there ever since.
A recent attempt to rescue him was stopped by the local 610 Office.