Update on Heilongjiang Human Rights Case: 4 Falun Gong Practitioners Recently Sentenced, Vow to Fight the Verdict
June 20, 2015 | By a Minghui correspondent from Heilongjiang Province, China
(Minghui.org) Four Falun Gong practitioners from Jiansanjiang, Heilongjiang Province were recently sentenced for their spiritual belief, and all four have filed appeals against their sentences.
They were arrested together with four prominent human rights lawyers and three other practitioners in March 2014 while seeking the release of a group of local practitioners detained at a brainwashing center, an extra-legal black jail used by the communist authorities in their attempts to force practitioners to give up their belief.
Dubbed "Heilongjiang Human Rights Case," the case drew attention internationally. Though the lawyers and three other arrested practitioners were later released due to international pressure, the one man and three women remain in custody at Nongken Detention Center and Jiamusi Detention Center, respectively.
Qianjin Court sentenced the practitioners on May 21, 2015. Mr. Shi Mengwen was sentenced to three years, and Ms. Wang Yanxin, Ms. Li Guifang, and Ms. Meng Fanli were sentenced to two years. It is not clear when they will be transferred to prison.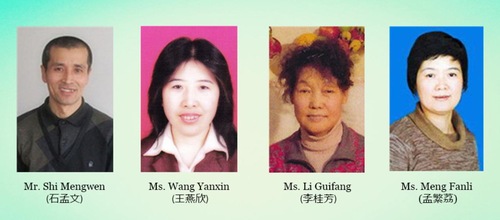 The four practitioners in the Heilongjiang Human Rights Case were sentenced by Qianjin Court in Jiansanjiang, Heilongjiang Province.
Lawyers and Family Members Blocked from Trial
The four practitioners' lawyers appealed the verdict to Nongken Intermediate Court, arguing that there is no legal basis on which to sentence their clients for practicing Falun Gong, and that the presiding judge violated the law in many of the court proceedings.
During two previous hearings held in December and January, police attempted to obstruct the lawyers by setting up several checkpoints on their way to the court and through physical intimidation.
Before the most recent session when the verdict was announced, the court did not inform the practitioners' lawyers and families until the last minute, so only two of the four defense lawyers were able to travel to Jiansanjiang.
In addition, police set up five checkpoints, each guarded by heavily-armed officers carrying sub-machine guns. They searched the lawyers' and family members' cars, videotaped them, and repeatedly demanded and recorded their identification documents.
When the two lawyers finally arrived at the courthouse, bailiffs did not allow them to enter, claiming that they didn't have a trial notice from the court.
Mr. Shi Mengwen's family members were also stopped on their way to the court. Only the other three practitioners' family members were able to attend the trial.
According to those in attendance, the courtroom was filled with government officials. An emaciated Mr. Shi was carried in by two bailiffs.
Related reports:
Eyewitness Recalls Arrests of Supporters of Falun Gong Practitioners in Heilongjiang Human Rights CaseUnable to Defend Practitioner Clients in Court, Rights Lawyers in Jiansanjiang Case Stage Public Protests