Film "Human Harvest" Wins Prestigious Peabody Award
(Minghui.org) The producers of the film "Human Harvest" are being awarded one of the 74th Annual Peabody Awards for Documentary, which were announced Thursday. The awards will be handed out May 31 in New York.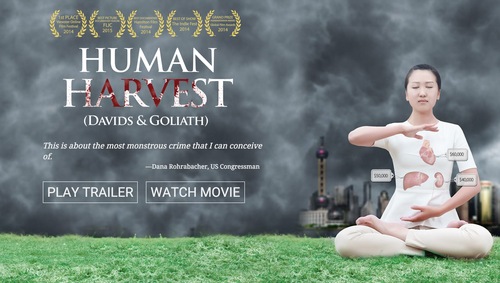 Human Harvest is a new documentary feature that follows Nobel Peace Prize nominees David Matas and David Kilgour as they investigate the atrocities of illegal organ harvesting in China, particularly of Falun Gong prisoners of conscience. (humanharvestmovie.com)
The film recently aired on national television in Australia, leading numerous concerned citizens to stand up and speak out against organ harvesting atrocities, shocked to discover that the whole process appears to be state-sanctioned.
The film is written, directed, and produced by filmmaker Leon Lee, principal of Flying Cloud Productions in Vancouver, and executive produced by Jason Loftus of Toronto-based Mark Media.
The prestigious George Foster Peabody Awards, established in 1940 to recognize distinguished achievement and excellence in broadcast and media production, are among the most esteemed and coveted in the industry. Winners must receive the unanimous support of all 17 members of the Peabody Board of Jurors, making the award one of the most difficult to win. Previous winners include CNN, PBS Frontline, NPR, and HBO.
"Winning the Peabody is a great honor and a highlight in my career so far," said filmmaker Leon Lee. "My hope is that the attention this film receives can help shine a light on the terrible crime of organ harvesting."
Related Articles:Queensland, Australia: Political Leaders Condemn the Chinese Communist Regime for Live Organ HarvestingAustralia: Live Organ Harvesting "Too Horrible and It Must End Immediately!"Sydney, Australia: Concerned Citizens Wish to Help Stop China's Organ Harvesting AtrocitiesAustralia: Public Outcry in Sydney Over China's Organ Harvesting Crimes