Heilongjiang Court Tries Ms. Sun Shujie Despite Her Poor Health
February 05, 2015 | By a Minghui correspondent in Heilongjiang Province, China
(Minghui.org) Accompanied by half a dozen police cars with blaring sirens, a court van stopped at the back door of Jianshanqu Court on the morning of January 21, 2015. Several police officers lifted a woman in her 50s from the floor of the rear section of the van and carried her inside. She was handcuffed, had her eyes closed and looked very weak.
The woman, Ms. Sun Shujie (孙淑杰), was put on trial at Jianshanqu Court in Heilongjiang Province following her recent arrest on June 4, 2014, for practicing Falun Gong. She had been held in the Shuangyashan detention center, where due to mistreatment her health deteriorated significantly. However, the authorities with the local Political and Legal Affairs Committee and the 610 Office still put her on trial.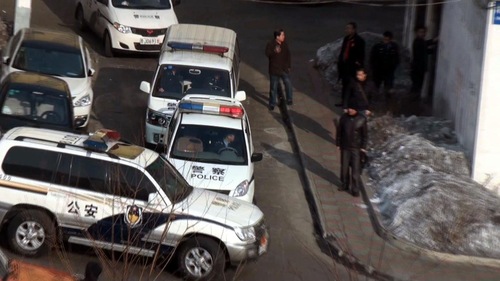 Photo: Some of the police cars involved in the trial of Ms. Sun Shujie
Only two family members were allowed to be in the court room. Ms. Sun's family and friends waited outside the court in the early morning despite a below -10ºC (or 14°F) temperature.
Ms. Sun Speaks in Her Own Defense
Except for Ms. Sun's two family members, all those present at the trial were there because they'd been ordered to attend, including Gao Zhixin, president of the tribunal, two procurators, four 610 Office agents, police officer and other court staff.
Ms. Sun vomited several times during the trial. She was so weak that she could not remain seated without the court staff's assistance. Her head kept shaking. Although her tongue was stiff and she spoke slowly, she defended herself: "It is my right to practice Falun Gong. You guys have been brainwashed and thus persecute Falun Gong practitioners."
She continued, "I remained silent during the interrogations. The officers manipulated the record." The attorney also spoke up on behalf of his client. Although the judge rarely interrupted the attorney, the procurator asked that Ms. Sun be sentenced from three to seven years.
The area outside the courthouse was packed with police cars. A man videotaped Ms. Sun's relatives and friends. The court office was closed to the public, even though the front gate was surrounded by many people waiting to take care of normal business.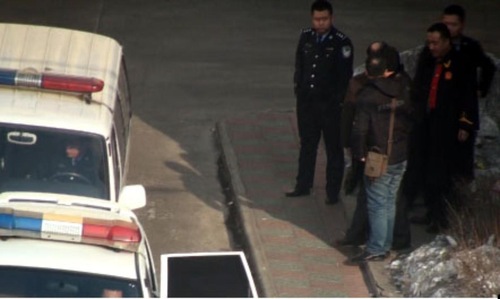 Photo: Judge Gao Zhixin, with a red tie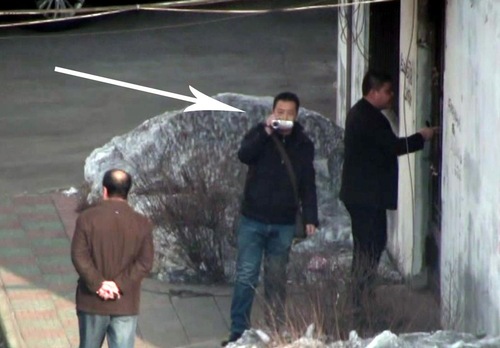 Photo: Individual videotaping Ms. Sun Shujie's relatives and friends
After the trial, Ms. Sun collapsed. Four officers carried her to the court van and took her back to the detention center.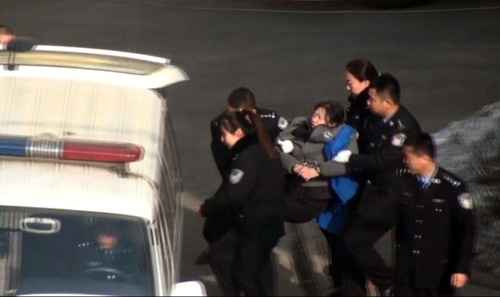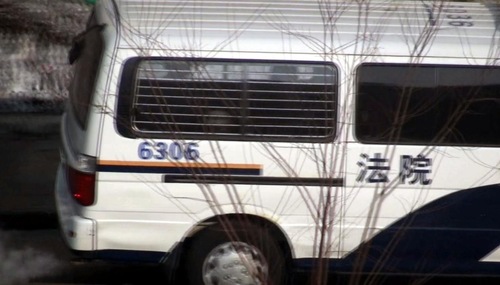 Photos: Ms. Sun Shujie was carried out to the van after the trial
Persecuted for 15 Years
Ms. Sun, head of the Forest Protection Site of the Shuangyashan Coal Mining Group, has been arrested fourteen times and sentenced to forced labor three times since the persecution of Falun Gong began in July 1999. She was taken to an emergency room nine times. In addition, her family was broken up as a result of the on-going persecution.
Parties Involved in the Persecution:
Zhao Jingtao (赵景涛), director of Shuangyashan 610 Office: +86-18904690069 (Cell), +86-13945797979 (Cell), +86-469-4286610 (Office)Wang Xiaodong (王晓东), director of Shuangyashan 610 Office: +86-13555150577 (Cell), +86-469-4283610 (Office)
Zhao Zhongchao (赵中超), director of the Shuangyashan Police Department: +86-18545256789 (Cell), +86-18645158889 (Cell)
Di Shenli (翟慎利), director of the Jianshan District Police Department: +86-13904685999 (Cell)
Zhang Shuli (张树立), chief procurator of Jianshan District Procuratorate: +86-13664699557 (Cell)
Wang Zhanlin (王占林), president of Jianshan District Court: +86-13339333007 (Cell)Gao Zhixin (高志新), tribunal vice-president of Jianshan District Court: +86-15604690678 (Cell), +86-13019044496 (Cell), +86-886-4284239 (Office)
Han Xiaojun (韩晓军), chief of the Yonghong Police Station: +86-13946669216 (Cell)
(Please refer to the original Chinese article for more people and offices involved in the persecution.)
Related articles:Ms. Sun Shujie Still Detained; Family Seeks Lawyer's Help
Persecution Leads to Ms. Sun Shujie's Mental Collapse, But Officials Still Insist on Passing Sentence (Photo)