U.S. Congressional-Executive Commission on China: "The 15th Year of Persecution Must Be The Last"
July 23, 2014 | By Minghui correspondent Rachel Clarke
(Minghui.org) As the persecution of Falun Gong enters its 15th year on July 20, 2014, the Congressional-Executive Commission on China (CECC) condemned the persecution and urged the Chinese government to end the fifteen years of systematic suppression.
Issues of organ harvesting, psychiatric abuse, torture, and arbitrary detention were stressed in the official CECC statement.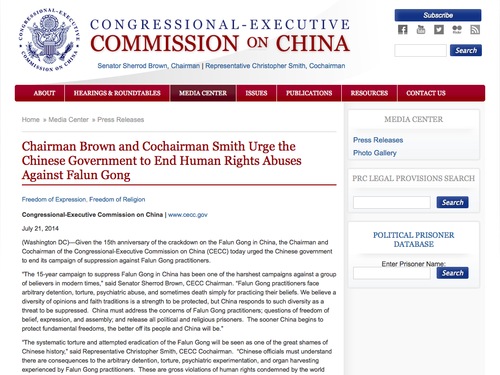 The official CECC statement on its web site
Chairman of CECC Sherrod Brown stated, "The 15-year campaign to suppress Falun Gong in China has been one of the harshest campaigns against a group of believers in modern times." He said regarding China's crackdown on people's faiths, "We believe a diversity of opinions and faith traditions is a strength to be protected, but China responds to such diversity as a threat to be suppressed."
Christopher Smith, senior member on the House Foreign Affairs Committee and CECC co-chairman, called the persecution "one of the great shames of Chinese history."
He stated, "Chinese officials must understand there are consequences to the arbitrary detention, torture, psychiatric experimentation, and organ harvesting experienced by Falun Gong practitioners... The 15th year of persecution must be the last."
Congressman Smith also called for an end to the persecution in his statement during a rally at the U.S. Capitol on July 17, "The arbitrary detentions must stop. The slander must stop. The torture must stop. The black jails must close. There should be no organ harvesting from any prisoner in China. And the war on women – forced abortion, forced sterilization – must end, and perpetrators of the crime against humanity must be held to account."
Since the persecution began in 1999, the Chinese Communist Party has been attempting to slander Falun Gong and conceal the brutal facts of suppression through all means, both in and outside of China.
More and more facts have been exposed however, including forced organ harvesting from living Falun Gong practitioners.
The EU Parliament passed a resolution condemning organ harvesting in December 2013. Many political leaders in North America, Australia, and Asia have also openly condemned this crime against humanity.
During the 25th regular session of the United Nations Human Rights Council in March 2014, the Canadian government raised the issue of state-sanctioned organ harvesting in China.
At a rally at Capitol Hill in Canberra on July 16, 2014, founders of Parliamentarians Against Forced Organ Harvesting (PAFOH) in Australia, Senator John Madigan and MP Craig Kelly, condemned the Chinese government's violent crime of harvesting organs from living Falun Gong practitioners.
Senator Madigan said, "I hope that in the not-too-distant future that Australia condemns the illegal harvesting of organs, no matter where they are from. But we know from the evidence presented to us that China plays a big role in this immoral industry. We are not talking about commodities, we are talking about people."
Legislator Yu Mei-nu, a member of PAFOH in Taiwan, said at a recent candlelight vigil in Taipei, "Fifteen years have passed regarding organ harvesting and the persecution of Falun Gong. Considering many years of persistent anti-persecution of Falun Gong practitioners, Taiwan should pay more attention to human rights especially now that three human rights contracts have been passed. For people who have persecuted Falun Gong or were involved in organ harvesting, we do not receive or welcome them to come."
Congresswoman Ileana Ros-Lehtinen, who introduced H. Res. 281, a bipartisan resolution in the U.S. House of Representatives that raises concerns about the persistent and credible reports of systematic horrific abuses in China, said at a recent rally at the U.S. Capitol:
"I will continue to work with my colleagues here in the House to pass H. Res. 281, and make sure the United States is doing everything it can to work with its allies to force China to stop its persecution of the Falun Gong."
This resolution has drawn bipartisan support from 182 co-sponsors and awaits markup by the full House Committee on Foreign Affairs after passing the Asia Subcommittee markup last December.
The Congressional-Executive Commission on China was created by Congress in October 2000 with the legislative mandate to monitor human rights and the development of the rule of law in China, and to submit an annual report to the President and the Congress.