National Broadcaster in Italy: Parliamentary Symposium on Transplant Ethics Brainstorms Legislative Actions to Combat Organ Harvesting
July 23, 2014 | By a Falun Gong practitioner in Italy
(Minghui.org) The Italian Parliament held its first-ever symposium on transplant ethics on July 11, 2014. Doctors, lawyers, and politicians condemned the Chinese regime's crimes of harvesting organs, and brainstormed options for legislative action to end these crimes against humanity.
Rai News, a major broadcaster in Italy and the national public broadcasting company owned by the Ministry of Economy and Finance, published a related report the next day.
The report quotes Senator Romani, stating that a bill is in the pipeline to combat organ harvesting, and he believes that the best way to stop it is through interception and implementing heavy penalties.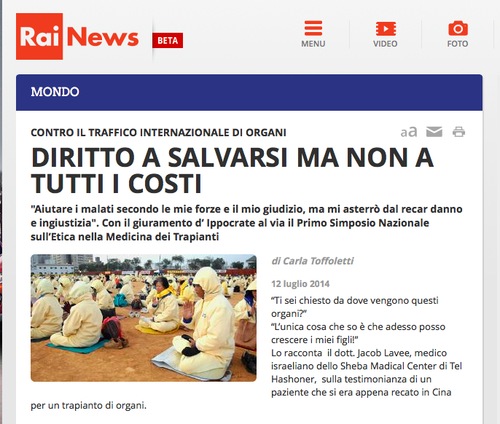 A screenshot of the online article published by Rai News
The following is an English translation of the article "Against the International Trafficking of Organs: Right to be Saved But Not at All Costs."
***
"I will prescribe regimens for the good of my patients according to my ability and my judgment and never do harm to anyone," from the Hippocratic Oath. The First National Symposium on Transplants Ethics was held in Rome, Italy.
By Carla ToffolettiJuly 12, 2014
"Did you ask where the organs came from?"
"The only thing I know is that now I can raise my children!" A patient who had just traveled to China for an organ transplant tells Dr. Jacob Lavee, an Israeli doctor from the largest hospital in the Middle East, Sheba Medical Center in Tel Madical Hashomer.
The first National Symposium on Transplants Ethics was inaugurated in Rome. At the Chamber of Deputies (house of the bicameral Parliament), the medical community has joined the political circle to find concrete answers to stop the international trafficking of organs. They also discussed the central issue of ethics in a society... the right to life and the integrity of mankind is threatened by unethical practices and new forms of "cannibalism."
According to the World Health Organization (WHO) statistics, one-fifth of the 70,000 transplants performed around the world are done through the buying and selling of organs. The WHO urges countries to take measures to protect the poorest and most vulnerable groups, and heighten their concerns on the wider problem of international trafficking of human tissues and organs.
On this issue, four months ago the Senate approved a resolution, which instructs the government to take action against forced organ transplants in China, condemned by attorney David Matas, nominated for the Nobel Prize for Peace in 2010, for his investigation into the harvesting of organs from Falun Gong practitioners.
Patients from Europe as well as other countries travel to China for organs because the wait time is 1-2 weeks, while the common wait time for a transplants in Europe is several years.
Tens of thousands of organs have no legal origin, and as shown by witnesses and confirmed evidence, come from non-consenting prisoners of conscience. In July 2006, Matas and David Kilgour, former Canadian Secretary of State for Asia-Pacific, published a 140-page investigation report which drew "the regrettable conclusion that the allegations are true."
China presents a macabre uniqueness on the global stage with "transplant tourism," and this problem might have something to do with us. Health tourism is born in civilized countries, by us the Western countries, who start buying organ parts accessible to those who can afford them.
There are well-structured organizations, comparable to those of child trafficking or slave trading, which include many participants, from brokers (intermediaries), the doctors who perform the organ transplants, and many others.
"We must urge the world to act on this," says Senator Ivana Simeoni, member of the Healthcare Commission, "We have managed to pass a resolution, calling on diplomats of all European Union organizations to intervene in China, where people get killed for their organs."
A bill signed by Senator Maurizio Romani, vice president of the Healthcare Commission, takes a step further to stop organ trafficking from becoming more complicated.
"In the bill it establishes equivalence between the crime of trafficking human organs for transplantation and the crime of human trafficking," said Romani, "This makes all participants guilty, the donors, the organizers, the surgeons who perform the transplants, and even those who buy the organs."
Senator Romani, a medical doctor before he became a politician, said that he wanted to stop organ trafficking through interception. As it takes six years to intercept organ trafficking, in the bill he asked to raise the penalty from 8 to 22 years to combat the offense of conspiracy to traffic organs.
"The Healthcare Commission agreed on the bill unanimously. The Justice Committee put off the approval because it wanted to hear my opinion. There will be some changes but it will be approved on July 24," assures Romani.
It's not enough to just have laws to prevent organ trafficking. As long as there are supply and demand, nothing will change. We need a cultural revolution to eradicate the demand through the system of donation. Alessandro Anselmo, attending physician of UOC Transplant Surgery at Policlinico Tor Vergata University in Rome, explains it, "In Italy, it is reassuring that there is an official system (for organ donation) that runs on very specific rules and works perfectly."
Everything revolves around the donors, there will be no transplant without the donors. But who are the potential donors? Those who are diagnosed with a brain death from a head injury, brain hemorrhage, and ischemic hypoxia. "The diagnosis of brain death must be certain," Dr. Alessandro Anselmo insists.
The consent for organ donation is reversible, and family members are asked to participate in the decision. We do not acknowledge approval by silence.
Favoritism does not exist in our system and there is no exchange of money. In Italy, however, only one out of three people's needs are met. The waiting list for a transplant is 9,000 people. The percentage of donation in Italy is around 22%, slightly higher than the average of 16.9% in Europe. But most of us get transplants from cadavers. It is rare to get transplants from living donors like the donation system practiced in America. Even in Europe the percentage is low.
What is in science fiction might have already happened to us. It's possible that in the future more and more people will need organs, and that other crimes may be committed. There are strict rules in Europe and in America, but it is human nature to violate the rules. For this reason, it becomes crucial to denounce organ trafficking and to abide by the ethics of medicine.
The Declaration of Istanbul was adopted in 2008, but these rules are not yet recognized by all countries. With globalization, everything has changed, and there are several ways to obtain organs. We know that there are large monetary exchanges behind organ transplants. In 2005, China admitted harvesting organs from death-row prisoners. China does not respect the donors because it kills them. In 2007 China had a law to regulate transplants, but the law has not been enforced.
Last November, the International Society for Transplantation met with the Minister of Health in China and asked China to stop forced organ removal, but the result is that in March 2014, China just added voluntary donations to the pool of forced donations. We must stop this crime.