Washington DC: Peaceful Protest of the 15-Year Persecution in Front of Chinese Embassy (Photos)
July 23, 2014 | By a Falun Gong practitioner in Washington DC
(Minghui.org) Practitioners peacefully protested the 15-year-long persecution of Falun Gong on July 20, 2014, in front of the Chinese Embassy in Washington DC.
They did group exercises and displayed banners calling for an end to the persecution, in particular the systematic, state-sanctioned crime of forced organ harvesting from living Falun Gong practitioners in China. They also urged the embassy officials and staffers to quit the Chinese Communist Party (CCP) and join the 170 million fellow Chinese who have done so and are free of the CCP's control.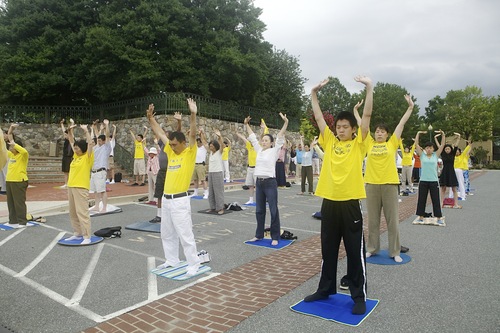 Practitioners doing the exercises in front of the Chinese Embassy, peacefully protesting the CCP's 15-year persecution of Falun Gong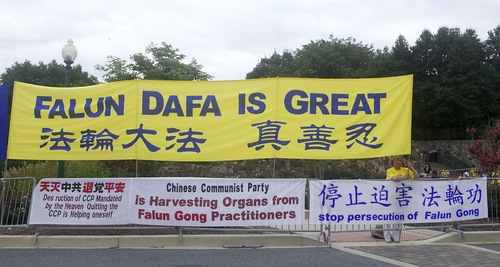 Congressman Connolly: Practitioners' Perseverance Enables More and More People to Stand up to the Persecution
Rep. Gerald E. Connolly, from a northern Virginia district as part of the Greater Washington DC area, expressed in a letter, his support of Falun Gong practitioners' peaceful resistance against the persecution.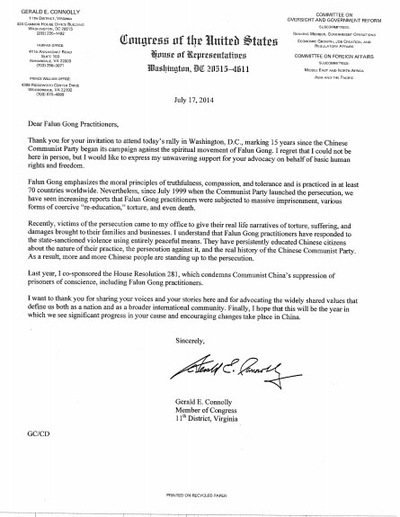 Letter from Congressman Gerald E. Connolly
Mr. Connolly stated in his letter, "I understand that Falun Gong practitioners have responded to the state-sanctioned violence using entirely peaceful means. They have persistently educated Chinese citizens about the nature of their practice, the persecution against it, and the real history of the Chinese Communist Party. As a result, more and more Chinese people are standing up to the persecution."
Determination of Practitioners to End the Persecution
Falun Gong practitioner Ms. Jian has participated in the July 20 activities every year, because she hopes practitioners in China can soon be free of the ongoing physical and mental torture.
"But the persecution is still going on, and practitioner death by torture cases are still reported."
"As long as the persecution hasn't ended, every Falun Gong practitioner will continuously be calling for an end to it," she said with determination.
Ms. Jian has seen the positive changes from their persistent efforts. As she said, "More and more people are now aware of the brutality of the persecution, and have stood up against it."