Anti-Persecution Rally in Macau Receives Support from Chinese Tourists (Photos)
July 23, 2014 | By a Falun Gong practitioner in Macau
(Minghui.org) Falun Gong practitioners in Macau held an anti-persecution rally at St. Dominic's Square on July 19, 2014, to expose the persecution of Falun Gong by the Chinese Communist Party (CCP). A candlelight vigil was held in the evening to mourn fellow practitioners in China who died due to persecution. Local residents and tourists from China learned the facts about Falun Gong, and many tourists quit the CCP and its affiliated organizations at the rally.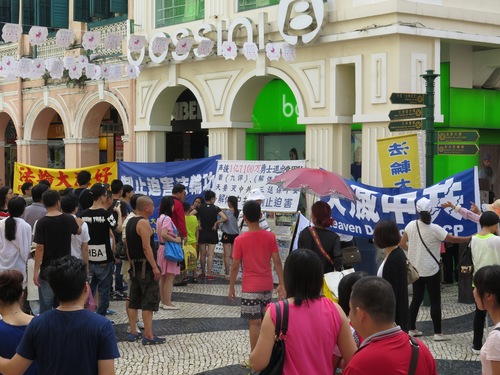 Falun Gong practitioners in Macau hold a rally to expose the persecution by the CCP.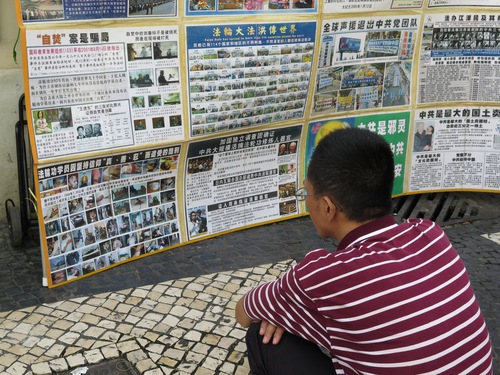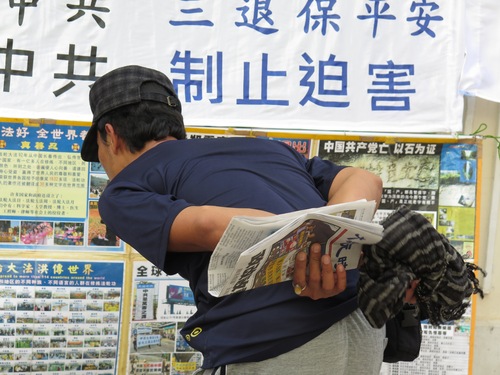 Tourists from China view the Falun Gong photo display.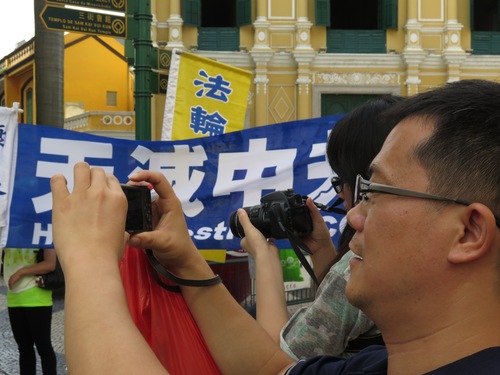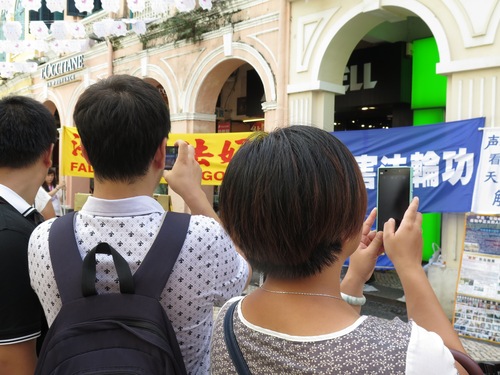 Chinese tourists take photos of the Falun Gong photo display.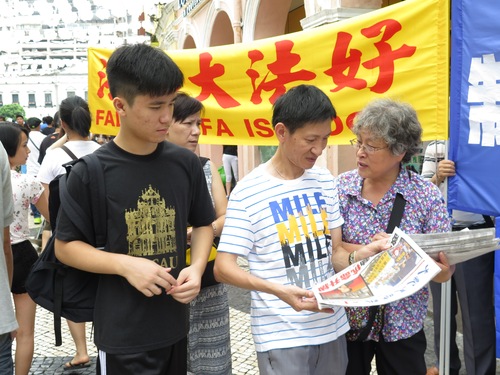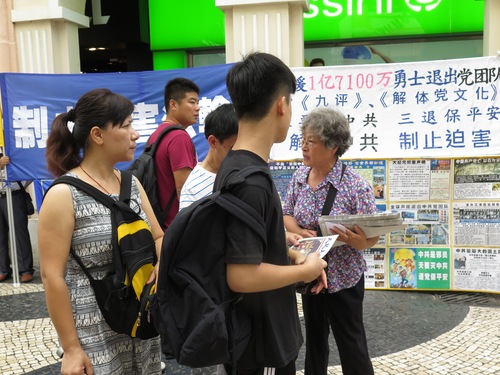 Chinese tourists listen to a Falun Gong practitioner's introduction.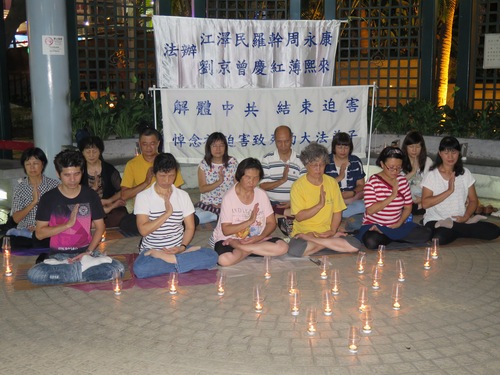 Falun Gong practitioners in Macau hold a candlelight vigil.
The rally was held at 3:00 p.m. As soon as the practitioners displayed their banners and information boards, a large number of Chinese tourists were attracted to the displays, and many read the displays very carefully. Some took photos of the displays and the rally, so they could share the information with their families and friends in China.
A father and a daughter from China read the display carefully. Both said that the CCP was wicked and should collapse immediately. A couple approached the Falun Gong practitioners' huge banner. The wife said to the practitioners, "We support you! What you are doing is great! Keep up your great work!"
Many young people in China have been reading overseas websites using software to circumvent the Internet information blockade, and have gained some understanding of the CCP's evil nature. Many chose to quit the CCP as soon as they found out about this option. One young man from Guangdong Province was surprised to see Falun Gong activity in Macau. After a practitioner told him about the wide spread of Dafa, the persecution by the CCP, the true story of the "Self-immolation on Tiananmen Square," and the April 25 Appeal, he decided to quit the Youth League and the Young Pioneers, which he had joined when he was young.
The candlelight vigil also attracted many tourists. They talked to Falun Gong practitioners and took photos of the vigil. After 15 years of truth-clarification by Falun Gong practitioners, the Chinese people's view of Falun Gong has obviously changed.