Participation in India's Global Health Care Summit and Expo 2014
July 23, 2014 | By a practitioner from India
(Minghui.org) When I heard that the "Global Healthcare Summit and Expo 2014" would be held in our city on June 20-22, 2014, I informed three local practitioners, and the president of our association encouraged me to participate. The organizer gave us a discounted price for our booth again, because he knew that we are a non-profit organization, and he supported our efforts to share the benefits of Falun Dafa.
During the expo, we demonstrated the exercises, distributed fliers, and clarified the truth to one and all. Many people were shocked to hear about the persecution in China. We also ensured that our leaflet was in the kit given to all delegates who attended the summit.
We were very moved by the great response from all who visited our booth. Many doctors from abroad and from different states in India, delegates and students from the medical profession, and international school teachers with their students visited our booth. They made comments like "Your enthusiasm is contagious" and "Keep up the good work." One doctor, who is an active member of Indian Medical Association, said, "I am moved by your dedication, though I do not know much about the practice." Later we showed the film "Free China: The Courage to Believe" to the same doctor, who commented that the film was good, very moving, and powerful.
Although some people expect to be paid to talk for just 15 minutes, Falun Dafa practitioners never accept any fees, which impressed several individuals who came to our booth. Those individuals turned out to be top members of the Lions Club of India, and they invited us to give presentations to their groups. Several doctors responded that our practice is so good that it should be practiced widely.
Volunteers from a global cancer conference asked us to participate in their conference on September 15-17 in our city, as they felt that our practice would help many people. We gladly agreed.
One doctor wanted to examine me to find out how good our practice is, and I did not object. He confirmed that I am 90% in good health. We talked to him in great detail about the practice. Finally, he said that he would tell his patients about our practice, as he is convinced that Falun Dafa is highly effective in achieving overall good health.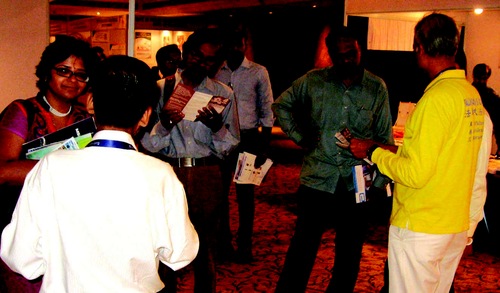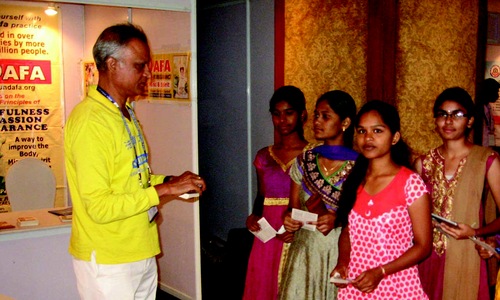 At the end of the event, we were give a certificate of participation.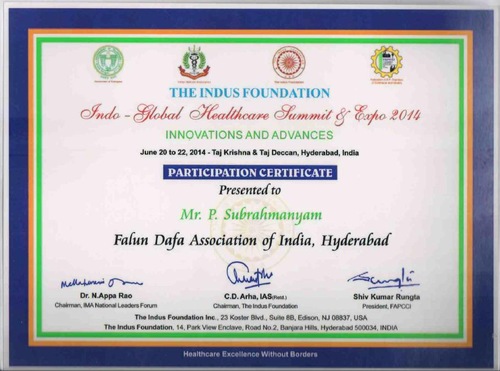 Certificate
(Article submitted to the Minghui website on July 13, 2014)