Taipei, Taiwan: Parade Calling for End to the Persecution of Falun Gong Gains Public Support
July 23, 2014 | By Liu Wenxin, a Minghui correspondent in Taiwan
(Minghui.org) A parade was held over the weekend at Xinyi Square, across from Taipei 101, a landmark building in Taiwan, calling for an end to the 15 years of brutal persecution of Falun Gong in China.
The Taiwan public responded with their support. Mr. Li, a merchant working in the transportation business, applauded the parade, "Falun Gong is great and it should not be slandered. The persecution must stop."
About 1,300 practitioners joined the parade on July 20, 2014. The Divine Land Marching Band led the parade, beginning at Taipei 101, proceeding through the Xinyi Commercial Center, Taipei City Government, universities, and arriving at Ketagalan Boulevard, where the Presidential Building is located.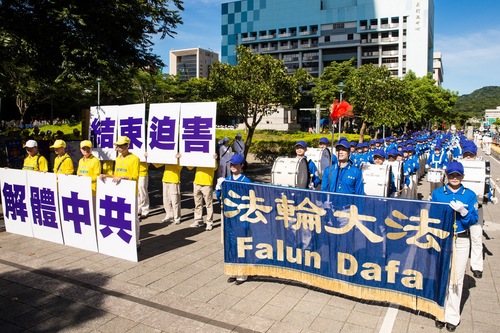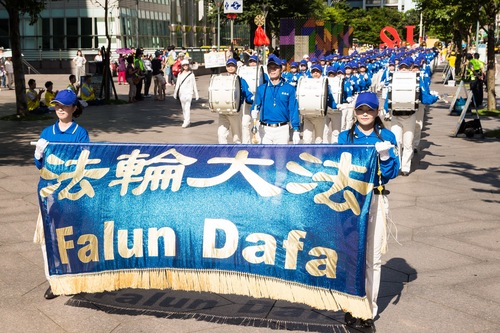 Parade led by the Divine Land Marching Band
The parade troupe was composed of three sections: The Falun Dafa exercise demonstration, practitioners carrying photos of those who have died due to persecution, and banners calling for quitting the Chinese Communist Party (CCP) organizations. According to Chang Ching-Hsi, director of the Falun Dafa Association in Taiwan, the entire walking length was 6.4 kilometers (about 4 miles).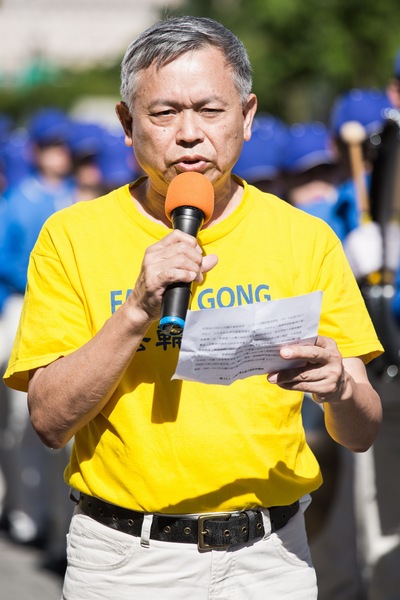 Chang Ching-Hsi explains calling for an end to the persecution in China.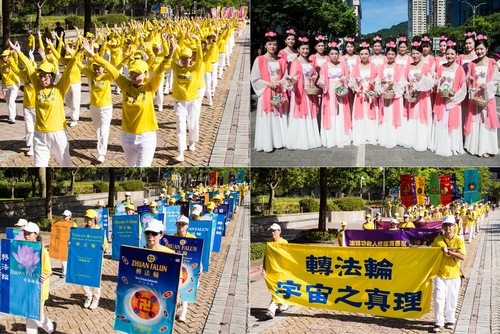 Section I included an exercise demonstration and dancing group.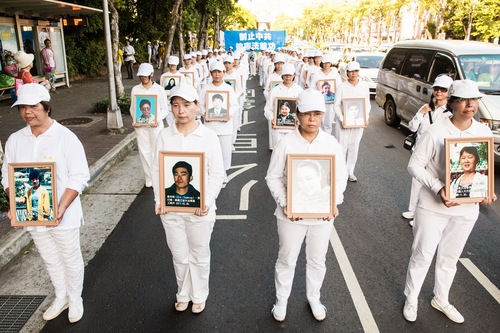 Section II included photos of those who died of persecution, held by practitioners dressed in white.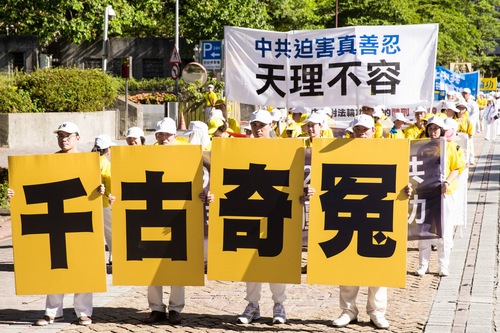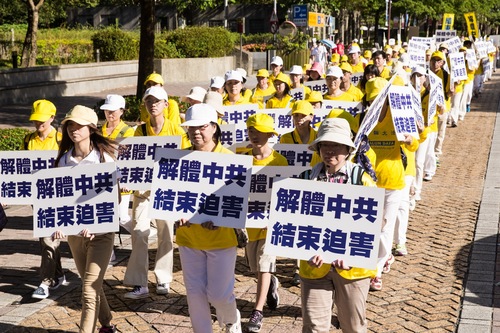 Section III included banners reading, "The CCP Persecutes Practitioners Who Follow the Principles of Truthfulness-Compassion-Forbearance" and "The Persecution Must Stop."
Support from the Public
Teresa Chu, spokesperson for the Falun Gong Human Rights Lawyers Working Group, said 1,500,000 signatures—from 53 countries in four continents—had been submitted to the United Nations Human Rights Commission, calling for an end to the persecution of Falun Gong, and specifically organ harvesting from living practitioners. Among them, 600,000 signatures were from Taiwan.
This support was also seen from the warm response to the parade. Many pedestrians gave thumbs-up to the practitioners and said, "Good job! Keep it up!" Quite a few people took photos of the grand parade.
Mr. Yung and his wife, owners of a leather goods business, were impressed by the parade, "For such a large parade, it is well organized. Really outstanding!" They became interested upon seeing the energetic practitioners throughout the parade, regardless of age, and said they would follow up with a local practice site to learn it.
Many Chinese tourists by the Taipei 101 tour site were surprised to see the large scale of the parade. Some took photos of practitioners, and some accepted materials to read.
Urgency to End the Brutality
Ms. Lin Shujuan, a teacher working in Taipei, said she was sad to see the persecution continuing after years of efforts to end it. She said, "Since the persecution started in 1999, nearly 4,000 deaths have been confirmed as a result of mistreatment of practitioners while in police custody. A large number of practitioners were detained, kept in mental hospitals, or have become victims of live organ harvesting."
Falun Gong practitioners were not the only ones who suffered from the CCP's totalitarian ruling. Many Taiwan merchants who did business with China due to the geographic and cultural proximity were also affected.
"I know a number of people have lost their businesses after investing in China, most of which were confiscated by corrupt officials or the profit-driven regime," one of them said. He also said he and his fellow merchants had learned lessons, and became cautious when considering making investments in China. Their sympathy towards practitioners was also clear, "We hope the severe persecution will end soon."
The fear for China's social instability and moral decline was not sporadic. Ms. Yang, an immigrant from Taiwan who currently lives in Hong Kong, shared her personal story. When a couple of her friends went to China for a vacation, one of them got drunk and was left behind. As he woke up the next morning, he found himself lying in a pile of ice while his stomach was still bleeding.
Follow-up examination showed that one of his kidneys had been taken. "The moral level is very low now," Ms. Yang said, "People do all kinds of bad things to make money. One can easily become victims of different kinds of accidents. The CCP has led China into disasters."
Path Forward
As the CCP has put economic growth as the highest priority, at the expense of environmental damage and social consequences, the moral degeneration has accelerated. That is why so many people began to practice Falun Gong, said Chang. Through the principles of Truthfulness-Compassion-Forbearance, they saw a more upright mindset and a brighter future.
This also happened to Mr. Liu, a local resident working in the business trade industry. With his young daughter next to him, Mr. Liu said coming to this parade was important for him, "I used to have a bad temper and often ran into conflicts with my wife."
After six years of practicing Falun Dafa, both his mind and body improved significantly. "Now when something comes up, I always check myself first to see if I have done something inappropriate that caused the problem. My whole family has benefited so much from Falun Dafa," said Mr. Liu with a smile.
The persecution in China has not only physically harmed hundreds of thousands of practitioners, said Chang, but also sabotaged their pursuit for spiritual self-improvement, making the massive suppression even more intolerable in this contemporary society.
"The caveat is," Mr. Chang explained, "because many nations are doing business with China and treat it as one of the strongest business partners, they dare not challenge China with human rights topics such as Falun Gong." The communist regime is clearly aware of this and continues to take advantage of them, he added.
But some have stepped forward to take on the moral obligation, according to Ms. Chu. She said Parliamentarians Against Forced Organ Harvesting has been established in numerous countries in Europe, America, Asia, and Austria during the past eight years.
"There is still a long way to go, and we are working diligently on it. We hope more people will join the effort and extend their help, leaving no regret for the future," she said.