Ms. Zhu Shuyun from Changchun City Tortured Again
March 25, 2014 | By a Minghui correspondent from Jilin Province, China
( Minghui.org )
Summary of Key Persecution Facts: Name: Zhu Shuyun (朱淑云) Gender: Female Age: 53 Address: Changchun City, Jilin Province Occupation: Unknown
Date of Most Recent Arrest: March 4, 2014
Most Recent Place of Detention: Changchun City Third Detention Center (长春第三看守所) City: Changchun
Province: Jilin
Persecution Suffered: Detention, beatings, hair pulled, head slammed against a wall, tiger bench, forced labor, force-feeding
Officers from the Changchun City Police Department Domestic Security Division broke into the home of Falun Gong practitioner Ms. Zhu Shuyun in Changchun on March 4, 2014. They beat her, tied her up, and took her to the Changchun City Third Detention Center.
According to her neighbors, there were two plainclothes officers on each floor to prevent the residents from seeing what was going on. The residents heard noises coming from Ms. Zhu's apartment.
Ms. Zhu is single and lived with her younger sister. Gao Jun from the Changchun Police Department Domestic Security Division and seven officers from the Luyuan District Police Department and the Xi'an Plaza Police Station broke into Ms. Zhu's apartment at 7 a.m. on March 4. An officer hit her in the chin and shoulders. Gao Jun pushed her sister down and handcuffed her. Gao tightened the handcuffs, put a blanket over her face, and yelled, "I will suffocate you today!"
The police beat the two sisters for three hours. They then tied up Ms. Zhu's legs and carried her downstairs.
The police took Ms. Zhu to the Changchun City Police Department at 11 a.m. Gao Jun and five other officers beat her and slammed her head against the wall. They tortured her with the tiger bench until 9 p.m. She was held in the Changchun City Third Detention Center.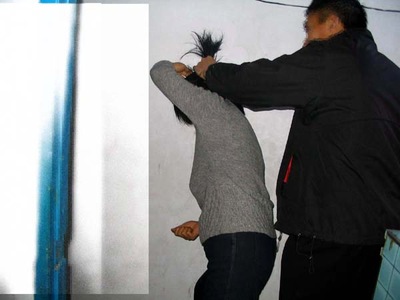 Torture re-enactment: Head slammed against the wall
Ms. Zhu is now unable to walk. Her chest hurts and she vomits blood. She is unable to swallow and can only ingest liquids. Her family went to the police department to reason with Gao Jun. Several officers stopped them and one of them took their photo.
Prior Arrest and Forced Labor
Ms. Zhu was arrested on May 9, 2007, and held in the Heizuizi Forced Labor Camp for a year. In the camp, the guards beat her, force fed her, and made her do hard labor.
As a result, she contracted diabetes, had serious heart problems, came down with a lung infection, and was malnourished. She had severe anemia and the doctor couldn't draw any blood from her veins. Her condition was critical, so the camp released her on June 4, 2008.
Party Involved in the Persecution:
Changchun City Police Department Domestic Security Division: Gao Jun (高军), 86-13514493355(Cell)
Related Articles:
Practitioner Ms. Zhu Shuyun Sent to a Forced Labor Camp after She Was Brutally Beaten at Balibao Police Station, Changchun City, Jilin Province Ms. Zhu Shuyun's Life in Danger from Abuse Suffered at the Heizuizi Labor Camp (Jilin Province) Ms. Zhu Shuyun Electrically Shocked and Beaten in Heizuizi Women's Labor Camp in Changchun, Jilin Province Additional Information Regarding the Persecution of Ms. Zhu Shuyun