Tianjin: 2013 Summary of Grassroots Resistance to the Persecution of Falun Gong
(Minghui.org) More and more Falun Gong practitioners stepped up to expose torture, forced labor, and psychiatric abuses they suffered in labor camps and prisons in Tianjin, one of the four directly-controlled municipalities in China.
Among the incidents reported in Tianjin in 2013, at least 76 practitioners were arrested, harassed, and had their homes ransacked; 22 were illegally tried and/or sentenced; several senior citizens over 70 were arrested and sentenced; and several have been tortured to critical condition or mental breakdown.
The general public has signed petition letters supporting practitioners.
8,000 People Sign a Petition to Rescue Mr. Hua Lianyou
Falun Gong practitioner Hua Lianyou was illegally sentenced to seven years in prison. He held a hunger strike to protest the persecution in Binhai Prison for more than 600 days. When he was in critical condition, his family filed a complaint with the Tianjin Judicial Bureau and Prison Bureau and called for help from the public.
His suffering won sympathy and support. Many people stood up to co-sign and give their fingerprints on the petition to rescue him. By the end of November 2013, 8048 people from Tianjin, Hebei, and Shandong had signed the petition, and the number continued to increase. Due to collective efforts, Binhai Prison released him at the end of 2014. He was carried home on a stretcher.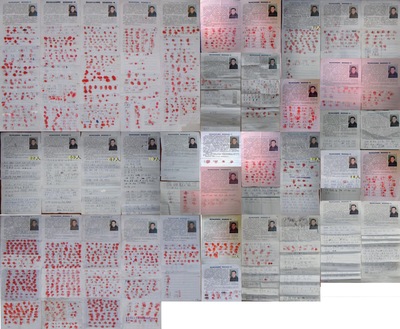 8,048 people had signed the petition to rescue practitioner Hua Lianyou as of the end of November 2013
Defense Lawyers File Complaints against Perpetrators in Tianjin
Falun Gong practitioner Wang Guiqi from Tanggu, Binhai, was tried behind closed doors in Tanggu Court. His family hired two lawyers from Beijing to defend him at the second hearing and plead not guilty on his behalf. When the lawyers asked to view their client's files, judge Li Hongliang wouldn't allow it. On the afternoon of May 8, the lawyers submitted a written request to Tanggu Court asking to have a new hearing to re-examine Wang Guiqi's case.
The lawyers filed an appeal with the Tianjin Number 2 Intermediate Court after Mr. Wang was sentenced to four and half years in prison by the initial court. The prosecutors and judge of the intermediate court prevented family members from entering the courtroom and interrupted the lawyers' defense at the trial on November 4. The lawyers pleaded not guilty for the defendant.
The lawyers filed a complaint with the Second Court of the Tianjin Procuratorate against those who participated in Mr. Wang's unlawful trials. The lawyers accused them of abusing their power, malicious prosecution, and illegal detention.
Torture Victims in Binhai Prison Continue Making Public Appeal
Several Falun Gong practitioners who were tortured in Binhai Prison provided personal accounts in 2013 to request an investigation into the crimes of the guards in the prison. Two anonymous complaint letters summarizing the testimony of many victims were also filed.
Li Xiliang Issues an Open Letter – I Fortunately Came to, But My Brother Did Not
Practitioner Li Xiliang is the elder brother of Li Xiwang, who was tortured to death in Gangbei Prison . Xiliang was imprisoned for 11 years. He learned about his brother's death when he was on medical parole. He was indignant and wrote an open letter titled I Fortunately Came to, But My Brother Did Not . He described passing out twice due to torture in the prison. He asked in the letter, "Did my brother suffer similar or even worse torture? The difference is that I fortunately regained consciousness, but my brother did not. I am asking the relevant departments to investigate the suspects involved in my brother's death. They are guards Zhang Shilin, Song Xuesen, and Huang He. They are guilty of intentional injury leading to death."
Wife of Li Xiwang Calls for Justice
Chen Liyan, the wife of practitioner Li Xiwang who was tortured to death in Binhai Prison, wrote, "I have heard from reliable sources in the prison that my husband was tortured to death there on March 18, 2013. After they had killed him, the guards made an inmate inject my husband's body with drugs to create the illusion that he was still alive. The inmate was horrified when he saw my dead husband's eyes opening wide in his purple flesh.
"There were three guards on duty at the time. One of them was fired, although they told everyone he resigned. The other two guards were transferred. They even shipped his body to Xinsheng Hospital to pretend to resuscitate him. The security guard wrote on the certificate, "One dead body shipped out." They made him change it and write, "One inmate transferred to the hospital." Dong, the attending doctor at Xinsheng Hospital, even produced a falsified document stating that my husband died after 60 minutes of attempted resuscitation.
"I am calling for justice for my husband. I am entitled to know how he died and wish to bring those responsible for his death to justice."
Zhou Xiangyang provides written testimony – "I suffered the anchor torture for an extended time in Gangbei Prison "
Practitioner Zhou Xiangyang was released from Gangbei Prison in April 2012. He wrote testimony titled I Was Subjected to Anchor Torture in Gangbei Prison in July 2013. His family hired a lawyer to sue the prison for "intentional injury." Zhou described how he was tortured by guard Song Xuesen and inmates under his instigation. He suffered the anchor torture twice for a total of more than 120 days.
Wu Dianzhong Asks That Guards in Binhai Prison Be Investigated
Practitioner Wu Dianzhong was imprisoned for four years and released in January 2013. He was tortured so badly that he could not take care of himself after he got home. He provided testimony titled I Was Tortured in Binhai (formerly Gangbei) Prison . He reported that he was tortured by four inmates instigated by guard Zhang Shilin in September 2009. He went then sent to the prison hospital and became disabled. His spine was fractured and he had other injuries. He has been in pain ever since. He requested that the proper departments investigate the prison.
An Insider Reports That Practitioner Zhu Wenhua Was Beaten to Death
Practitioner Zhu Wenhua was beaten to death in Binhai (formerly Gangbei) Prison by guards and inmates on July 21, 2010. The prison told his family that he died as a result of heart attack to evade responsibility.
An insider exposed the details of his death, including the names of the perpetrators in the prison, in March 2013.
Related Articles:
Practitioner Hunger Strikes for 500 Days to Protest His Incarceration - 8,000 Sign Petition for His Release
Mr. Wang Guiqi Appeals Unlawful Verdict, Requests Public Hearing
Mr. Wang Guiqi Secretly Sentenced to Four and Half Years, His Attorneys File Charges Against Officials
Mr. Wu Dianzhong Joins a Dozen Others to Sue Binhai Prison Authorities for Torture
Gangbei Prison Concealed the Fact that My Husband Was Tortured to Death