(Minghui.org) During a recent trip to China, Canadian Prime Minster Stephen Harper requested that the Chinese authorities release a jailed Falun Gong practitioner. The request was recently confirmed by a Canadian government official.
The Falun Gong practitioner in question is Chen Yinghua, the daughter of Ms. Huang Jinling, a resident of Calgary. Chen has been imprisoned since March 2014 for her spiritual beliefs.
Ms. Huang and her husband contacted the Prime Minister's office last month prior to his trip to China, hoping that he could help secure her release.
Ms. Huang told the Minghui respondent: "A staff member from the Canadian Embassy in China called me on November 20, informing me that the Prime Minister raised the case of my daughter when he met with Chinese officials..."
According to Ms. Huang, the staff member also said the Canadian Foreign Minister had provided a list of jailed Falun Gong practitioners to Wang Yi, the Chinese Foreign Minister.
Shortly after her daughter was arrested by Shijiazhuang Police in Hebei Province, Ms. Huang contacted Canadian officials for help. When a trial was secretly held on August 21, 2014, the Canadian Embassy sent an official to the court room, but he was turned away.
Ms. Huang said that she was thankful for the Prime Minister's and the Canadian Embassy's help, "They know that my daughter did not commit any wrongdoing and should be free." Her husband, Mr. Chen Zhiming, hoped that the Canadian government and organizations will continue their efforts.
Live Organ Harvesting
According to Ms. Huang, her daughter was severely tortured after she was detained. "She was handcuffed and hung up high, for example." In addition, she was forced to give blood samples.
"After reading about organ harvesting from living practitioners in China, I am worried that my daughter could become a victim," said Ms. Huang at a press conference held in front of the Chinese Consulate in Calgary on November 4.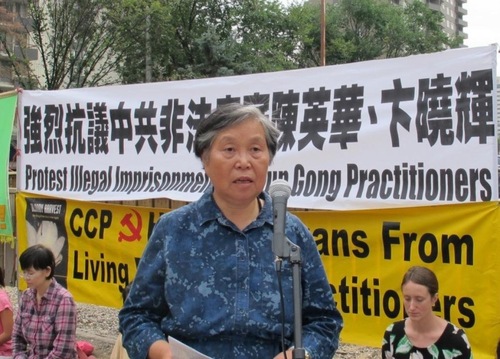 Ms. Huang Jinling calling for help for her daughter at the press conference
Member of Parliament Judy Sgro also raised this issue in the House of Commons before Mr. Harper's trip to China, "The Prime Minister is headed to China, and Falun Gong practitioners on the Hill are asking him to please raise the issue of forced organ harvesting, especially now that the threat involves 10 family members of Canadians incarcerated there.
"China has repeatedly announced that it has a plan to ban organ harvesting from prisoners, but Falun Gong practitioners know that this has yet to materialize. The practice has been independently verified several times. One report even cites a price list on a Chinese transplant website offering kidneys for $62,000 and lungs for $170,000. We all know that forced organ harvesting is wrong and want to encourage China to end this practice.
"Nations serious about human rights must put an end to this barbaric practice or perhaps we should consider their inaction as part of future trade talks with these human rights holdouts."
After meeting with Chinese officials, Harper said he had raised a full range of concerns with Chinese leaders, "You can rest assured that every single item that is important in the area of consular issues, human rights, governance, the rights of minorities—I have raised every single one of those."
"Those are things on which we will continue to follow up and having ongoing dialogue."
Continued Support from Canadian Officials
As Falun Gong has been brutally persecuted in China in the past 15 years, the Canadian government has expressed concern over the associated severe human rights violations many times.
On January 23, 2012, two weeks before Prime Minister Harper's visit to China, Canada's Foreign Affairs Minister John Baird, during his visit to the U.K, expressed his dissatisfaction with the Chinese Communist Party's (CCP) abhorrent act of persecuting groups of spiritual beliefs, and publicly condemned the CCP's persecution of Falun Gong.
On February 19, 2013, Harper announced the establishment of the Office of Religious Freedom within the Department of Foreign Affairs and International Trade. In his remarks at the press conference marking the official opening of the new office, the Prime Minister mentioned the persecution of Falun Gong in China as one of the concerns of the Canadian government.
When the United Nations Human Rights Council (UNHRC) held its 23rd session on June 5, 2013, the attending Canadian delegation once again expressed its concern over religious persecution around the world, especially as it relates to Falun Gong in China.
The 17th session of the Human Rights Council's Universal Periodic Review (UPR) Working Group was held in Geneva on October 21, 2013, and it lasted two weeks. Representatives from nearly 20 countries brought up the issue of China's human rights, and the representative from Canada once again addressed the persecution of religious beliefs, including Falun Gong in China.
During the 25th regular session of the UNHRC on March 12, 2014, the Canadian government raised the issue of state-sanctioned organ harvesting in China.
Harper, who had congratulated the Falun Dafa Day and Falun Dafa Month for 9 straight years, wrote in this year's congratulatory letter, "I commend the Falun Dafa Association of Canada for sharing this discipline with fellow Canadians. The principles of Truthfulness, Compassion and Forbearance that are central to the practice resonate strongly in our pluralistic society."