Canada Once Again Addresses the Persecution of Falun Gong During United Nations Human Rights Council Meeting
October 27, 2013 | By Minghui correspondent Yingzi in Ottawa, Canada
(Minghui.org) The 17th session of the Human Rights Council's Universal Periodic Review (UPR) Working Group was held in Geneva on October 21, 2013, and will continue until November 1, 2013. China's human rights record was reviewed on October 22.
Representatives from nearly 20 countries brought up the issue of China's human rights during the three-hour session. Representative from Canada once again addressed the persecution of religious beliefs, including Falun Gong in China.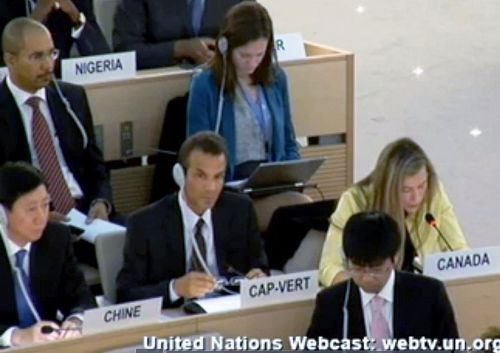 Canadian representative (1st from right) speaks in the UN human rights meeting held on October 22, 2013 (network screenshot)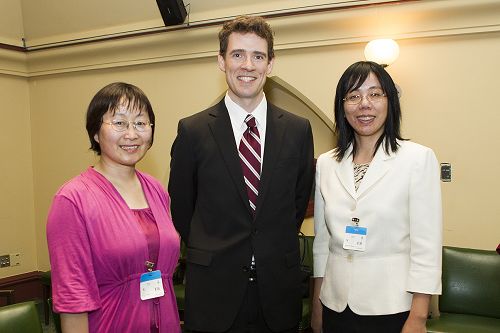 Andrew Bennett (middle), ambassador for Canada's Office of Religious Freedom, has a photo taken with Falun Gong practitioners
All UN member states receive a universal periodic review (UPR) once every four to five years. During this meeting, each representative from several dozen countries was allotted 50 seconds to comment on China's human rights report. Representatives from nearly 20 countries addressed China's human rights issues. These countries included the United States, Canada, Germany, Sweden, Switzerland, Denmark, Japan, Finland, Poland, Norway, France, the United Kingdom, Italy and New Zealand.
Canada Mentions the Persecution of Falun Gong Once Again
Representative from Canada once again mentioned China's persecution of religious beliefs. The issue was last mentioned during the 2009 UPR meeting.
The Canadian representative hopes that the Chinese government will take the following actions:
Take steps to ensure lawyers and individuals working to advance human rights can practice their profession freely, including promptly investigating allegations of violence and intimidation impeding their work.
Stop the prosecution and persecution of people for practicing their religion or belief including Catholics, other Christians, Tibetans, Uyghurs, and Falun Gong, and set a date for the visit of the Special Rapporteur on Freedom of Religion or Belief.
Release all people being held in administrative detention for political reasons including bishops, priests, artists, reporters, dissidents, people working to advance human rights, and their family members, and eliminate extra-judicial measures such as forced disappearances.
Accelerate reform of the administrative justice system so that all persons have access to legal procedures of appeal.
Four years ago, during the UPR meeting which examined China's human rights record in the United Nations, Representative from Canada stated, "Canada is deeply concerned about reports of arbitrary detention of ethnic minority members, including Tibetans, Uyghurs and Mongols, as well as religious believers, including Falun Gong practitioners, without information about their charges, their location and wellbeing."
For more detailed information on Canada's concern over the persecution of Falun Gong in previous years, please read:
Canada Expresses Concern Over the Persecution of Falun Gong During UN Human Rights Council Meeting