Ten-Year-Old Among Hundreds Detained in Beijing Brainwashing Centers
December 13, 2014 | By a Minghui correspondent from Beijing, China
(Minghui.org) Ten-year-old Li Yin was in school when agents from the 610 Office arrested her on September 17, 2002. She was taken to Changping Brainwashing Center and threatened with expulsion if she refused to give up practicing Falun Gong.
She was forced to watch propaganda videos slandering Falun Gong and not allowed to sleep until after 1:00 a.m.
Ms. Wang Guifen, a retired employee of a steel factory, was arrested on April 15, 2009 and taken to Changping District Brainwashing Center.
For days, brainwashing center personnel surrounded her and verbally abused her. They also forced her to watch propaganda videos.
Under the intense pressure, Ms. Wang had a mental breakdown. She was tortured to death about 45 days later, on June 2. She was 56.
***
Ms. Li and Ms. Wang are among 530 Beijing residents who have at one point been held at various detention centers in the capital city since the Chinese Communist Party launched its nationwide campaign against Falun Gong in 1999.
Like Ms. Wang, many of the 107 Beijing practitioners confirmed to have died in the persecution had been confined in brainwashing centers for their belief.
Unlike prisons or the now-defunct labor camps, brainwashing centers are extralegal facilities designed to hold practitioners without due process. Some detainees are eventually given prison sentences, while others are sent to the brainwashing center at the end of their prison terms if they remain steadfast in their belief.
After the Communist regime abolished the forced labor re-education system last year, brainwashing center detentions surged across China. Practitioners detained in labor camps were secretly transferred to the brainwashing centers, where the same abuses continue.
As indicated in an October Minghui report, 218 Falun Gong practitioners were illegally arrested in Beijing between January and September 2014, and 45 of them were sent straight to brainwashing centers.
Among the 16 districts in Beijing, Changping District leads with a total of 215 practitioners sent to brainwashing centers during the past 15 years, accounting for 38.6% of the 530 brainwashing center detentions. Fengtai District comes in the second with 64 detentions (11.5%). The rest of the 14 districts together account for the remaining 50% of brainwashing center detentions.
Practitioners taken to brainwashing centers came from all walks of life, from elementary school pupils like Ms. Li to college students and professors, from engineers to retirees. Even practitioners with disabilities were not spared: Mr. Guo Haishan, a blind man, was taken to brainwashing centers in 2002 and 2006. He passed away as a result of the persecution on November 26, 2006, at the age of 71.
To evade public scrutiny, brainwashing centers are usually set up in covert places and relocated frequently. For example, the brainwashing center in Changping District has moved to at least four different locations, including a military training base, a resort, a factory, and a farm.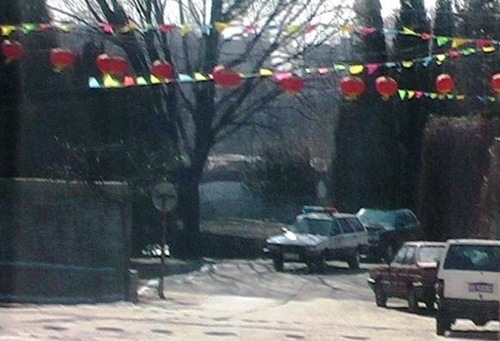 Changping District Brainwashing Center hidden in a resort
Brainwashing Tactics
Torture
Gaoyakou Brainwashing Center was established in early 2000. Each session had 20 to 30 practitioners and ran for 15 days or longer. Each practitioner was monitored by four people. Through coercive means, including beatings, verbal abuse, sleep deprivation, forcing detainees to watch pornography, etc, the brainwashing center staff tried to force the practitioners to renounce Falun Gong.
At Chaofeng'an Brainwashing Center, as part of the physical abuse, practitioners were forced to start running before 6 a.m. During the day, staff from the 610 Office forced them to watch propaganda videos slandering Falun Gong. The practitioners were each required to write a "thought report" afterwards—those who did not comply would not be allowed to sleep.
Some brainwashing centers dispatched different groups to carry out each form of torture, such as forced-feeding or beatings. They were kept in the dark about what torture methods other groups were using. Thus, only the practitioners themselves knew the overall situation of the persecution.
Humiliation
In some cases, the perpetrators stripped the female practitioners, hung them up, and humiliated them. Some grabbed the practitioners' hands and forced them to write down sentences defaming Falun Gong. They then folded the paper slips and put them into the practitioners' undergarments. Some practitioners suffered mental breakdowns as a result of the abuse.
Drug Administration
Ms. Li Shulan was arrested and taken to Changping District Brainwashing Center in March 2003. She was force-fed psychiatric drugs and suffered a mental collapse.
Family Ties Used to Pressure Practitioners
Communist Party officials used family ties as another tactic to "transform" practitioners.
While Ms. Zhao Shuhua was detained at Fangshan District Brainwashing Center, her husband threatened her, "If you 'transform' today, we can go home and continue to have a good life. Otherwise, we'll get a divorce, and you don't need to think about going home anymore."
Mr. Cao Dong's parents were both in their 60s. His father was a stroke patient, and his mother had severe arthritis. At home, they also had Mr. Cao's grandmother in her 80s, as well as a foster child in her teens.
When Mr. Cao was arrested and sentenced to four and a half years in 2000 for telling the public about the persecution of Falun Gong, his family suffered a a big blow.
To force Mr. Cao to give up practicing Falun Gong, Party officials recorded a video of his parents bursting into tears as a result of his absence.
Extortion
Profit has become one of the major drivers of the persecution of Falun Gong, especially in the brainwashing industry. According to a Minghui whitepaper, the total money circulated in this state-run, policy-driven industry is in the magnitude of billions of yuan.
When Ms. An Rongfen was taken to Chaoyang Brainwashing Center, her employer was extorted a total of 18,000 yuan for her "education fees." The center assigned 20 people to brainwash her, and their salaries each exceeded 1000 yuan per month.
In one brainwashing session held in Changping District in 2007, 13 practitioners were each charged a 5,000 yuan "education fee."