Mr. Wang Xinchun Arrested and Beaten Yet Again for His Belief
January 24, 2014
|
By a Minghui correspondent from Heilongjiang Province, China
(Minghui.org) Mr. Wang Xinchun lost both feet when he was 26 years old as a result of being persecuted for his belief in Falun Gong. He has to use a wheelchair or walk on his knees to get around. Since the loss of his feet in 2001, he has been beaten and tortured more than a dozen times by the local Chinese Communist Party (CCP) officers.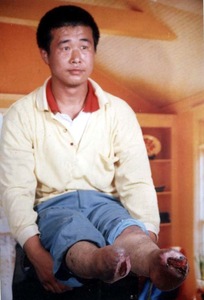 Mr. Wang Xinchun after he lost both feet because of the persecution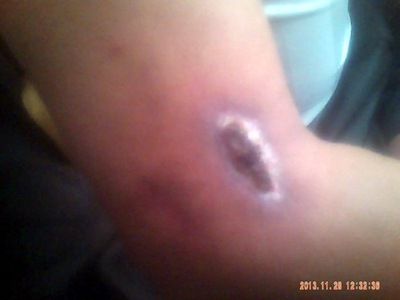 Mr. Wang Xinchun was arrested, beaten, and bruised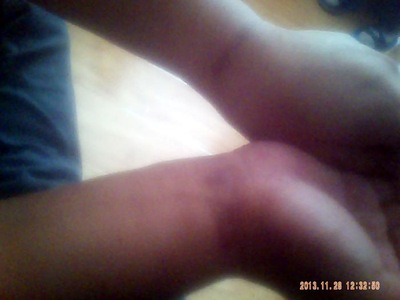 Mr. Wang Xinchun was arrested, beaten and bruised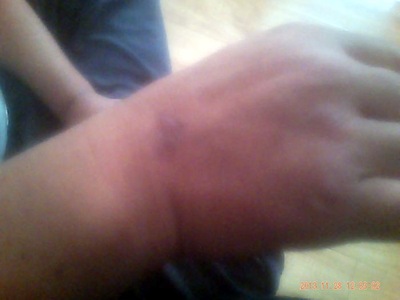 Mr. Wang Xinchun was arrested, beaten and bruised
His Family Suffers, Too
Because he and his family practice Falun Gong, the CCP has monitored and ransacked Mr. Wang's home a dozen times, extorted money from his family, and confiscated their identity cards. His parents were detained many times.
Arrested and Tortured Again
Mr. Wang lives in Fengmao Tree Farm in the Jinshantun District, Yichun City, Heilongjiang Province.
Officers from the Jinshantun District Police Department arrested him in his rented home in Northbound Yichun City on September 9, 2013. He was detained in a cage at the local police station that night and taken to the Jinshantun District Police Department the next day.
The police officers hit his head and face and kicked him. He was bruised everywhere. His head was swollen, his face was cut, and his eyes were so swollen that he could not even open them. His family, who saw him a week after his arrest, can attest to his injuries.
They continued to torture him by hanging him by his arms. They didn't let him down until he fainted. They burned his nose with a cigarette and, if he didn't respond, pinched his nose so he couldn't breathe.
Detention Center Refuses to Admit Him
Near death, he was taken to the Xilin Detention Center, but he was refused admittance. The police officer who took Mr. Wang said to detention center guard, "We need to expedite the process and put him in jail for a month. The detention center has to take him as long as he can still breathe."
The guard said Mr. Wang had to be examined first. The police officer took Mr. Wang to Xilin Hospital, but he simply had a doctor sign a form and took Mr. Wang back to the detention center. The detention center still refused to accept him because the wounds on his legs were infected. It was agreed he could be held once his legs healed.
Force-fed in the Hospital
Mr. Wang was taken to Room 301, Jinshantun Hospital, where he was given injections and force-fed. He went on a hunger strike for 34 days. Despite being under police guard, he managed to escape from the hospital on October 13, 2013.
The Jinshantun District Police Department went on a house-to-house search to recapture him. He was retaken and returned to the hospital on October 16, 2013.
Funds Extorted from His Family, Mr. Wang Under House Arrest
Mr. Wang was finally released on November 26, 2013. The police extorted 5,000 yuan from his family and ordered that he be placed on house arrest for a year. The police continue to harass his family nearly every day.
Related article: How Did I Lose My Legs? (Photo) Mr. Wang Xinchun, Who Lost His Legs Due to the Persecution, is Abused Repeatedly in Yichun City (Photos) Practitioner Mr. Wang Xinchun, Who Lost His Feet as a Result of Persecution, Was Tortured Again on a Metal Rack (Photo) Mr. Wang Xinchun, Crippled From Torture, is Again Arrested and Brutally Tortured (Graphic Photo) Having Lost His Feet Six Years Ago, Wang Xinchun Is Arrested and Tortured Again (Photo) Disabled Man Cuffed to Hospital Bed after Being Arrested