Mr. Wang Xinchun, Crippled From Torture, is Again Arrested and Brutally Tortured (Graphic Photo)
(Clearwisdom.net) On December 8, 2008, Falun Gong practitioner Mr. Wang Xinchun was arrested by the Chinese Communist Party (CCP) again. Mr. Wang lost his feet and became crippled from the last time he was arrested. The police involved in his arrest were Tao Xuwei, Wang Hailong, Sun Lilong, Zhang Guoli and Dagang from the Criminal Police Group of the Jinshantun Police Department. They tortured Mr. Wang for 72 hours, deforming his face and injuring his wrist in four places. After Mr. Wang's release, the police closely monitored him around the clock, disrupting his family life.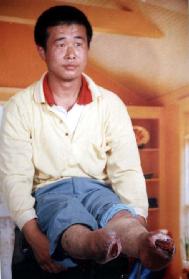 Wang Xinchun was crippled as a result of police persecution
Mr. Wang Xinchun, 32 years old, is a resident of the Fengmao Forestry, Jinshantun District, Yichun City, Jilin Province. Before he practiced Falun Gong, he suffered from pancreatic cancer. In 1998, he started to practice Falun Gong and regained good health. In 1999, he was sentenced to one year of forced labor, during which his imprisonment term was extended. After he returned home in October 2001, he was cruelly beaten with metal batons by the chief of the Fenggou Police Station Wang Wei, Wang Shoumin and other police officers.
On the night of January 8, 2002, the temperature was -30oC (-22oF). Wang Xinchun was chased by the police when he fell into a river and suffered frostbite on his feet. After the police arrested him, they forcibly soaked his feet in hot water, which caused them to fester. The police took turns to torture and beat him cruelly for more than 10 hours. Later, they escorted Wang Xinchun home and closely monitored him.
After he went home, Mr. Wang's feet became worse. After 10 months of suffering, he lost his feet and was crippled for life. (See related report: http//www.clearwisdom.net/emh/articles/2004/7/20/50454.html)
Seeking justice, Mr. Wang wrote letters to the authorities about his suffering, which drew retaliation from the authorities. Officers from the Jinshantun Police Department, local 610 Office members and government officials repeatedly broke into his home. They harassed and arrested his parents and tortured them cruelly. They sentenced his mother to three years of forced labor.
The Wang family now has no income, relying on 60-yuan per month from welfare. People who had heard of his suffering sent some money and clothes, but the police from Fengmao Forestry seized it for themselves.
In order to make a living, in early April 2005 Mr. Wang went to the Jinshantun District to learn shoe repair. However, only a few days after he started, chief of the 610 Office from the Jinshantun Police Department Xiao Jingyu and officers from the Fenggou Police Station arrested him from the shoe repair shop. They interrogated him about how his persecution story was published on the Internet. Xiao Jingyu and Wang Shoumin punched and kicked him so violently that his limbs were injured and bled.
Later, Mr. Wang was sent to a detention center, where he went on a hunger strike to protest. On the fifth day, some police officers dragged him to a large metal frame. Police officers Wang Shoumin and Dawei pulled on Wang's arms and legs, and they fastened them to the iron rings on the frame. Because Mr. Wang had no feet, Wang Shoumin bound his legs to the frame with aluminum wire, fastening his limbs to the iron rings at the four corners of the frame, stretching his whole body to the maximum extent. With his head also fixed to the frame, Mr. Wang could not move a bit.
Wang Shoumin proceeded to kick Mr. Wang's head, chest, abdomen and ribs, raising large lumps on his head. Wang Shoumin was fastened to the metal frame for more than five days. He was force-fed every day and repeatedly lost consciousness, a truly heartbreaking scene. The police did not release him until he was in critical condition. At the same time, Mr. Wang's father was detained for 15 days.
Wang Xinchun has been arrested four times: in July 2005, April 2006, December 2006 and March 2008. He was cruelly beaten and tortured each time.
We hope that people around the world will help to stop the persecution of Wang Xinchun.
Contact numbers:
Ye Yan, chief of the Criminal Police Group: 86-458-3736655, 86-138-46633555 (Cell)
Jinshan Police Station: 86-458-3738593
Chief of Jinshantun Police Department, Che Mingxin, Mobile: 86-136-64589889, Office: 86-458-3738537