Having Lost His Feet Six Years Ago, Wang Xinchun Is Arrested and Tortured Again (Photo)
(Clearwisdom.net) Wang Xinchun is a Falun Gong practitioner from the Jinshantun District, Yichun City, Heilongjiang Province. He lost both feet in 2002 as a result of gross abuse at the Fenggou Police Station. Agents from the Fenggou Police Station arrested and violently tortured him again in December 2008.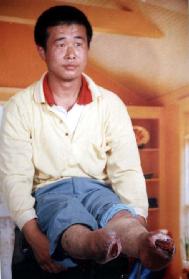 Wang Xinchun
At around 7:30 p.m. on December 8, 2008, Min Changui, Gao Jian and Gao Shuguo from Fenggou Police Station arrived at Wang Xinchun's home. Without showing a warrant, the group of officers broke in, grabbed Wang and dragged him into a police van. They put him into a room at the police station while they went into another room to plot how to persecute him. Officers from other police departments also got involved at this point.
Tao Xuwei, deputy chief of Jinshantun District Police Department, Wang Xuegang from Fendou Police Station, Wang Hailong, Sun Lilong, Cao Wancai, Wang Shichen and Zhang Liguo (all from Criminal Police Team) were among those designing torture tactics. After a while, the Fenggou Police Station officers left and went to ransack Wang Xinchun's home and harass his parents. At the same time, the rest of the gang began to torture Wang at the police station. They surrounded Wang, knocked him down, and stomped on his head, feet, legs, arms and chest. They twisted his arms to the back and handcuffed him.
Tao Xuwei punched and kicked Wang, while stuffing and pouring snow, cold water and beer on his chest and back. Then Tao ground his feet into the wounds on Wang's legs. He also used a wood plank to beat Wang's head, face, shoulder and back. Worse yet, Tao burned Wang's face with fire. Then he and another person dragged Wang by his handcuffs to the door, and opened the door to freeze him. As if that was not enough, they poured cold water on his chest and back while he was forced to sit in the doorway. Soon Wang's face and hands became swollen. The second night Wang Xuegang, Zhang Liguo and Sun Lilong took over and continued the torture of Wang. They kicked and cursed at him, while drinking alcohol. They threw things on his body, burned his face with fire and cigarette butts. They burned his hair, poured beer on his body, and filled his shirt, front and back, with snow. They again cuffed his hands behind his back and then jerked the handcuffs upwards to inflict pain. Wang was tortured like this for three days in a row, during which police department deputy chief Ding Dezhi came to observe every day. As a result of the torture, Wang's face was deformed and his back was badly swollen. There were four severe wounds on his wrists and the backs of his hands were red and swollen. Wang had pain all over his body and couldn't take care of himself.
During the raid of Wang's home, the gang from Fenggou Police Station took away two notebook computers, various cables and cords, a DVD player, certain software programs used in computer repair, a satellite dish part and a copy of Zhuan Falun. Wang used to suffer from pancreatic cancer and he became completely free of illness after he took up the practice of Falun Gong. When he was crippled from the torture in 2002 by the former police station chief Wang Wei, doctors at Jinshantun District Hospital said that he had no more than three months to live. However, Wang not only recovered, but he became even healthier, thanks to his continuous study of Zhuan Falun and practicing the Falun Gong exercises. If it were not for the non-stop persecution, he would have long completely recovered from his foot wounds. Every time he was subject to persecution again, his feet got worse.
Before the persecution began, Wang Xinchun ran an electric appliances repair shop. He relied on his computers to search for repair information and store his clients' data. Now that the police department took away his computers, he could no longer run his business. In order to make a living, he opened a small shoe repair shop. But he was again persecuted and had to close his business. After his release, he opened another repair shop, only to have it closed again by the police department. Wang Xinchun was persecuted to the point of becoming crippled, yet the government didn't give him any compensation. When he tried to take care of himself, the police persecuted him time and again.
On December 11, 2008, Wang Xinchun was sent home. But Ding Dezhi ordered Wang Shoumin, Guo Hui, Gao Jian, Gao Shuguo, Liu Qinglin, Zhang Wenge, Zhang Xiaoguang, and Yang Changshan to take turns monitoring him outside his house around the clock. They didn't allow him to have contact with anyone, nor did they allow him to tell others about the persecution. Fifteen days later, Wang Xinchun basically recovered from his wounds. Only then did they stop monitoring him. For the past several years, every time he was arrested, the police extorted money from his parents. They haven't returned any of the money to his parents yet.
Before his arrest in December 2008, Wang Xinchun once went to the Kangda Forest Area to repair electronics. When one of his friends saw that he could not move well with the injuries to his feet, he gave him a ride on his bike. Niu Lijun from Dakunlun Police Station reported this to the 610 Office, whose staff immediately sent police to intercept Wang and his friend, and confiscated a satellite receiver from him. Then Xiao Jingyu, Wang Yufeng (a person from the local cable company) and their accomplices followed the lead of policeman Wang Shoumin and broke into Wang's home to confiscate another satellite receiver and dish. Wang tried to take a taxi home, but when a taxi was about to stop, Niu Lijun and Chen Yongmei ordered it to go away. They and three or four other police officers forced Wang into their police van and took him to the Dakunlun Police Station. At 4:30 pm, Wang Shoumin, Liu Guangmin and driver Xue Senlin came to Dakunlun Police Station. As soon as he saw Wang Xinchun, Wang Shoumin gave him several kicks. Then they sent Wang home. Wang's friend was also arrested and interrogated that same day and wasn't released until late at night.
On March 18, 2008, Wang Xinchun went to the cable company, requesting the return of his satellite receiver. The company not only refused to give him back the receiver, but also cursed him and reported him to the police department. He was again arrested and sent to a police station. Later Fengmao Forest Director and a driver took him back.
On April 2, 2008, Wang again went to ask for his satellite receiver back. Wang Yufeng at the cable company said he couldn't make that decision. In the afternoon, Wang went to the police department, but Xiao Jingyu and Zhang Xingfu dragged him outside and kicked him without giving him a chance to say anything.
The following is a partial list of people involved in Wang Xinchun's persecution:
Police officers from Dakunlun Police Station: Niu Lijun, Ji Cheng, Zhang Wenge
Jinshantun District Police Department: chief Che Mingxin, officer Fan Yuguo
610 Office head Xiao Jingyu; 610 Office staff Meng Xianhua, Zhang Xingxu, Chen Yongmei
Ye Yan: criminal team head; Tao Xuwei: deputy team head
Criminal team officers: Wang Hailong, Sun Lilong, Cao Wancai, Wang Shichen
Fenggou Police Station officers: Wang Shoumin, Min Changchun, Zhang Chuanchen, Wang Shoumin, Guo Hui, Gao Jian, Gao Shuoguo, Liu Qinglin
Min Changchun: police chief
Jinshantun District Cable Company: Wang Yufeng and Liu Wenyan
Fendou Police Station officer Wang Xuegang
Xinshan Police Station officers: Zhang Xiaoguang, Zhang Liguo