Mr. Yu Ming Endures Ten Years of Torture in Chinese Labor Camps
December 04, 2013 | By a Minghui correspondent in Liaoning Province, China
(Minghui.org)
Summary of Key Persecution Facts:
Name: Yu Ming (于溟)
Gender: Male
Age: 42
Address: Shenyang, Liaoning Province
Occupation: Clothing Business
Date of Most Recent Arrest: September 24, 2013
Most Recent Place of Detention: Shenyang Detention Center (沈阳市看守所)
City: Shenyang
Province: Liaoning
Torture Methods Suffered: Electric shocks, sleep deprivation, forced labor, brainwashing, illegally sentenced, beaten, hung up, imprisoned, solitary confinement, tortured, physical restraint, interrogation, detention, denial of restroom use
Mr. Yu Ming, a 42-year-old clothing factory owner who had been persecuted and tortured during the past ten years for practicing Falun Gong, was arrested again this year after a brief period of freedom. He was able to escape, but was again arrested soon after and incarcerated in a detention center. His family hired lawyers to defend him, but when they tried to meet their client, officials from the center made excuses to not allow them to see or talk to him.
This practitioner had been locked up in forced labor camps where he was inhumanly tortured until he became emaciated and almost died. More detailed information will follow.
Practitioner Escaped Arrest, Apprehended Again, Interrogated Daily, Lawyers Prohibited to Meet Client
Mr. Yu was apprehended again on September 24, 2013, after he had escaped from an arrest that took place in August of this year. He was detained at the Shenyang Detention Center for 39 days and was interrogated daily. His lawyers attempted to see him five times, but their requests were rejected by detention center officials.
His lawyers, who were from Beijing, asked the guards at the detention center to meet with Mr. Yu on the morning of November 1. They rejected their request because "the Internet was down."
These lawyers went back to the center again at 1:00 pm. This time the guards stated, "He is needed for interrogation." The lawyers went back again at 3:00 p.m., and the reply this time was that they were "closed for the day."
Reason for Arrest: Top Government Official Coming for Inspection
Police officers from the Shenyang Domestic Security Team and local police from Bei Town, Jinzhou City, broke into a farmer's home and arrested Mr. Yu Ming on the evening of August 29, 2013, who was there to attend his nephew's wedding.
The police stated that the Chinese Communist Party (CCP) leader Xi Jinping had planned to visit the Duofu residential community, Shenhe District, Shenyang City on August 30, and because of that they had to arrest Mr. Yu.
Mr. Yu Endured Countless Brutal Tortures during the Past Ten Years
Mr. Yu was persecuted because he persisted in practicing Falun Gong. He was sentenced to forced labor camps three times. He was imprisoned and brutally tortured at the Beijing Forced Labor Camp, Tuanhe Forced Labor Camp and Masanjia Forced Labor Camp.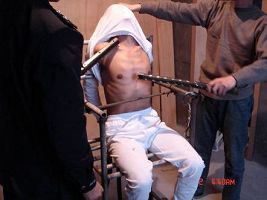 Torture reenactment: Electric shocks
He was taken to the Tuanhe Forced Labor Camp in Beijing on January 25, 2001.He was deprived of sleep, forced to stand under the hot sun for extended periods of time, and made to do heavy physical labor. Guard Ni Zhenxiong once dragged him into an office where he punched and kicked him. Ni behaved hysterically as he choked Mr. Yu, and then shocked him with an electric baton. He then dragged him downstairs by his feet so that his head hit every step. The trauma to his head made Mr. Yu dizzy, and his clothes were torn apart. Downstairs, Ni twisted Mr. Yu's arm nearly to the breaking point.
Guard Liu Guoxi took Mr. Yu to a dark room in March 2002. Liu tied him to a bed board and with two special 80,000-volt electric batons, he shocked the soles of Mr. Yu's feet the entire morning.
Mr. Yu was arrested again in October 2003, after he had been free a short time. He was detained at the Tuanhe Forced Labor Camp and later transferred to the Hebei Province No. 1 Forced Labor Camp. He was released on medical parole in February 2005.
Mr. Yu was arrested by special agents from the National Security Team of Beijing in March 2006. They detained him at the Beijing Labor Camp's dispatch center and transferred him to the Tuanhe Forced Labor Camp on September 14, 2006. The guards tortured him with another method. They tied his neck, chest, hands, and legs onto a chair and kept him there around the clock. Other inmates took turns watching him constantly for the rest of the year. Mr. Yu's heart stopped beating twice, his weight dropped from 175 lbs to 100 lbs, and his muscles atrophied. Afterward, he could no longer keep his back straight or raise his arms and hands.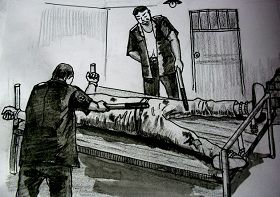 Torture reenactment: Physical restraint and electric shocks
Mr. Yu was transferred to the Masanjia Forced Labor Camp on May 21, 2007, a place that is notorious for brutally torturing inmates. He was beaten, shocked with electric batons, and hung up by his wrists for several days at a time. This was done by guards as well as Yu Jiang and Li Meng. Mr. Yu was detained in a large metal cage for three months. He could neither stand up in the cage, nor lie down.
Because Mr. Yu resisted being "transformed," Chen Zhenggao, the head of the 610 Office, ordered during the Olympic Games in 2008, that he be tortured in order to achieve Masanjia's "100 percent" "transformation" rate. Prison guards shocked his genitals with electric batons and poured cold water over him. They tied him down and beat him with an iron baton until he lost consciousness.
The guards were certain that Mr. Yu was going to die, so they told inmates to change his clothes and clean him up. They called a prison doctor, and had him sew up the gashes on his head. They even wrote a fake suicide note, which stated that Mr. Yu intended to hit his head against a wall. However, Mr. Yu lived. He was released on September 2, 2009.
Related articles:
San Francisco, USA: Protest at Chinese Consulate Calls for Release of Yu Ming (Photos)
Crimes at Masanjia Labor Camp Make International News Again
Shenyang Police Terrorize a School Campus
Eleven Falun Gong Practitioners Unlawfully Detained in Shenyang for Over Six Months
Shenyang Police Disrupt a Family's Wedding Preparations to Arrest a Practitioner
Authorities in Liaoning Province Conceal Deadly Flood and Arrest Falun Gong Practitioners Who Helped Disaster Victims