More than Ten Beijing Falun Gong Practitioners Arrested; Mr. Qin Wei Detained Again (Photo)
November 17, 2012 | By a Minghui correspondent from Beijing, China
(Minghui.org) Recently, the Politics and Law Committee of the Chinese Communist Party and the 610 Office ordered Beijing police to persecute Falun Gong practitioners in Beijing, using the excuse of the 18th Congress. It has been verified that more than ten practitioners were arrested. On October 26, 2012, Mr. Qin Wei went missing, taken away by the Beijing police. This was Mr. Qin's sixth arrest.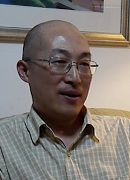 Beijing Falun Gong practitioner Qin Wei
Mr. Qin Wei worked at the Eight-One High School of Beijing. He is honest and generous in giving help. After practicing Falun Dafa, he was not interested in fame or personal gain. Mr. Qin is well liked and respected by his students, colleagues, and friends.
During the past thirteen years of persecution, Mr. Qin lost his job and was arrested many times. On October 27, 1999, Mr. Qin was detained in the Haidian Detention Center for one month because he went to appeal for Falun Gong. On the eve of the 2000 New Year, Mr. Qin was beaten while he was at Tiananmen Square to validate the Fa and then detained for 50 days. Mr. Qin was detained for one month because he went to the Military Museum to talk about Falun Gong in March 2000.
At the end of June 2000, Mr. Qin was again arrested. One month later, he was sent to the Tuanhe Forced Labor Camp in Beijing for a one-year term. During the detention, he was tortured by beating, electric shocking and physical punishment. He was continuously deprived of sleep for 15 days. He was deprived of basic living conditions. His term was then extended for six more months because he refused to give up practicing Falun Gong.
Mr. Qin was sentenced to five years in prison in 2004 because he clarified the truth about Falun Gong. He was tortured in the Qianjin Prison. In the male prison in Chadian, Beijing, he was forced to do slave labor for a long time.
The Beijing police recently arrested many other Falun Gong practitioners.
On August 2, 2012, Mr. Liu Yongping was arrested.

Mr. Zhang Peirong from Hongmen Village, Xiangshan, Haidian District was taken away on August 28, 2012.

Mr. Gong Ruiping from Pingdu District was arrested on August 29, 2012.

Mr. Hu Chuanlin, who works at Beijing International Studies University, was arrested on September 21, 2012 and his wife Huang Ling was forced to become homeless with their son.

Ms. Meng Hua, Mr. Li Xiangding, Mr. Si Xisui, Mr. Yan Zhongming and Ms. Li Mengxue from Haidian District were arrested between September 26 and 27, 2012.

Ms. Gao Shuqing from Sujiatuo, Haidian District was arrested on October 12, 2012.

Ms. Zhuang Yanhong, a teacher of Beijing University of Technology was arrested on October 18, 2012.

Mr. Qin Wei was taken away on October 26, 2012.

Mr. Zhang Jie from Haidian District was arrested on October 29, 2012.
Related articles:
http://en.minghui.org/emh/articles/2004/3/28/46498.html