When my grandson was two years old, my daughter-in-law insisted that she wanted to work full-time, and she planned to have my husband and I take care of our grandson. I said to her with compassion and seriousness, "I am a cultivator. I have to place validating the Fa and saving sentient beings first. I will not give up stepping forward to clarify the facts. I have to have half a day at my disposal."
…
Practitioners come together to exchange insights and share their experiences on the path of cultivation.
Author analyzes how, when persecuting Falun Gong, the "they deserve it" logic anesthetizes the perpetrators' conscience and further incites hatred.
Practitioner's husband: "It is true that 'you will be blessed if you know the truth.'"
~ 9th China Fahui on Minghui.org ~
~ Accounts of Persecution ~
~ Journeys of Cultivation ~
~ Evil Meets with Evil ~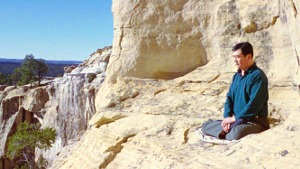 Master Li quietly watching the world from amidst the mountains after leaving New York following July 20th, 1999. (Published January 19, 2000)