(Clearwisdom.net) For a period of time, many practitioners have exhibited a heavy attachment to the Beijing Olympic Games, giving the old forces an omission to take advantage of. This has caused losses in validating the Fa, clarifying the truth and saving sentient beings.
…
(Clearwisdom.net) On July 22, 2008, the Coalition to Investigate the Persecution of Falun Gong (CIPFG) received 44,758 signatures from Chaiyi citizens who signed a petition calling for an end to the persecution of Falun Gong in China. Members of the CIPFG Taiwan delivered the petition to Chaiyi Council Member Mr. Tsai Wenhsu. Mr. Tsai gladly accepted the petition and said, "It is my duty. I will take this petition to the Chaiyi Mayor and the chairman of the Chaiyi Council on behalf of Chaiyi citizens who call for an end to the CCP's persecution of Falun Gong."
(Clearwisdom.net)
The annual Edinburgh International Arts Festival is an important event in Scotland, attracting visitors from around the world. The 2008 Annual Festival parade began on August 3rd. Falun Gong practitioners have been participating in this event for seven years.
(Clearwisdom.net) August 12, 2008 was the 76th birthday of the Queen of Thailand. On August 10, Falun Gong practitioner held a series of activities at Benja Kitti Park on this day.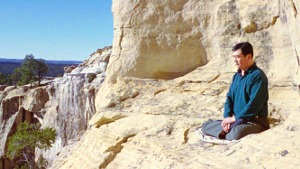 Master Li quietly watching the world from amidst the mountains after leaving New York following July 20th, 1999. (Published January 19, 2000)