(Clearwisdom.net) Ms. Jia Yan lived in Mulan County, Heilongjiang Province. On December 6, 2007, she was arrested by policemen Jiang Shuchen and others from Linye Station, along with Mr. Meng Xianyu, Mr. Sui Ximin, and Ms. Luo Yanxia. The four practitioners were distributing copies of the Nine Commentaries on the Communist Party in Xitun Village, Dongxing Town, Mulan County, at the time of their arrest. They were detained in Tieli City Detention Center (under the Forestry Police Department). Ms. Jia' family received a call three months later that Ms. Jia Yan had died.
(Clearwisdom.net) Mr. Wang Guiming, a Falun Gong practitioner from Tonghua City, Jilin Province, was arrested and sent to the Chaoyanggou Forced Labor Camp in Changchun City on February 13, 2008, by officers at the Xinzhan Police Station in Tonghua City. On February 29, 2008, at the age of 38, he died as a result of torture in the labor camp. His wife, Han Fengxia, appealed on behalf of her husband. As a result CCP authorities from the police station and the street and community administration offices have threatened her many times. Right now she is too frightened to go home.
(Clearwisdom.net) In Xindia City, at around 10:30 p.m. on February 28, 2008, two vans surrounded Dr. Wang Guangming's clinic/home. Nine police officers from the Wennan Town Police Station entered Mr. Wang's home and confiscated his Dafa books and his satellite dish and TV. They then arrested him and detained him for interrogation.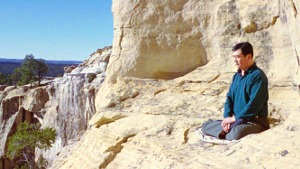 Master Li quietly watching the world from amidst the mountains after leaving New York following July 20th, 1999. (Published January 19, 2000)