The Falun Gong spiritual movement is planning a large demonstration at the United Nations headquarters in Geneva on Monday to protest Chinese persecution. The occasion is the opening of the annual session of the United Nations Human Rights Commission, where China is usually able to keep criticism of its human rights record off the formal agenda.
…
Thirty five year old Chen Guibin worked at the Yinhe Company in Wucheng county, Shangdong province. He had practiced Falun Dafa for more than six years and was strong and healthy. Well known as a good worker in the company, he was a solid force in the machine shop.
As the Chinese government began its persecution and slanderous campaign against Dafa in July 1999, my parents joined a few other practitioners on a trip to Beijing to speak the truth and to appeal to the government. However, they were detected and stopped by the police 30 kilometres before their destination. At the time, they were not very sure of what they should do and therefore did not try to get away by using their judgment. All of them were sent to the Guan Police Station where they were detained for a few hours. Due to the intervention of our county government, they were supposed to be released. Instead, the police tricked them into a re-education centre by saying that the officers were sending them home. There, my parents and the other practitioners were denied food for two days and one night. A 70-year-old practitioner was tormented to such an extent that he coughed continuously and could not even speak. After another night, all these practitioners were transferred to and detained in the detention centre of the county. There they were given some food. After that, my parents and the other practitioners were treated very inhumanely and were interrogated many times. But they all stood up for Dafa and insisted that they voluntarily planned the trip to Beijing to exercise their rights as citizens, and that their journey was strictly their own decision. My parents refused, outright, to sign the "guarantee statement," totally ignoring the tactics used by the police who were utilizing force and bribes. The police officers ended up having to sign the statement themselves in order to fool their supervisors.
Because I stepped forward to validate Dafa, I was placed in a detention center.
One day, an old country lady in her 50s was sent to the center. When she found out that I was a Dafa practitioner, she happily exclaimed, "Now, I feel relieved. I know that I will not be bullied while staying here with you, because you are all good people."
~ Accounts of Persecution ~
~ Rallies & Protests ~
~ Falun Dafa in the Media ~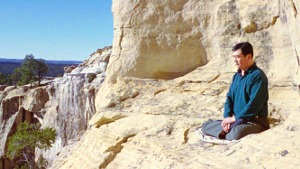 Master Li quietly watching the world from amidst the mountains after leaving New York following July 20th, 1999. (Published January 19, 2000)