(Clearwisdom.net)
On around January 5, 2008, Mr. Bai Heguo died in Nanguanling Prison in Dalian City, Liaoning Province (See
http://www.clearwisdom.net/emh/articles/2008/1/23/93530.html
). It has been learned that Mr. Bai Heguo was beaten to death by prisoner Zhou at the direction of guard Zhang Shuyi.
(Clearwisdom.net)
From the end of June to August 2006, CCP officials in Meishan City, Sichuan Province, secretly arrested Falun Gong practitioners. This coincided with the visit to Sichuan Province by Zhou Yongkang, one of the top CCP officials who actively persecutes Falun Gong practitioners. The CCP officials held a brainwashing session at Tianli Castle in Renshou County. The brainwashing session was held in the administration area of Wenlin Town Police Station. The police station is notorious for colluding with the Politics and Law Committee and the
610 Office
(also known as the General Management and Administration Office) to persecute practitioners. An elderly practitioner whose name is unknown died as a result of persecution while in their custody.
(Clearwisdom.net) On March 9, 2004, Falun Dafa practitioners from Anshan City, Mr. Yang Kezhi and Mr. Wang Hongnan, were both imprisoned in Nanguanling Prison in Dalian City. They were first detained in the New Inmate Ward.
~ Accounts of Persecution ~
~ April 25 Events ~
~ Voices of Support Worldwide ~
~ Dafa Day Celebrations ~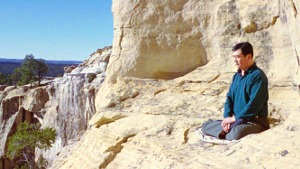 Master Li quietly watching the world from amidst the mountains after leaving New York following July 20th, 1999. (Published January 19, 2000)