(Clearwisdom.net) The Divine Performing Arts' 2009 World Tour arrived in Sarasota, Florida, on Monday, December 22, 2008. The performers received several whistles of approval from the audience throughout the performance. The audience remained very engaged in the performances throughout the show! The following are some audience reactions to the show.
(Clearwisdom.net) The curtain fell on the second Divine Performing Arts (DPA) show at the Broward Center for the Performing Arts in Fort Lauderdale on the afternoon of December 20, 2008. Most people in the audience didn't leave their seats right away, immersed in the atmosphere and savoring the experience of the show.
(Clearwisdom.net) Ms. Zhang Xiuqin, around 48 years old, lived in the Chengzhong District Court Family Housing in Xining City, Qinghai Province. On the evening of November 13, 2008, someone reported her while she was passing out truth-clarifying materials near Nanshan Street. Officers from Nantan Police Station arrested her and detained her in the Xining City Detention Center the same night.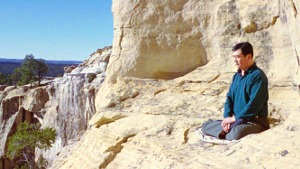 Master Li quietly watching the world from amidst the mountains after leaving New York following July 20th, 1999. (Published January 19, 2000)