Fort Lauderdale: Historian Recognizes Parallels between Ancient Chinese and Ancient Greek Dance (Photos)
December 24, 2008 | By Minghui/Clearwisdom correspondent Chen Zhenghong
(Clearwisdom.net) The curtain fell on the second Divine Performing Arts (DPA) show at the Broward Center for the Performing Arts in Fort Lauderdale on the afternoon of December 20, 2008. Most people in the audience didn't leave their seats right away, immersed in the atmosphere and savoring the experience of the show.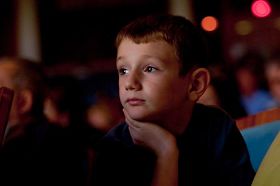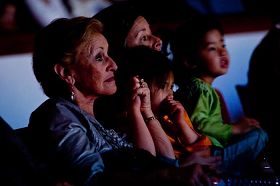 Audience enchanted by the DPA performance
After the last curtain call, a woman hurried backstage to find someone working for the show. She said she wanted to see the director because she had made an extraordinarily beautiful discovery. She wanted to tell the director that the postures of the fairy ladies in the show resembled those of ancient Greek goddesses so much! Through the afternoon's performance, she could see that the divine expressions of the human body belonged to all cultures.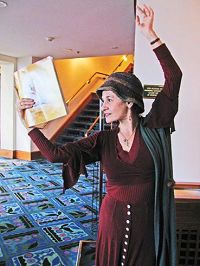 Ms. Galatier demonstrates ancient Greek choreography.
Astonishingly, this lady, Ms. Galatier, repeated the DPA dancers' movements step by step. She has studied ancient Greek choreography, and has been a dancer of fifty years professional experience, a poet and musician. She said that dance, poetry and music were the Trinity in ancient Greece, and she felt that it must be true in China, too.
Ms. Galatier refers to herself an "archaeologist of dancing" because she has studied stylized dance movements from ancient Greek sculpture in museums. Her amazing realization today was that the holy, or divine, expressions of the human body were the same in ancient China as in ancient Greece.
Ms. Galatier had seen the advertisements for the DPA show and wondered what Chinese goddesses looked like. So she bought two tickets to the show for herself and her mother. She felt that the ancient Greek goddesses were accurately depicted in the DPA show. She looks forward to seeing the show again at other venues on its tour.