Hebei Man Appeals 4.5-Year Prison Sentence for His Faith in Falun Gong
(Minghui.org) Mr. Yang Huiyong, from Wuyi County, Hebei Province, was sentenced to four and a half years in early September 2023 for practicing his faith, Falun Gong, a mind-body practice that has been persecuted by the Chinese Communist Party since July 1999. He recently filed an appeal.
Mr. Yang's sentence stemmed from his arrest on October 30, 2022, at Mr. Wang Shufan's home in Zaoqiang County, which, like Wuyi County, is also under the administration of Hengshui City. Mr. Wang was hosting Mr. Yang and five other people that day when more than twelve agents from the Hengshui City Police Department, the Zaoqiang County Police Department and the Wuyi County Police Department suddenly broke in and arrested them.
The police targeted Mr. Wang and his six guests because they practice Falun Gong. All of them, except for Mr. Yang, were released the next day after being interrogated at the Chengzhen Police Station in Wuyi County.
Mr. Yang refused to answer the police officer's questions and went on a hunger strike in protest. He was taken to a hospital for IV injections but managed to escape around 4 a.m. on November 4, 2022, when the officer assigned to watch him fell asleep.
Mr. Xu Jianhua, also a Falun Gong practitioner, offered to drive Mr. Yang out of town, but they were intercepted while crossing the Wuyi County border on November 7, 2022.
Mr. Xu's blood pressure shot up after his arrest. He was taken to Hengshui City No. 4 Hospital. His current situation is being investigated. It was learned that the police held his son as a hostage at one point in an attempt to make him submit to them.
Mr. Yang was restrained in a metal chair at the Wuyi County Police Department for eight straight days. The only time he was allowed to get up were for meals and bathroom breaks.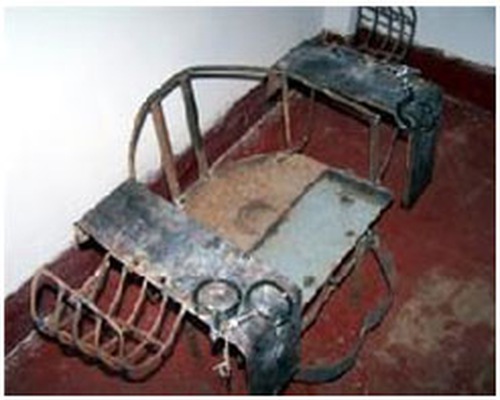 Torture instrument: metal chair
It was learned recently that Mr. Yang was sentenced in early September 2023. Details of his indictment, trial, and sentencing remain to be investigated.
Copyright © 2023 Minghui.org. All rights reserved.