NTD's International Classical Chinese Dance Competition Revives Virtues, Traditional Aesthetics, and Lost Techniques
(Minghui.org) New Tang Dynasty Television's (NTD Televsion) 10th International Classical Chinese Dance Competition took place at The Performing Arts Center at Purchase College in New York from September 7–10, 2023. 
Over 100 leading classical Chinese dancers from around the world competed in this event. The preliminary round was held September 7–8. Eighty-one dancers made it to the semifinals on September 9, and fifty-one contestants advanced to the finals on September 10. Award winners were announced at a ceremony on September 10. Prior to the awards ceremony, a technical showcase was performed by 15 previous gold medal winners of this competition. 
The classical Chinese dance competition is one in a series of international cultural and arts events hosted by NTD, aimed at promoting traditional culture. Organizers stated that this competition would launch a new era in classical Chinese dance by fostering cultural exchange, making this ancient Chinese culture renowned throughout the world, and promoting purely authentic traditional dance that is pure goodness, and pure beauty.
Classical Chinese dance training includes three main components—bearing, form, and technique. It is an expressive dance form rooted in 5,000 years of traditional Chinese culture, and is also one of the most comprehensive dance systems in the world.
The highest standard of dance form—"shen dai shou" (the body leads the hands) and "kua dai tui" (the hips lead the legs)—are forgotten ancient techniques that dancers have been seeking. The techniques have been reintroduced to the world by Shen Yun Performing Arts' founder and artistic director Mr. D.F.
Moments from Competition: Junior Female Division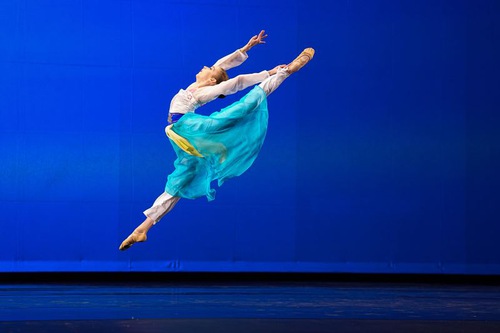 Gold winner Grace Rubacek performs, "Spring." (The Epoch Times)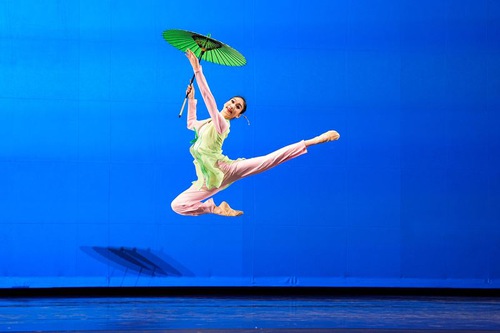 Gold winner Sophie Shao performs, "Whispers of Spring Rain." (The Epoch Times)
Silver winner Katherine Parker performs, "Zhao Jun's Destiny." (The Epoch Times)
Bronze winner Vicky Wu performs, "Inheritance." (The Epoch Times)
Moments from Competition: Junior Male Division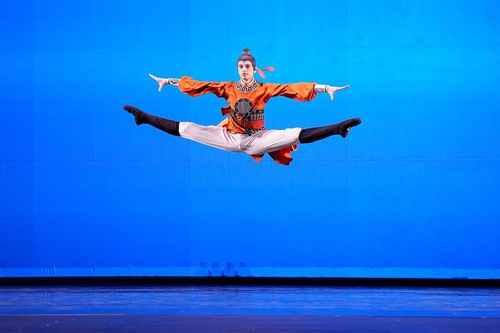 Gold winner Adam Parker performs, "General Huo Qubing." (The Epoch Times)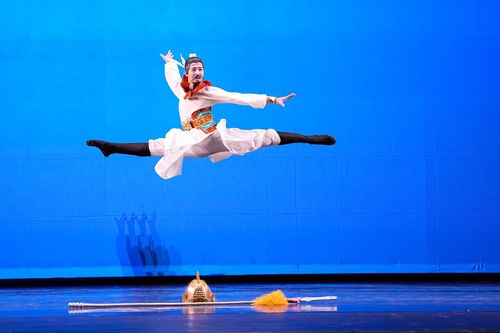 Gold winner Lucas Browde performs, "Loyalty of Yue Fei." (The Epoch Times)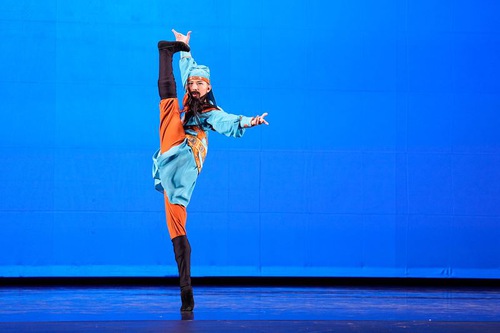 Silver winner Daniel Liang performs, "Eternal Loyalty." (The Epoch Times)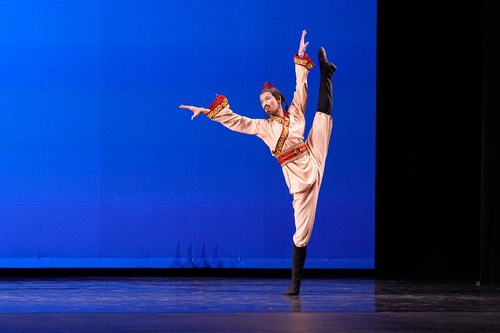 Silver winner Masayuki Sho performs, "King Goujian of Yue." (The Epoch Times)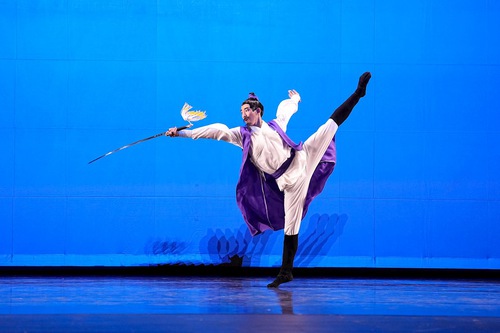 Honorable mention winner Steven Tao performs, "Drinking Under the Moonlight." (The Epoch Times)
Moments from Competition: Adult Female Division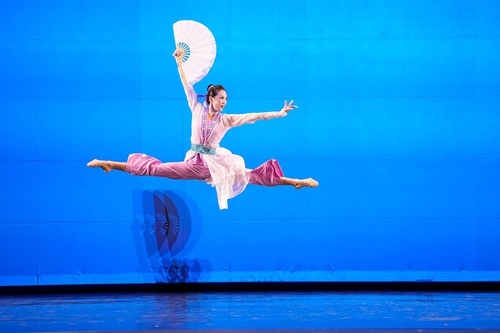 Gold winner Bella Fan performs, "Moonlight Mist." (The Epoch Times)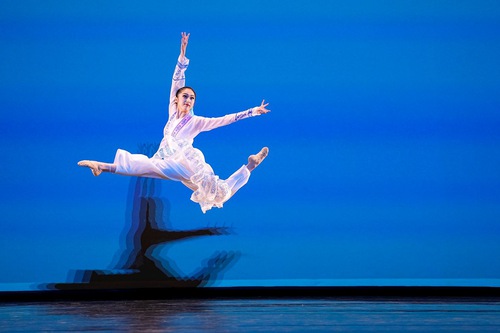 Gold winner Jessica Si performs, "Moonlit Reverie." (The Epoch Times)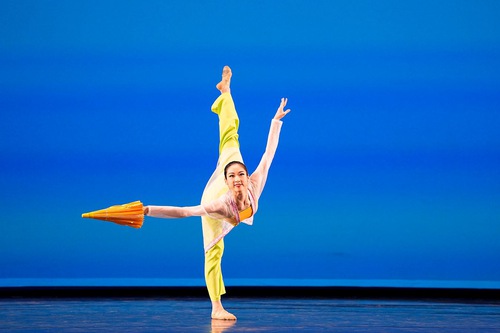 Gold winner Angela Lin performs, "Early Spring Drizzle." (The Epoch Times)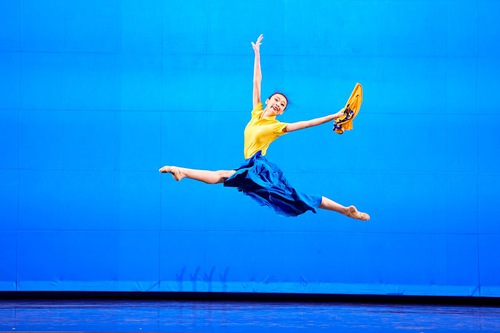 Gold winner Carol Huang performs, "Faith." (The Epoch Times)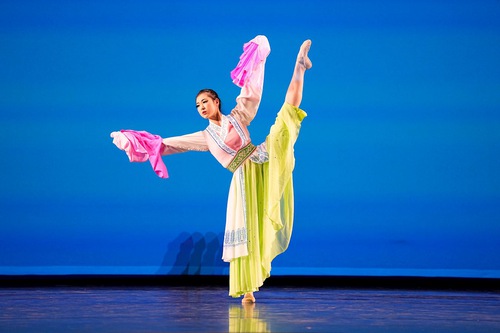 Honorable mention winner Kathy Rui Wu performs, "A Lingering Reflection." (The Epoch Times)
Contestant Amber Liu performs, "The Destiny of Xi Shi." (The Epoch Times)
Moments from Competition: Adult Male Division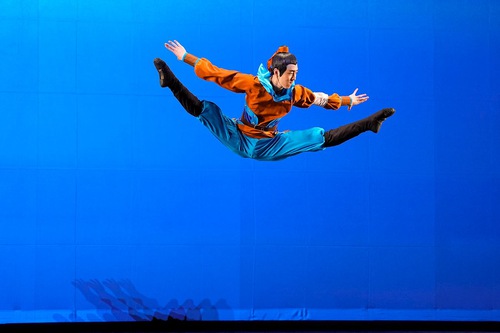 Gold winner Michael Hu performs, "Yanmen Pass." (The Epoch Times)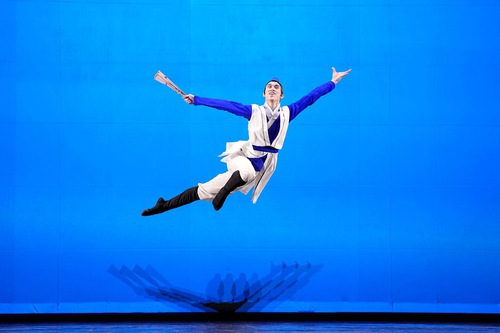 Gold winner Alex Chiang performs, "Free and Unfettered." (The Epoch Times)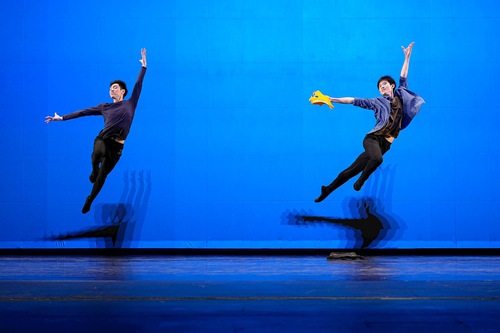 Gold winner Henry Hung and previous gold winner Allen Liu perform, "Brother." (The Epoch Times)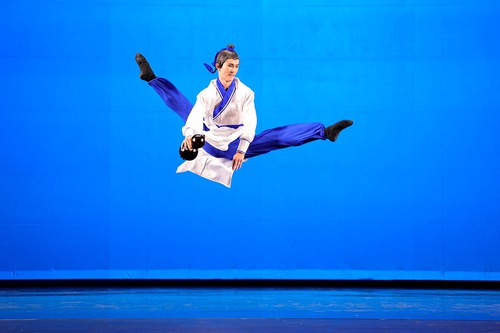 Bronze winner Hungwei Sun performs, "Savoring the Wine's Embrace." (The Epoch Times)
Judges: "Being a Dancer Is Like Self-cultivation"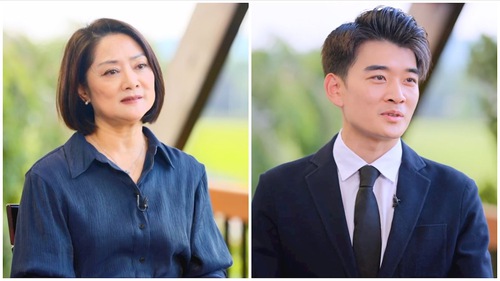 Competition judges Zhang Minghui and William Li 
Judge Zhang Minghui, an expert and examiner of classical Chinese dance and an alumnus of the Beijing Dance Academy, said, "To perform well in classical Chinese dance, one must love Chinese culture and strive to enhance their understanding of it."
"We are not gymnastics or acrobatics. Dancing is created to portray characters, that is, only when a dancer is both highly cultivated and skillful can they achieve a balance of strength and gentleness in their performances," she added. 
This competition aimed at promoting authentic traditional dancing, featuring pure goodness and beauty. Ms. Zhang said that dancers must improve themselves as a person before they can display beauty from the inside out.
"If a person's mind is righteous, then the things he chooses and the way he learns will also be righteous. Being a dancer is like self-cultivation. That means you have to let go of the negatives and highlight the positives so you can become better," she said. 
Judge William Li, a principal dancer at Shen Yun Performing Arts and an assistant professor of the dance department at Fei Tian College, said, "If you want to portray beauty, purity, and goodness onstage, I think the most important thing is to try to put these values and live by these values in your daily lives. The way that you carry yourself normally is going to be how you carry yourself onstage, and it's going to reflect in your dance movements."
Gold Winner Bella Fan: "Dance Is a Reflection of Your Character"
Ms. Bella Fan, a gold winner from the adult female division, performed "Moonlight Mist," a dance of her own creation. In this dance, her character's mindset changes from negative to positive, as they learn to look past the illusions of the human world.
"For me, I like to immerse myself in the environment of the story as soon as I step on stage. Where am I in the story? I just let my imagination come out," she said.
She felt her piece conveyed the virtue of temperance, in a way. "The ancients lived by this; you could also call it a principle of 'just enough,' with nothing done in excess. There's a moral standard to this," she said.
It was important to Ms. Fan that her dance express something virtuous, because classical Chinese dance is an expression of traditional culture, she explained.
"As we say, dance is a reflection of your character. If you're not positive, righteous, then when you dance, what are you giving to audiences?" she said. "Society is full of every sort of people and no one is perfect. Maybe this person is better than me in this respect and less so in another. But so long as we do well in what we should do, the most important thing is your outlook."
"I feel I have this mission to do this well," Ms. Fan said of conveying traditional culture through this ancient art form. "Because I know for myself, looking back over my journey of dance, I know that coming to where I am today came by learning, trying day by day, step by step, and piece by piece."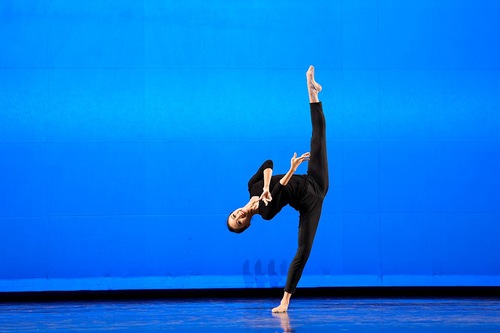 Bella Fan performs required technical movements at the competition. (The Epoch Times)
Gold Winner Carol Huang: "Truly Good Art Can Evoke Kindness in People's Hearts"
Carol Huang, two-time gold winner of the junior division in the NTD International Classical Chinese Dance Competition, won the gold award again participating in the adult division for the first time this year.
Dance can be an arduous journey, Ms. Huang shared, but a lesson she's learned is that you have to keep a positive heart.
"In art, as in life," Ms. Huang said, "when you mend your problems you improve—both morally and physically."
"I think truly good art can evoke kindness in people's hearts. It's not just entertainment that serves as a diversion which lasts the duration of a performance. It can give someone a lasting impression, and positive influence," she said.
Having experienced traditional culture, those in the audience have the opportunity to see a positive vision of human culture. "They'll think about it afterwards. What kind of culture is a good culture?" she added.
Silver Winner Daniel Liang: Sharing Real Traditional Culture
Daniel Liang, a silver winner from the junior male division, said that "in participating in the competition, he isn't here to win the award." He said that his goal in learning classical Chinese dance and participating in this competition was to let the audience see real traditional culture, because much of the Chinese culture has been destroyed.
Bronze Winner Ryan Zhou: "To Be Able to Let Go of Myself"
Ryan Zhou, a bronze winner from the junior male division, shared, "Through dance, I've learned to... [expand] my worldview: to be able to let go of myself, when to think about others, when to be able to take more pain, when to be able to be more responsible."
Audience Members: "Very Meaningful to My Heart"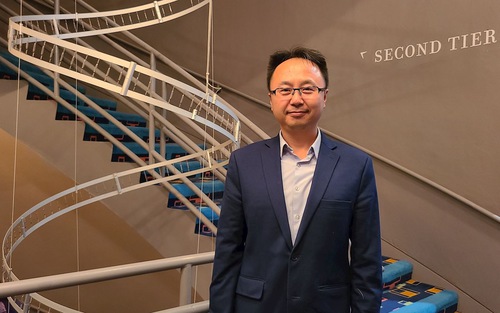 Software developer Leo Wang at NTD's 10th International Classical Chinese Dance Competition on September 10, 2023 (The Epoch Times)
Software developer Leo Wang felt "very happy and very emotional" after watching the finals. "They were very powerful and passionate on stage. Their professional demeanor was reflected in both the techniques and their enthusiasm. The energy that they transmitted to the audience through dance was also very strong," he said. 
"Actually, more people should come see it so more people can return to traditional arts and values. Putting these traditional values in the heart, people's behaviors would change and the entire society would also become better," Mr. Wang said. 
Bernardo Scheimberg, a 91-year-old retired doctor, was also in the audience. He expressed his admiration for the artists' abilities. "I loved not only the dance itself, but the meaning that the dance represents. Really, because it made me feel that I was seeing something that I never saw in my life, and that I was loving," he said.
"The form and the movements make women look more graceful, and men more masculine," said audience member Shu Zhang.
"I'm only half Chinese—I grew up in America," said holistic health and fitness coach, Tysan Lerner. "So, for me, having something like this where I get to see real, traditional Chinese culture is very meaningful to my heart."
List of Winners
Gold Winners
Junior female division: Sophie Shao, Grace RubacekJunior male division: Adam Parker, Lucas BrowdeAdult female division: Angela Lin, Bella Fan, Jessica Si, Carol Huang Adult male division: Alex Chiang, Henry Hung, Michael Hu, Jesse Browde 
Silver Winners
Junior female division: Katherine ParkerJunior male division: Eric Lu, Tommy Han, Masayuki Sho, Daniel LiangAdult female division: Lillian Parker, Grace HuangAdult male division: Tony Zhao, David Xiao, Ethan Guo
Bronze Winners
Junior female division: Alice Zhu, Vicky Wu, Ellen HsiaoJunior male division: Ryan ZhouAdult female division: Luna Yu, Jenna Chen, Anna HuangAdult male division: Aaron Huynh, Daniel Sun, Felix Sun, Yuanming Chen, Johnny Tsai, Hungwei Sun
Honorable Mentions
Junior female division: Xie Zishan, Catrina O'Neill, Dahlia LinJunior male division: Andrew Liu, Steven TaoAdult female division: Madeline Chen, Laura Li, Jiayuan Yang, Justina Wang, Nancy Xu, Kathy Rui Wu, Claire JiaoAdult male division: Bill Hsiung, Lee Rubacek, Alan Lee, Daniel Zhang
Copyright © 2023 Minghui.org. All rights reserved.