Now Available: Minghui International 2023
The 2023 Minghui International magazine is now available to order and will begin shipping on April 17.
This year's issue features a practitioner's courageous act of intercepting TV signals to counter the CCP's propaganda against Falun Dafa. The suffering he endured in prison as a result shows not only the CCP's brutality but also Dafa practitioners' spirit and resilience. In addition, the magazine presents an overview of the persecution through the lens of former dictator Jiang Zemin's death. A well-rounded introduction to Dafa, the magazine also includes stories of people who found better health, overcame unhealthy addictions, and live more meaningful lives after taking up the practice.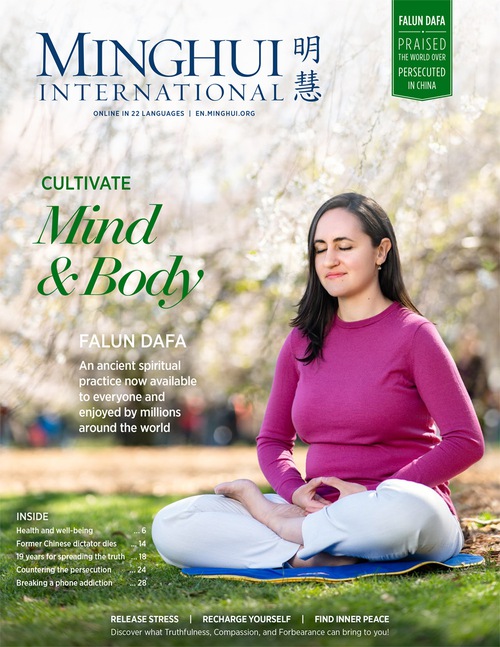 Contents
Health and Well-Being- Canadian Student Finds New Health and Meaning in Life- Swedish Musician Gives Up Drugs after Practicing Falun Dafa- Enriching Communities Around the World
Upholding Conscience- Former Chinese Dictator Dies: The Disastrous Legacy of Jiang Zemin- 19 Years for Spreading the Truth: A Harrowing Firsthand Account of Persecution, Imprisonment, and Torture
Hope Amid Turmoil- Young Practitioners Advocate for Religious Freedom at International Summit- Voices of Support Worldwide- Breaking My Smartphone Addiction
How to Order
Boxes of 100 copies can be purchased for $1.50 per copy ($150 per box) at the Minghui Publishing online store.
Individual copies can be purchased for $3.50 each.
Questions can be directed to orders@mhpublishing.org
Minghui Publishing CenterApril 12, 2023
All content published on this website is copyrighted by Minghui.org. Minghui will produce compilations of its online content regularly and on special occasions.