Austria: Introducing Falun Dafa to Tag des Sports Attendees
(Minghui.org) Falun Dafa practitioners participated in the large-scale Tag des Sports event held in Graz, the capital of Steiermark, Austria on September 10, 2023. The sports day in Graz is a major local event. Eighty groups participated, and about 40,000 spectators attended. The city center and parks were filled with local residents and visitors.
Practitioners set up a booth in Stadtpark, where they demonstrated the exercises, told people about the benefits of the practice and how the Chinese Communist Party (CCP) has persecuted Falun Dafa for more than two decades.
A media team from Austrian Broadcasting Group (ORF) was there and took footage of the event, including practitioners demonstrating exercises. The report was broadcast on the evening news on September 10.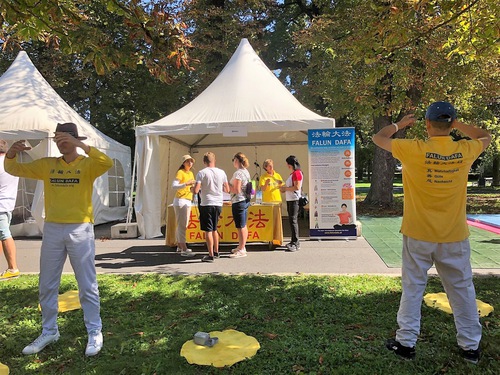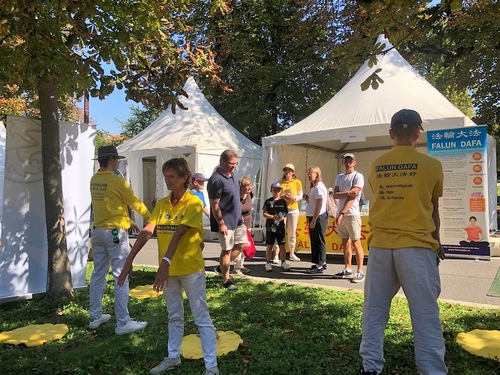 Tag des Sports attendees learn about Falun Dafa.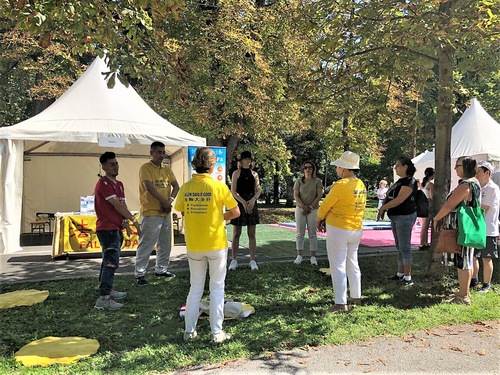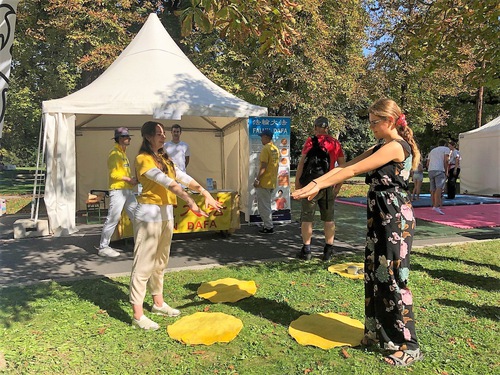 Visitors learn the Falun Dafa exercises.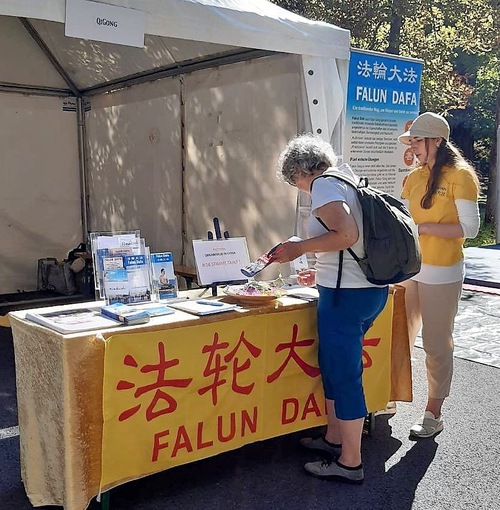 A visitor signs a petition calling for an end to the persecution. 
Many people stopped at the Falun Dafa booth to learn more. Practitioners told them what Falun Dafa is and demonstrated the five sets of exercises. Many people learned the exercises during the event. They also asked where the local group practice site was. Practitioners explained that they could also learn the exercises online.
Practitioners told people how the CCP persecutes Falun Dafa, and many people signed the petition calling for an end to end the persecution. After learning about the persecution, one man exclaimed, "Of course I want to sign it. I am happy to stand up for justice!"
Several tourists stopped in front of the Falun Dafa booth and one of them said, "This booth draws me the most. It exudes a calm and peaceful atmosphere."
A woman visited the booth and learned the first set of exercises. Shortly before the event ended, she returned to the booth and asked to learn the other exercises. She said, "I came back because your booth is my favorite."
Copyright © 2023 Minghui.org. All rights reserved.