France: Falun Dafa Welcomed at Paris Association Forums
(Minghui.org) At the beginning of the new school year, in an effort to enrich the community and cultural life of the city's residents, certain arrondissements (districts) in Paris held association forums. Falun Dafa practitioners participated in activities in the 5th and 11th arrondissements on September 9, 2023, and were popular with visitors.
Practitioners set up a booth in the city hall of Paris' 5th arrondissement. Many of the visitors who spoke with practitioners said they were interested in meditation. They learned about Falun Dafa and the Chinese Communist Party's (CCP) persecution.
People interested in practicing Falun Dafa said they would go to the practice site in Luxembourg Gardens the next day (Sunday) to learn the exercises.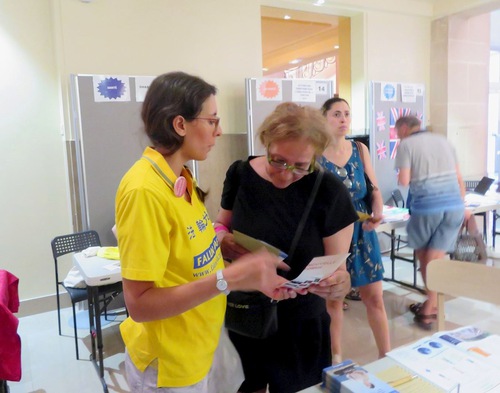 Introducing Falun Dafa at City Hall in the 5th arrondissement on September 9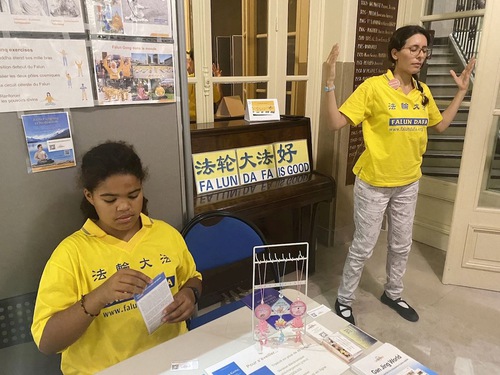 Practitioners demonstrate the Falun Dafa exercises.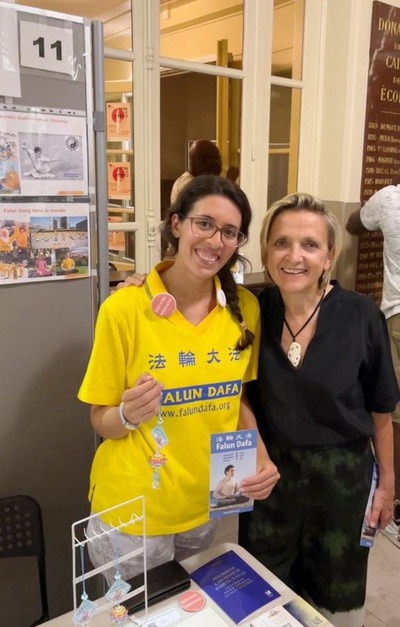 Ms. Florence Berthout, the mayor of the 5th arrondissement, said that she had come to the best place in the forum.
Mayor of the 5th arrondissement Ms. Florence Berthout chatted with practitioners at their booth. They told her about the principles of Truthfulness-Compassion-Forbearance and gave her a small origami lotus flower with "Falun Dafa is good" printed on it. She put the lotus flower on her wrist and said that she had come to the best place in the forum and the coolest place on a hot day.
An event was also held in the 11th arrondissement on the Boulevard Richard-Lenoir.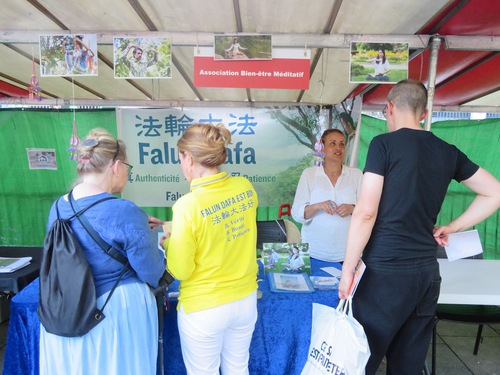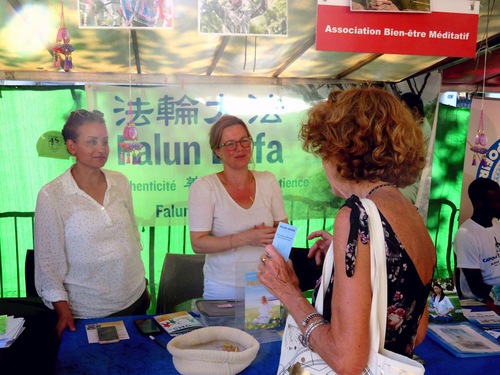 Practitioners introduce Falun Dafa to visitors at the 11th arrondissement association forum.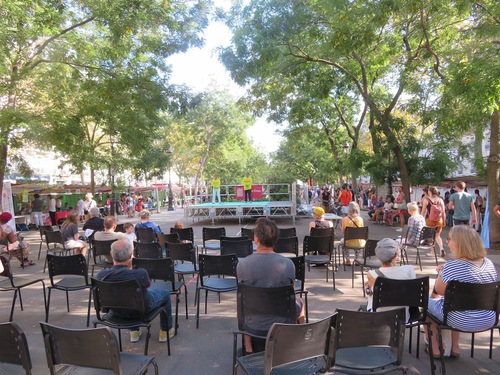 Practitioners demonstrate the exercises at the forum in the 11th arrondissement.
"The Principles of Truthfulness-Compassion-Forbearance Are What the World Needs"
A "Falun Dafa, Truthfulness-Compassion-Forbearance" banner drew a musician's attention. A practitioner told him that when people have good thoughts, practice meditation, and follow the principles of Truthfulness- Compassion-Forbearance, the music they play is righteous and the audience can feel it. He agreed and said, "If musicians practice Falun Dafa, it will really benefit them."
Myriam, who is originally from Marrakech, told a practitioner that she has been looking for a practice method for a long time and now she finally found it. She said Falun Dafa was what she needed and that she was interested in practicing. She gave a practitioner her phone number and also asked for information about the group practice site.
Copyright © 2023 Minghui.org. All rights reserved.