U.S. Congresswoman Urges Secretary of State to Help Rescue Detained Falun Gong Practitioners
(Minghui.org) U.S. Congresswoman Linda Sánchez of California wrote to U.S. Secretary of State Antony Blinken on September 5, 2023, calling on him to help rescue three Falun Gong practitioners who are detained in China for their faith.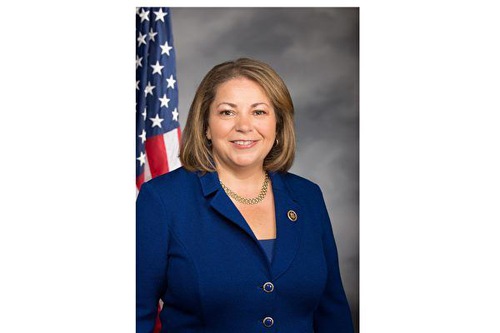 Congresswoman Linda Sánchez
Congresswoman Sánchez said that her constituent Ms. Shuzhi (Karen) Kang contacted her office for help. Karen's sister, Ms. Kang Shumei, nephew Mr. Zhang Gu, and nephew Mr. Hou Lijun are all detained in Chinese detention centers and prison, and denied family visitation.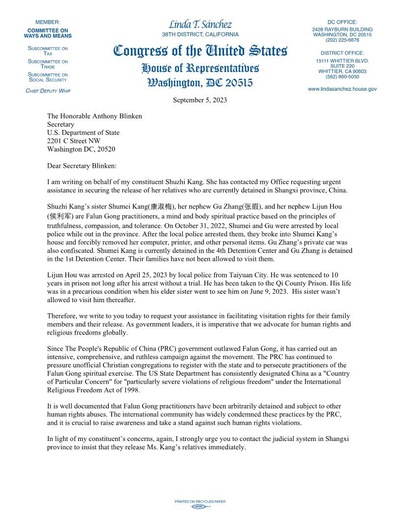 Congresswoman Sánchez's letter to Secretary Blinken
Congresswoman Sánchez detailed in the letter, "On October 31, 2022, Shumei and Gu were arrested by local police while out in the province. After the local police arrested them, they broke into Shumei Kang's house and forcibly removed her computer, printer, and other personal items. Gu Zhang's private car was also confiscated. Shumei Kang is currently detained in the 4th Detention Center and Gu Zhang is detained in the 1st Detention Center. Their families have not been allowed to visit them."
"Lijun Hou was arrested on April 25, 2023 by local police from Taiyuan City. He was sentenced to 10 years in prison not long after his arrest without a trial. He has been taken to the Qi County Prison. His life was in a precarious condition when his elder sister went to see him on June 9, 2023. His sister wasn't allowed to visit him thereafter."
Congresswoman Sánchez went on to say, "Since The People's Republic of China (PRC) government outlawed Falun Gong, it has carried out an intensive, comprehensive, and ruthless campaign against the movement. The PRC has continued to pressure unofficial Christian congregations to register with the state and to persecute practitioners of the Falun Gong spiritual exercise. The US State Department has consistently designated China as a 'Country of Particular Concern' for 'particularly severe violations of religious freedom' under the International Religious Freedom Act of 1998."
"It is well documented that Falun Gong practitioners have been arbitrarily detained and subject to other human rights abuses. The international community has widely condemned these practices by the PRC, and it is crucial to raise awareness and take a stand against such human rights violations."
"In light of my constituent's concerns, again, I strongly urge you to contact the judicial systems in Shanxi province to insist that they release Ms. Kang's relatives immediately," wrote Congresswoman Sánchez.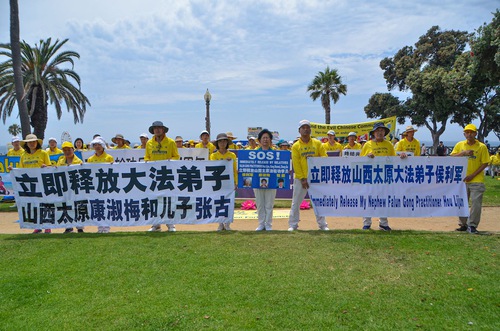 Karen (center) demands that the Chinese Communist Party immediately release her loved ones detained for their faith.
According to Karen, when Mr. Hou's family demanded to visit him, the prison guards directly told them that they were "punishing" Mr. Hou because he refused to renounce Falun Gong. As Mr. Hou's mother had died from the persecution in 2020, his arrest dealt another hard blow to his father. His health quickly declined and he passed away on June 23, 2023.
Karen strongly demands that the Chinese communist regime unconditionally release her three family members. She said that as long as the persecution doesn't stop, she will continue to work hard to expose the violation of law by the officers and seek to bring them to justice.
Related reports:
Los Angeles: Event at Santa Monica Beach Raises Awareness of the Persecution in China
Los Angeles: Rally and Candlelight Vigil Condemns the Persecution and Commemorates Falun Gong Practitioners
Shanxi Man Gets Ten Years Without a Trial, in Serious Condition after Two-Month Hunger Strike
U.S. Citizen Calls for the Release of Her Loved Ones, Including a Nephew Who Has Been on Hunger Strike for 48 Days and Counting
Shanxi Man Arrested After 20 Years of Displacement, on Hunger Strike for Over a Month
Copyright © 2023 Minghui.org. All rights reserved.