U.S. Citizen Calls for the Release of Her Loved Ones, Including a Nephew Who Has Been on Hunger Strike for 48 Days and Counting
(Minghui.org) A resident of Los Angeles, California and her supporters held a rally in front of the Chinese Consulate in Los Angeles on June 6, 2023, calling for the immediate release of her sister and two nephews detained in China for their faith in Falun Gong, a spiritual discipline that has been persecuted by the Chinese communist regime since 1999. 
Ms. Kang Shuzhi (Karen) also urged the international community and human rights organizations to help rescue her nephew Mr. Zhang Gu, 33, his mother (Karen's younger sister), Ms. Kang Shumei, 60, and his 52-year-old cousin, Mr. Hou Lijun (whose mother, Karen's older sister, died in 2020 after serving 11 years in prison for practicing Falun Gong). All three of them live in Tianyuan City, Shanxi Province.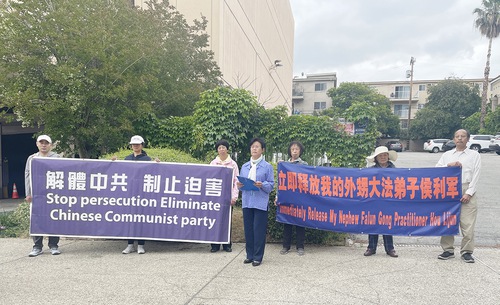 Ms. Kang Shuzhi (middle) calls for the immediate release of her nephew Mr. Hou Lijun, sister Ms. Kang Shumei and her son Mr. Zhang Gu.
Mr. Zhang and his mother Ms. Kang Shumei were arrested on October 31, 2022. Their personal belongings, including a vehicle, a computer and a printer, were confiscated.
Ms. Kang Shumei is currently held in the Gujiao City No. 4 Detention Center and Mr. Zhang at the Taiyuan City No. 1 Detention Center. Both of them have been denied family visits. Their arrests and detention left the Kang sisters' 94-year-old father in a dire situation, as he had relied on Ms. Kang and Mr. Zhang for care.
Six months after his cousin and aunt's arrests, Mr. Hou was arrested on April 25, 2023 and held at the Taiyuan City No. 1 Detention Center. His arrest came after he spent over 20 years in displacement to avoid being persecuted for his faith in Falun Gong.
Mr. Hou started a hunger strike shortly after his arrest, which has lasted for 48 days as of June 13. He is being force-fed every day. He has lost 25 kg (55 lbs) so far and he is now in a precarious condition. 
Judge Gao Aiping of Wanbolin District sentenced Mr. Hou to ten years in prison not long after his arrest. The swift prosecution of Mr. Hou was to quickly close his case from more than 20 years ago, when he escaped from police custody after being seized in a group arrest on October 1, 2002.
Mr. Hou appealed with the Taiyuan City Intermediate Court, which ruled to uphold his original verdict. He has been taken to the Qi County Prison, where he continues the hunger strike to protest the persecution. 
Karen said, "I strongly condemn the Xiaojingyu Police Station in arresting my nephew Hou Lijun. I strongly demand his immediate and unconditional release. I also strongly demand that the Police Department of Gujiao City immediately and unconditionally release my sister Kang Shumei and her son Zhang Gu."
Karen said that after Mr. Hou was arrested, the local police didn't issue any formal paperwork about his arrest or detention, or allow his family to visit him. She said that the guards at the Taiyuan City No. 1 Detention Center force-fed Mr. Hou three times a day. As the force-feeding is extremely brutal and painful, she worries very much about him.
Persecution of Mr. Hou
After the Chinese Communist Party ordered the persecution of Falun Gong on July 20, 1999, countless practitioners and their families have faced non-stop arrests, harassment, detention, and torture, including the Kang family. Among them, Mr. Hou and his mother, Ms. Kang Shuqin, suffered the most severe persecution.
Mr. Hou, who used to work at the Taiyuan Industrial and Commercial Bank as a security guard, was first arrested on July 21, 1999, when he went to the provincial government to appeal for the right to practice Falun Gong. He was held at the Beicheng District Detention Center. 
Mr. Hou was arrested again in January 2000 when he went to Beijing to appeal. He was taken back to Taiyuan and given two years of forced labor after one month at the Nancheng District Detention Center. 
In order to force Mr. Hou to renounce Falun Gong, the guards only allowed him to sleep for two hours every night and arranged for inmates to monitor him. They also burned his hair, beat and verbally abused him, and forced him to do unpaid labor. In just a few days, he was emaciated.
Mr. Hou and his mother were seized during a mass arrest of 64 local practitioners on October 1, 2002. Among them, 23 practitioners were sentenced to prison and many others received labor camp terms. Ms. Kang was given 11 years. She and five other practitioners later died as a result of the persecution. 
Liang Zhifeng and Qin Feng of the Wanbolin Police Station carried Mr. Hou to their office on the morning of October 20, 2002. They handcuffed him behind the back. Then they lifted him up and threw him hard on the concrete ground.
Mr. Hou started a hunger strike on October 20, 2002. Six days later, police officers Zheng Yongsheng, Chang Binli, and Zhang Jiangang shocked him with 180,000-volt electric batons for extended periods of time. Xu Fuguo of the Wanbolin Police Station also participated in the torture.
Karen recalled, "The officers stripped my nephew, held him down on the concrete ground, and put three chairs on him to make sure he didn't move. Then they shocked him from head to toe, including his private parts, non-stop. Officer Liang Zhiqiang shouted, 'Shock him in the eyes and make him blind!'"
As a result of the electric shocks, Mr. Hou's head and face were covered with big blisters. The wounds on his head were bleeding. The left side of his face was severely burned. It kept oozing yellow fluid for the next few days. His head and face were also deformed. He was so weak that he couldn't stand up. He began to lose consciousness. The whole room was filled with a strong smell of burnt flesh.
The police fastened Mr. Hou's hands and feet to a metal chair after dark and took him to the Wanbolin District Detention Center in the middle of the night. Due to his severe injuries, the guards refused to admit him in the beginning. The police then instructed the detention center to record Mr. Hou's condition, clearing them of the liability of his injuries, before the guards agreed to take him. When Mr. Hou was taken to the cell, his cellmates were all shocked to see how badly he was injured.
"My nephew had intense pain in his kidneys from then on. The doctor said he had heart and kidney failure and issued two critical condition notices for him." Karen recalled.
After 105 days of hunger strike, Mr. Hou miraculously found an opportunity to escape from the detention center and lived in displacement for the next 20 years before his recent arrest.
Death of Ms. Kang Shuqin
Mr. Hou's mother Ms. Kang Shuqin was a teacher at the Taiyuan City 45th Middle School. She was also a volunteer coordinator for the practice site in Taiyuan in her spare time. After the persecution started, she was detained three times and given a one-year labor camp term before her last arrest in October 2002.
While Mr. Hou escaped from custody in 2002, Ms. Kang was sentenced to 11 years in the Shanxi Province Women's Prison, where she was shocked with electric batons, deprived of sleep, and subjected to drug administration. 
Due to long-term torture, Ms. Kang's legs were severely swollen and she couldn't bend them, resulting in her having tremendous difficulty walking. To increase her suffering, the inmates opened the window in the winter and let the freezing wind blow on her. She was also subjected to long-term starvation. 
When Ms. Kang was finally released, after having survived the hellish eleven years, the police continued to monitor her daily life. They not only arranged for community workers to monitor her but also installed listening devices in her home. 
Sun Chunyan, the principal of Taiyuan City 45th Middle School, and the school's director Zhang Xiaobin suspended Ms. Kang's pension for over ten years, leaving her and her family in dire financial situations.
Succumbing to the persecution, Ms. Kang passed away in 2020. Her death dealt a hard blow to her husband, who suffered a stroke and became incapacitated.
Karen said, "Throughout history, justice has always prevailed. Those who persecute good people will be brought to justice sooner or later. I urge all police officers and those in the judiciary departments to immediately stop participating in the persecution and release my three family members!" 
Perpetrators' contact information:
Yang Chunsheng (杨春生), director of 15th ward of Jinzhou Prison: +86-15303545699Zhang Zhiming (张志明), political secretary of Jinzhou PrisonGao Aiping (高爱平), judge of Wanbolin District Court: +86-13835853588
(More perpetrators' contact information is available in the original Chinese article.)
Related report:
Shanxi Man Arrested After 20 Years of Displacement, on Hunger Strike for Over a Month
Related article in Chinese:
All content published on this website is copyrighted by Minghui.org. Non-commercial reproduction must include attribution (e.g. "As reported by Minghui.org, ...") and a link to the original article. For commercial use, contact our editorial department for permission.