Reported in February 2023: 110 Falun Gong Practitioners Sentenced for Their Faith
(Minghui.org) A total of 110 cases of Falun Gong practitioners sentenced for their faith were reported in February 2023. 
Among the newly reported cases, 15 took place between 2014 and 2021, 66 in 2022, 4 in January 2023 and 24 in February 2023. One case lacks information of the sentencing time and term length.
The sentenced practitioners hailed from 12 provinces and 3 centrally controlled municipalities (Beijing, Chongqing, and Tianjin). Shandong registered the most cases of 37. Heilongjiang ranked second with 19 cases. The remaining regions had cases between 1 and 9.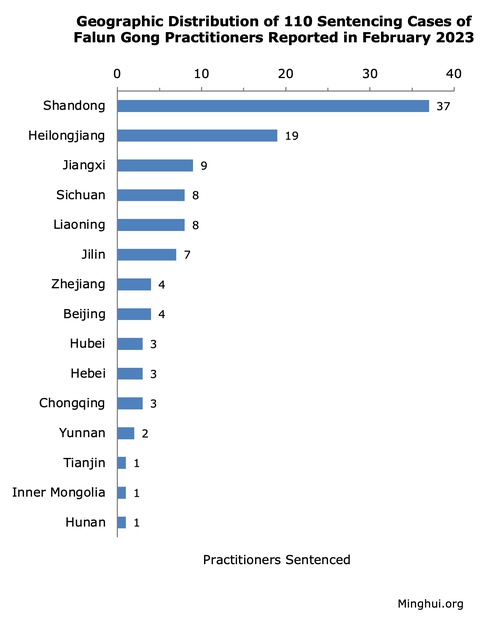 The practitioners' terms ranged from two months to eight years. Among the 45 practitioners whose ages were known, they were between 25 and 88 at the age of sentencing, including 8 in their 70s and 5 in their 80s. Among the sentenced was a deputy principal of an elementary school, a college professor, a retired engineer and a former secretary of the archive department of the Ministry of Foreign Affairs.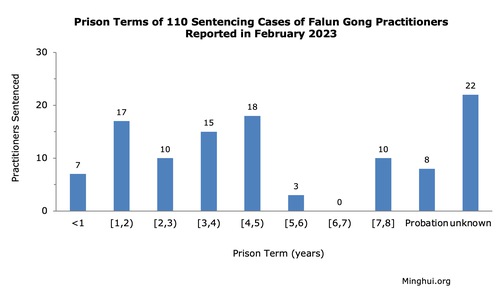 The following are snapshots of select sentencing cases. The full list of sentenced practitioners can be downloaded here (PDF).
Young Practitioners Sentenced
34-year-old Devout Lay Buddhist Turned Falun Gong Practitioner, Sentenced to Eight Years in Prison
After spending nearly two years in custody, a 34-year-old resident of Chengdu City, Sichuan Province was sentenced to eight years in prison and fined 30,000 yuan on February 15, 2023.
Mr. Qu Xing is a native of Shenyang City, Liaoning Province. He had been interested in spiritual cultivation since his teens. He studied Buddhism and also went to Tibet to learn Tantrism. He later went to Nepal and tried to study under a famous monk. The monk didn't specify whether he would take Mr. Qu as a disciple, but kept him in the monastery for over a year. Mr. Qu lived in a bamboo tent and led a very simple life.
In 2018, he came across Falun Gong on the Internet. He was very excited after reading Zhuan Falun, the main text of Falun Gong. He said Falun Gong was exactly what he had been looking for. He told the monk that he had decided to practice Falun Gong. The monk was very happy for him.
Mr. Qu thus moved back to China. After a brief stop in Chengdu, he liked the city and decided to stay here, only to be arrested on June 8, 2021, after being reported for putting up Falun Gong posters while delivering food. 
During Mr. Qu's trial on February 15, 2023, the court was heavily guarded by the bailiffs. His family, including his mother, weren't allowed to attend the trial. His lawyer entered a not-guilty plea for him. The judge sentenced him to eight years that afternoon.
25-year-old Man Sentenced to 3.5 Years
Mr. Sun Yushan, a 25-year-old Changsha City, Hunan Province resident, was sentenced to 3.5 years on February 15, 2023. Mr. Sun was arrested on January 20, 2022 and taken to the Changsha City No. 2 Detention Center two days later.
Judge Chen Yuchao of the Liuyang City Court initially scheduled a hearing for July 28, but canceled it the day before the court date, without providing any explanation. Mr. Sun's family demanded the dismissal of his case, but to no avail.
On the day of the trial on February 15, 2023, the court was surrounded by several police cars and an ambulance. Several government officials were present as well.
The court initially only allowed ten people to attend the trial, but later let in most of Mr. Sun's family given their strong protest. Judge Chen repeatedly interrupted the defense argument by Mr. Sun's family defender.
Mr. Sun insisted that he didn't violate any law in practicing Falun Gong. He revealed that during the three days he was held at the police station, the police only provided one meal to him.
The judge sentenced Mr. Sun to 3.5 years with a 10,000 yuan fine at the end of the trial.
Denied Legal Representation 
Jilin Man Denied Legal Representation and Sentenced to 1.5 Years
Having been deprived of legal representation since his arrest last July for practicing Falun Gong, a 47-year-old Changchun City, Jilin Province resident was sentenced to 1.5 years around February 2023.
Cao Hui, deputy chief of the Caiyu Street Police Station, led an officer to Mr. Wang Peng's home on July 20, 2022, looking for his mother, who also practices Falun Gong like him. Upon finding out that his mother, who once shared the residence with Mr. Wang, had been living away from home to hide from them, the police raided the place and took away Mr. Wang's computers, cellphone and Falun Gong books. 
The police put Mr. Wang in criminal detention at the Weizigou Detention Center. His family soon hired a lawyer for him. When the lawyer went to the detention center to visit him, the guards did not let him see Mr. Wang, claiming that he had to secure permission from the Domestic Security Office. 
Mr. Wang's family then hired another lawyer. Yet the Domestic Security Office refused to approve the lawyer's visitation request.
The family called the mayor's hotline to file a complaint against the police, only to be told that the Changchun City Political and Legal Affairs Committee has a policy, banning Falun Gong practitioners from being represented by lawyers.
The Kuancheng District Court held a hearing of Mr. Wang's case at the detention center on November 21, 2022. His family later confirmed that he has been sentenced to 1.5 years. 
Sichuan Veteran Denied Right to Counsel and Sentenced to Prison
A 40-year-old veteran in Miyi County, Sichuan Province was sentenced to three years for his faith in Falun Gong around February 2023.
Mr. Luo Banglin was arrested at home on March 15, 2022. One month after he was transferred to the Mianshawan Detention Center in mid-April 2022, a prosecutor from the Miyi County Procuratorate interviewed him and said they would recommend a 3 or 3.5-year prison sentence for him.
Mr. Luo's wife Ms. Hong Chuyan went to the procuratorate and filed an application to be his non-lawyer defender. Hu Shouhua, the prosecutor in charge of the case, demanded that she sign paperwork promising not to hire a lawyer for her husband. She refused to make such a promise.
Ms. Hong submitted her defense statement on August 12 and received a call from Hu three days later. Hu said that she wasn't allowed to represent her husband as a non-lawyer defender or visit him at the detention center. 
Without allowing Mr. Luo any legal counsel, the Miyi County Court convicted him on December 23, 2022.
Mr. Luo served two years in the army in Tibet, between 2003 and 2005. He suffered high altitude sickness and struggled with poor health after finishing his service. He had trouble sleeping at night and had very low energy. He later took up Falun Gong on the recommendation of a friend and regained his health. He started a mango farm and opened an online store to sell the fruits.
Families' Plight
Inner Mongolia Man Sentenced for His Faith, Wife Dies in Distress
Mr. Zhang Guosheng, of Chifeng City, Inner Mongolia, was arrested in July 2022, days before his 70th birthday. The local court quickly sentenced him to 1.5 years. His sentencing dealt his wife a hard blow. Her health quickly declined and she passed away on October 30, 2022. She was 65.
Mr. Zhang's latest sentencing stemmed from his earlier arrest at a farmers' market on October 18, 2019. The police took his home keys after seizing him and proceeded to raid his home when no one was around. Due to his high blood pressure, the local detention center refused to admit him and he was therefore released on bail that evening. 
Mr. Zhang was summoned to the procuratorate in 2020. The prosecutor indicated his intention to indict him. To avoid persecution, Mr. Zhang decided to go into hiding. His pension has been suspended since then.
During the time Mr. Zhang was displaced, the police searched his and his daughter's homes several times. Upon hearing that his mother in her 80s was hospitalized, the police even went to the hospital to look for him. 
One night, when Mr. Zhang's wife, Ms. Lu Lianli, was at home by herself, the police brought in a locksmith and broke in to look for Mr. Zhang. Upon finding he wasn't home, they drove to his hometown overnight and searched his uncles' homes.
Hebei Man Sentenced By Out-of-Province Court, Wife Still on the Run Due to Persecution of Their Shared Faith
Mr. Guo Yuanrong's family recently confirmed that he has been sentenced to two years for his faith in Falun Gong.
The sentencing of Mr. Guo, a 59-year-old native of Wei County, Zhangjiakou City, Hebei Province, stemmed from an earlier arrest of him and his wife Ms. Cai Jinchuan on August 30, 2019, when both of them were targeted in a group arrest of eight in both Hebei and nearby Guangling County, Datong City, Shanxi Province.
Mr. Guo suffered high blood pressure, high blood sugar, and heart palpitations while being held at the Hunyuan County Detention Center in Shanxi Province. He was released on bail after 30 days. Ms. Cai held a hunger strike at the Zhangjiakou City Women's Detention Center in Hebei Province and was released on bail eight days later. Both of them were later forced to live away from home to avoid further persecution.
Mr. Guo was arrested again on September 8, 2022, at his nephew's home in Guangling County. He was held at the Hunyuan County Detention Center in Shanxi. He was transferred to a prison hospital shortly after due to his health condition.
When Mr. Guo's family contacted judge Sun Jianjiang of the Yungang Court in Datong City on January 12, 2023, Sun promised that he would inform them when he scheduled a hearing of Mr. Guo's case. But when the family called Sun again on February 2, Sun revealed that he had sentenced Mr. Guo to two years in prison and he was blatant with the fact that he didn't inform the family of the trial. He claimed that Mr. Guo was an adult so he didn't have the obligation to inform his family of his sentencing.
Mr. Guo's family also confirmed that he has been taken back to the Hunyuan Detention Center from the hospital, but the guards still denied them from visiting him.
Ms. Cai is still on the run at the time of writing.
Sichuan Man Sentenced to Prison for His Faith, US-resident Daughter Calls for His Release
Mr. Tang Lirong of Deyang City, Sichuan Province, was secretly sentenced to four years for practicing Falun Gong. Mr. Tang's daughter, who currently resides in the U.S., is calling on the Chinese authorities to release him.
Mr. Tang, around 60, was arrested at work on April 2, 2020. The police broke into his office, slapped him in the face, and handcuffed him. Both of his residences were ransacked that day. His ID and passport were confiscated. While ransacking his home, the police quickly showed him a search warrant, but they put it back without letting him read it.
Before releasing Mr. Tang under house arrest the next afternoon, the police took his photo and collected his fingerprints and a blood sample.
The police summoned Mr. Tang five times between April 20 and May 18. They attempted to find out more about another practitioner, Ms. Zhao Jie. The police also showed Mr. Tang a paper with over 20 English names and asked him who they were.
While they were interrogating him on April 27, 2020, the police called Mr. Tang's daughter, Ms. Tang Rui, knowing that she also practices Falun Gong. They asked Ms. Tang what she was doing in the U.S. and which practitioners she knew. They said to Mr. Tang, "We can't do anything to your daughter right now because she is in the U.S., but as soon as she comes back, we will arrest her."
Mr. Tang was summoned to the Jingyang District Court on February 8, 2023. As soon as he arrived, he was taken to the hospital for physical exams and then to the local police department. A police officer surnamed Diao revealed that it was the court that ordered the police to arrest him before hearing his case.
Mr. Tang was later secretly sentenced to four years. The court never notified his family of the verdict, which an insider confirmed on February 20.
Jilin Man Sentenced to Four Years, Sister Breaks out in a Cold Sweat and Couldn't Sleep
Mr. Wu Dexiu's family recently confirmed that he has been secretly sentenced to four years for his faith in Falun Gong. Mr. Wu, of Jiaohe City, Jilin Province, was arrested at his rental place on May 13, 2022. The police turned the place upside down during the raid.
Mr. Wu's sister, in her 70s, called officer Zhu Siyu, who was in charge of Mr. Wu's case, several times to ask about her brother. Zhu answered her initially but refused to give her any information. When she kept calling, Zhu stopped picking up. She had to call him from another phone so he would answer. She contacted several law firms, but no lawyer was willing to take her brother's case. She said that, whenever she thought about her brother being arrested, she broke out in a cold sweat and couldn't sleep at night.
Mr. Wu's younger brother received a text message from the Shulan City Court on February 9, 2023. It said that Mr. Wu had been sentenced to four years and fined 5,000 yuan. A Gongzhuling Prison guard called Mr. Wu's brother on February 18 and confirmed that Mr. Wu had been admitted.
Mr. Wu began to practice Falun Gong in June 1996. After the communist regime initiated the persecution in 1999, he was repeatedly arrested and detained for upholding his faith. He served three labor camp terms for a total of four years. He was subjected to savage beatings, electric shocks, and force-feeding while in custody.
Targeted for Speaking Out 
Heilongjiang Woman in Her 70s Sentenced to Three Years for Distributing Falun Gong Materials
A Harbin City, Heilongjiang Province resident in her 70s was sentenced to three years on January 17, 2023 for speaking up about Falun Gong.
The police first arrested Ms. Jiang Yifen's husband, Mr. Kan Daping, on March 3, 2022, while he was on his way home from working at a local pandemic control center. He was fired from his work shortly after. The police then broke into the couple's home and confiscated Ms. Jiang's Falun Gong books, a photo of Falun Gong's founder, and several cellphones. 
While Mr. Kan was released soon after the arrest, Ms. Jiang was kept in custody. When the police submitted Ms. Jiang's case to the procuratorate, they included in the prosecution evidence a street surveillance video showing her distributing Falun Gong materials near the Acheng District Post Office, her location data tracked by her cellphone and her fingerprints that matched the ones collected from the Falun Gong materials. The police also accused Ms. Jiang of being a repeat offender because she had been sentenced to four years before for practicing Falun Gong. 
The local court sentenced Ms. Jiang to three years on January 17, 2023. 
Beijing Resident Sentenced to 27 Months for Distributing Information about Falun Gong
A Beijing resident was recently sentenced to two years and three months, after the police claimed that they found her DNA on Falun Gong materials distributed outside of a neighborhood.
Ms. Zhao Xiuhuan
Ms. Zhao Xiuhuan, 68, was arrested on November 21, 2020 and held at the Haidian District Detention Center. The police said that a surveillance camera recorded her distributing Falun Gong materials. The police also claimed that they found her DNA on one of the seven copies of Falun Gong materials collected from bike baskets and under the windshield wiper of a car outside of a neighborhood.
The Haidian District Court held a hearing of Ms. Zhao's case on June 11, 2021. The judge scheduled two more hearings after that, but canceled both sessions without providing an explanation. Since 2022, Ms. Zhao's lawyer hasn't been allowed to visit her, due to strict COVID restrictions. Only recently did the lawyer confirm that Ms. Zhao has been sentenced. But other details remain unclear.
Belated News: Hubei Resident Sentenced by Out-of-Province Court for Sending Information about Falun Gong on WeChat
A 68-year-old Macheng City, Hubei Province resident was arrested by the police in Nanjing City, Jiangsu Province for posting information about Falun Gong online. Ms. Zou Guixiang was subjected to brutal torture and forced to renounce Falun Gong while serving a ten-month sentence.
Ms. Zou, a retired silk reeling factory worker, credits Falun Gong for curing her terminal disease. Because of upholding her faith in Falun Gong, she has been repeatedly targeted in the past two decades.
At 8 p.m. on December 10, 2021, the police from Nanjing and Macheng deceived Ms. Zou into opening the door. After a brief interrogation at the Nanhu Police Station in Macheng, she was taken to Nanjing overnight. She was held at a secret detention facility for five months and frequently interrogated. 
Because Ms. Zou sent information about Falun Gong on WeChat (a social media platform), the police and national security branch in Nanjing deemed her case to be significant and accused her of "colluding with anti-China foreign forces" and "spreading reactionary speeches." They formed a special task force and kept interrogating her about how she "colluded" with "foreign forces."
After months of investigation, the police confirmed that Ms. Zou bought all of her cell phones and sim cards without contacting anyone outside of China. Without sufficient evidence, the Nanjing Court eventually sentenced her to ten months for "spreading reactionary speeches."
Even after Ms. Zou was sentenced, the national security officers still interrogated her. They kept the light in her room on around the clock and forced her to watch propaganda videos smearing Falun Gong and praising the communist regime for up to ten hours each day.
During Ms. Zou's detention, the deputy director of Gaochun Police Department went to Macheng three times to harass her husband and their daughter. Even Ms. Zou's brother wasn't spared from harassment. The police videotaped her family members and attempted to force them to provide information against her.
Ms. Zou also noticed that the guards added a crystal-like substance in her drinking water. She began to experience occasional high blood pressure. She once felt tight in her chest. Her body was cold and she had difficulty breathing.
In addition to the drug administration, the authorities also rationed the food given to Ms. Zou and starved her. Her weight dropped from 126 lbs to 99 lbs in five months. Only when she held a hunger strike, did the authorities begin to provide her with a regular amount of food.
For the five months she was held in the secret detention facility, the authorities only counted half of it towards her term. Her term was eventually extended for two and a half months and she was released on December 21, 2022.
Group Arrest and Sentencing
Arrested in a Police Sweep, Two Heilongjiang Women Sentenced to Prison
Two Daqing City, Heilongjiang Province residents were recently sentenced to prison for their faith in Falun Gong. Ms. Cheng Qiaoyun was sentenced to eight years and Ms. Du Chunxiang was given four years.
The two practitioners were arrested on July 12, 2022, during a police sweep of at least 135 Falun Gong practitioners. Another 89 practitioners were harassed and 156 had their homes ransacked.
The operation came eight days before the 23rd anniversary since the Chinese Communist Party began persecuting the spiritual discipline on July 20, 1999. This mass arrest was an attempt to force the targeted practitioners to renounce their faith and prevent them from speaking out ahead of the anniversary.
According to a police officer, the authorities had begun following and video-recording the practitioners as early as nine months before the operation. The date of the arrest operation was not announced until a week prior. The officers did not give out their names, precincts, or their contact information while making the arrests, claiming that such information was a state secret.
Most of the arrests were made early in the morning, between 5 and 7 a.m., when the practitioners were home. Many personal belongings were confiscated, particularly Falun Gong books, photos of Falun Gong's founder, laptop computers, cell phones, and fliers that the practitioners used to raise awareness about the persecution. These items would be used as prosecution evidence for the police to pursue prison sentences against them.
In addition to Ms. Cheng and Ms. Fu, two other practitioners targeted in the police sweep, Ms. Tang Zengye and Ms. Li Dongju, have also been sentenced to 2.5 and 5.5 years respectively.
Repeated Persecution
After 12 Years of Incarceration and Torture, Hubei Man Sentenced to Another Four Years
A retired employee from the epidemic prevention center in Jingmen City, Hubei province was sentenced in February 2023 to a four-year prison term for practicing Falun Gong.
Prior to his latest sentencing, Mr. Liu Deyu, 67, has been incarcerated multiple times. He served one forced labor term and two prison terms, totaling 12 years. He was also forced to be displaced several times to avoid persecution, sleeping in caves, by the roadside, or under bridges.
Mr. Liu was arrested on July 8, 2022 while talking to people about Falun Gong on the street. The police ransacked his home and took away his Falun Gong books and other belongings. He refused to answer any questions the police asked him.
The Dongbao District Court held a virtual hearing of Mr. Liu's case on October 28, 2022. His family wasn't allowed to attend the session. He rejected the court-appointed lawyer, and entered a not-guilty plea himself. His family recently confirmed that he has been sentenced to four years. 
Related report:
Reported in January 2023: 117 Falun Gong Practitioners Sentenced for Their Faith
All content published on this website is copyrighted by Minghui.org. Minghui will produce compilations of its online content regularly and on special occasions.