Beijing Resident Sentenced to 27 Months for Distributing Falun Gong Materials
(Minghui.org) A Beijing resident was recently sentenced to two years and three months, after the police claimed that they found her DNA on Falun Gong materials distributed outside of a neighborhood.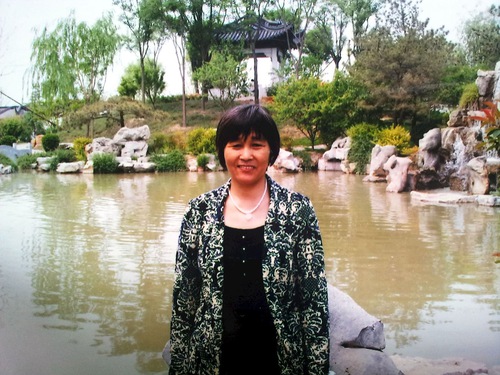 Ms. Zhao Xiuhuan
Ms. Zhao Xiuhuan, 68, was arrested on November 21, 2020 and held at the Haidian District Detention Center. The police said that a surveillance camera recorded her distributing Falun Gong materials. The police also claimed that they found her DNA on one of the seven copies of Falun Gong materials collected from bike baskets and under the windshield wiper of a car outside of a neighborhood.
The Haidian District Court held a hearing of Ms. Zhao's case on June 11, 2021. The judge scheduled two more hearings after that, but canceled both sessions without providing an explanation. Since 2022, Ms. Zhao's lawyer hasn't been allowed to visit her, due to strict COVID restrictions. Only recently did the lawyer confirm that Ms. Zhao has been sentenced. But other details remain unclear.
Ms. Zhao took up Falun Gong in 1993. The Hepatitis B and rhinitis that tormented her for years soon disappeared. She changed from a competitive person to someone who is peaceful and considerate. Her strained relationship with her mother-in-law also improved.
After the onset of the persecution, the Beijing police arrested Ms. Zhao around the 2000 Chinese New Year and detained her for 40 days, in an attempt to prevent her from going to Tiananmen Square to appeal for the right to practice Falun Gong. She was arrested again months later, around July 20, 2000, and detained for another ten days.
Ms. Zhao was sentenced to seven years after she was arrested in 2002 for making informational materials about Falun Gong. One young prison guard, Chen Jing, forced Ms. Zhao to do leg splits, causing her to almost suffocate and faint. Chen also forced her to stand for hours without moving and ordered two inmates to sit on her after forcing her to bend over 90 degrees. The abuse injured her legs and she had to crawl on the floor if she needed to use the restroom. She also had blood in her urine.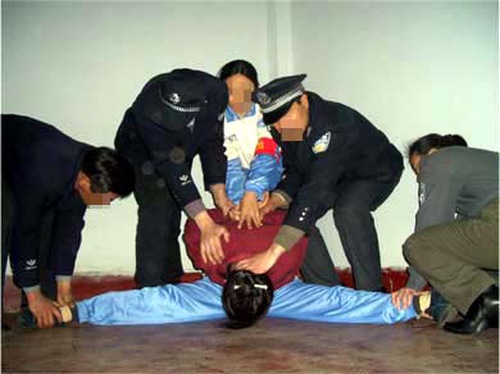 Torture reenactment: The splits
Ms. Zhao was arrested one more time, on July 28, 2015, for filing a criminal complaint against Jiang Zemin, the former head of the communist regime who ordered the persecution of Falun Gong. The police ransacked her home and confiscated 80 booklets about Falun Gong, a computer, and two printers. She was released from Shijingshan Detention Center on October 27.
Related report:
After Repeated Arrests and Seven Years in Prison, Beijing Woman Is Detained Again for Her Faith
All content published on this website is copyrighted by Minghui.org. Minghui will produce compilations of its online content regularly and on special occasions.