Crimes of An Tongyu and Wei Lihui, Directors of Jilin Provincial Women's Prison, in Persecuting Falun Gong
(Minghui.org) Around this year's Human Rights Day on December 10, Falun Gong practitioners in 38 countries submitted a new list of perpetrators to their governments, urging to sanction these individuals for persecuting Falun Gong, including barring them from entry and freezing their overseas assets. These countries consist of the United States, Canada, United Kingdom, Australia, New Zealand, 22 European Union nations, and 11 additional countries from Asia, Europe, and the Americas. Among the perpetrators listed were An Tongyu and Wei Lihui, directors of Jilin Provincial Women's Prison.
***
Perpetrators' Information, Title, and Position
Full Name of Perpetrator: An (last name) Tongyu (first name) (安彤宇)
Gender: Male
Date/year of Birth: December 1969
2017 – Present: director of Jilin Provincial Women's Prison, formerly director of Jilin Prison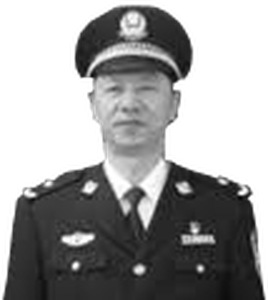 An Tongyu
Full Name of Perpetrator: Wei (last name) Lihui (first name) (魏丽慧)
Gender: Female
Date/year of Birth: November 1972
2014 – Present: deputy director of Jilin Provincial Women's Prison, in charge of brainwashing; formerly guard at the fourth ward and chief of the prison administration section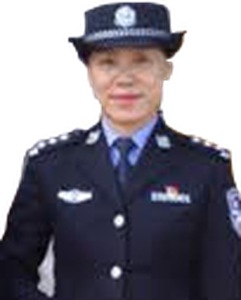 Wei Lihui
Major Crimes
Jilin Provincial Women's Prison, also known as Heizuizi Women's Prison and the only female prison in Jilin, is one of the most notorious prisons in China for persecuting Falun Gong practitioners and has been rewarded by the authorities in Jilin Province and the Ministry of Justice.
Since 2000, Jilin Provincial Women's Prison has been under the direct control of the Central 610 Office and the Jilin Provincial 610 Office, an extralegal agency created specifically to persecute Falun Gong. To achieve a "100% 'transformation' rate," the prison brainwashing and a multitude of cruel torture methods to target the practitioners.
One of the tortures was to hang practitioners by their hands and feet to the four bedposts for extended periods of time, especially during their menstrual periods (see illustration below). The guards also pushed their heads down while pushing their arms up from behind, causing excruciating pain. The guards would then douse them with cold water and shock them with electric batons. The torture led to deaths, disabilities, and mental disorders.
Torture illustration: Stretching over the bed
According to Minghui.org, since 2000, Jilin Provincial Women's Prison has persecuted more than 600 practitioners from Jilin as well as other provinces, with the practitioners serving from six months to 19 years. Many of them were elderly women, including those in their 70s and 80s.
As director and deputy director of the prison, An Tongyu and Wei Lihui, actively carried out the persecution policies of "ruining the practitioners; reputations, bankrupting them financially, and destroying them physically." They also implemented the CCP's directives, such as "not holding the guards accountable for beating the practitioners to death," "beating them to death counts as suicide," "cremate their bodies without investigation," and "killing without exceptions." Many guards and inmates were mobilized to take part in the persecution with promises of promotion, monetary rewards, or reductions in their terms.
In May 2018, Jilin Provincial Women's Prison launched the "100-Day Campaign" to "transform" the practitioners. The prison authorities confined the practitioners in special cells and denied them family visits and phone calls. The practitioners were forced to sit on stools with uneven surfaces from 5 a.m. to 9 p.m., were force-fed, and had their fingers broken and faces pinched.
Under the leadership of An Tongyu and Wei Lihui, at least seven Falun Gong practitioners died as a result of persecution. Many others were tortured to disability, severely injured, or became mentally disordered.
The following seven practitioners died as a result of being persecuted:
- Ms. Liu Shuyan, Yushu City, Jilin Province, on April 21, 2017- Ms. Zhang Ping, Liaoyuan, Jilin Province, in November 2017- Ms. Huo Renzhi, Nongan City, Jilin Province, on November 14, 2017- Ms. Liu Jianying, Dehui City, Jilin Province, on December 30, 2019- Ms. Xu Jing, Changchun City, Jilin Province, in May 2019- Ms. Xiao Yongfen, Dehui City, Jilin Province, on January 31, 2020, on the way to the hospital from prison- Ms. Fu Guihua, Changchun City, Jilin Province, on July 25, 2021
Select Cases of Persecution
1. Ms. Huo Runzhi Dies Less Than Two Months after Being Released on Medical Parole
Ms. Huo Runzhi was incoherent and covered in bruises when she was driven home in a prison ambulance. She screamed in pain every day and passed away less than two months later.
The Nong'an County resident was arrested in March 2016 for refusing to renounce Falun Gong. She was sentenced to three years in Jilin Province Women's Prison, where she was physically and mentally abused. She was beaten so badly that she sustained injuries all over her body, and all her teeth loosened. She also developed high blood pressure and was later diagnosed with colon cancer.
The prison did not inform Ms. Huo's family of her colon cancer diagnosis until late April 2017. Ms. Huo's son visited her in prison several weeks later and was told to file a medical parole request on his mother's behalf. A guard told him that they didn't want to see his mother die in prison.
The parole request came with a condition, however: Ms. Huo had to sign statements promising to renounce Falun Gong. When she refused to give her signature, the guards grabbed her hand and scribbled her name on the document.
Ms. Huo was driven home on August 16 and died on November 14. She was 72.
2. Ms. Liu Jianying Denied Parole Despite Critical Condition, Dies One Month Later
Ms. Liu Jianying of Dehui City was arrested on July 15, 2018, for talking to people about Falun Gong and sentenced to two and a half years in Jilin Province Women's Prison in March 2019 by the Dehui City Court.
She was force-fed in the prison when she protested the persecution. She had difficulty keeping food down and her weight kept dropping. She became so weak that she was unable to walk to the visiting room to see her family. The prison gave her family special permission to enter her cell to visit her in November 2019, on the condition that they make an effort to try to persuade her to give up Falun Gong. Her family noticed that she had lost two front teeth. A guard said it was because she couldn't keep her balance and fell.
Ms. Liu's family applied for medical parole for her shortly after the visit. The prison authorities denied the request, even after she was given a critical condition notice.
Ms. Liu passed away in the prison on December 30, 2019, at the age of 57. The authorities had her body cremated the next day against her family's wishes and without conducting an autopsy.
3. Ms. Fu Guihua Tortured to Death in Prison and Daughter Imprisoned for Her Shared Faith Also Abused
Ms. Fu Guihua and her daughter Ms. Yu Jianli of Changchun City, Jilin Province, were arrested in a group sweep on August 15, 2019. Ms. Fu was later sentenced to seven and a half years and Ms. Yu to seven years. They were taken to Jilin Province Women's Prison on May 27, 2021.
The mother and daughter were first held in quarantine on the first floor for two weeks. During that time, Ms. Fu was still very healthy and she constantly reminded Ms. Yu not to hold a grudge against the perpetrators.
Later, Qian Wei, the head of the 8th ward, transferred Ms. Fu to the third floor, while Ms. Yu remained on the first floor. When Ms. Fu still refused to give up Falun Gong after spending 43 days in cell 310, Qian transferred her to the next room, 311, for more intensified persecution.
According to an insider, inmate Guo Lihua in cell 310 forced Ms. Fu to sit on a six-inch-tall stool with an uneven surface every day for over 12 hours. She put a piece of paper between Ms. Fu's legs and would verbally abuse her if the paper fell. Ms. Fu's buttocks began to bleed and fester. The back of her pants was covered in stains.
Guo also forbade Ms. Fu from drinking water during the hot summer. Ms. Fu was so thirsty that it was difficult for her to eat. Only then would Guo give her a small sip of water. Some practitioners were so thirsty that they rushed out of the cell in the middle of the night and drank the water used for cleaning.
After Ms. Fu was transferred to room 311, inmate Lyu Xinmiao deprived her of sleep and continued to bar her from drinking water. Ms. Fu passed away in three days. She was 55.
Meanwhile, Ms. Yu was also subjected to torture, including sleep deprivation, sitting on the small stool for extended period of time, and restricted restroom use.
4. Ms. Che Pingping's Eye Injured Due to Persecution
Ms. Che Pingping, a university PE teacher, was twice sentenced and sent to Jilin Province Women's Prison. She insisted on practicing Falun Gong in prison and refused to "transform." She wrote a letter of complaint about the persecution of Falun Gong practitioners in the No. 8 Ward. She also spoke up for the rights of other practitioners in the ward.
Ni Xiaohong, the prison district chief, and Gao Yang, a guard, sprayed her with chile water several times, especially in the eyes. Ms. Che was not allowed to clean her eyes afterward and was put into a solitary containment cell. As a result, Ms. Che's eyes were severely damaged and her vision was blurred, eventually leading to retinal detachment in her right eye. She has now almost completely lost sight in her right eye.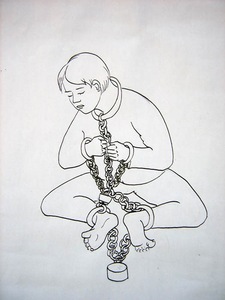 Torture illustration: Shackled and handcuffed to a ring fixed on the ground
The guards accused Ms. Che of attacking them on March 24, 2017 and took her to solitary confinement, a dark room without windows. They handcuffed and shackled her and then chained the cuffs to a ring fixed on the ground, leaving her unable to stand up or lie down.
Ms. Che went on a hunger strike to protest. In retaliation, she was tied up on a metal trolley and taken to the prison hospital to be force-fed twice a day. Later, the guards moved her onto a stretcher and continued the force-feeding. By April 16, 2017, she weighed only 66 pounds, down from her original weight of 143 pounds.
5. Ms. Li Guiying Forced to Sit on a Small Stool Every Day for Two Years in Prison
Ms. Li Guiying, then 49, was arrested on October 25, 2016, and sentenced to four years on July 13, 2017. After she was taken to Jilin Province Women's Prison in July 2017, she was forced to sit on a small stool until September 2019. The guards ordered her to keep her legs bent and put her hands on her lap. At the same time, she was forced to watch videos slandering Falun Gong. Several inmates monitored her, beating and verbally abusing her at will.
After more than two years of the torture, Ms. Li suffered disability in one leg and couldn't walk on her own. When she refused to sit on the small stool anymore, the guards held her in solitary confinement for a month in September 2019. She had an abnormally rapid heartbeat after returning to the regular cell and was hospitalized in November.
All content published on this website are copyrighted by Minghui.org. Minghui will produce compilations of its online content regularly and on special occasions.